Mets host Tuesday's Children as part of 9/11 tribute
Nonprofit formed 13 years ago to help families of those fallen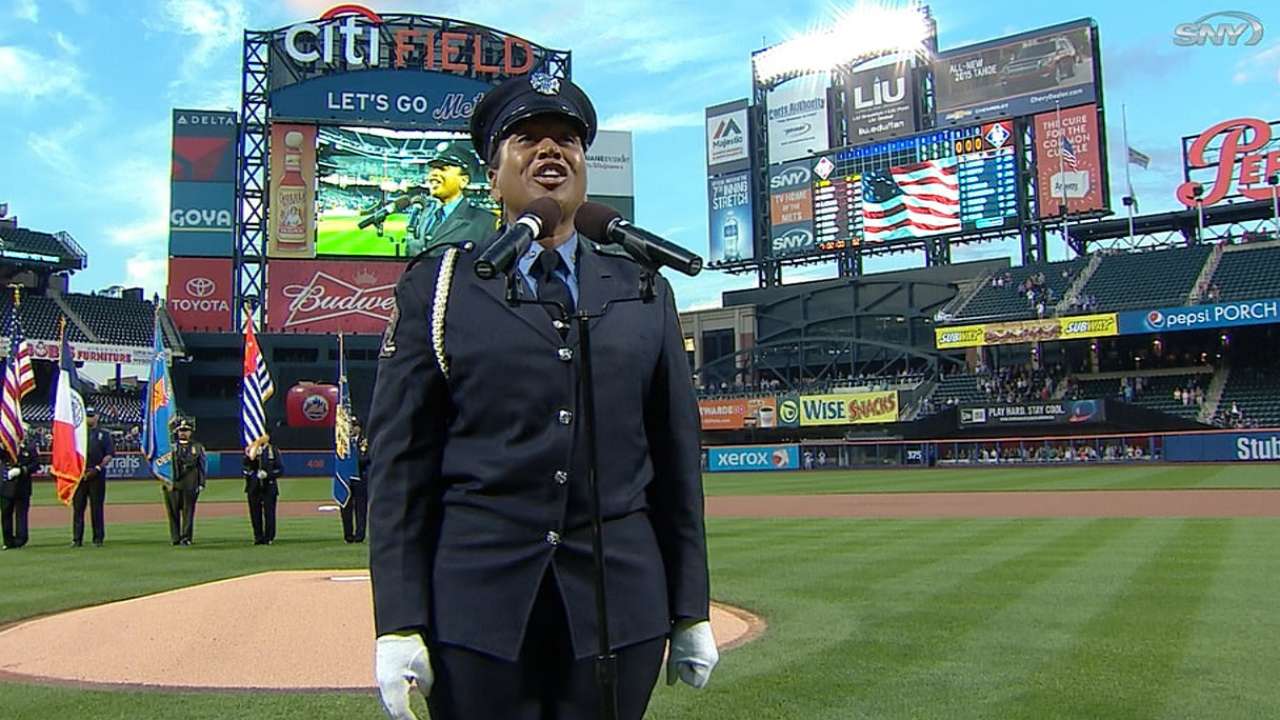 NEW YORK -- Thursday was a somber day of remembrance in this city and elsewhere, and Citi Field was no exception. But amidst the Mets' batting-practice caps honoring first responders and the where-were-you-when stories from 13 years prior, tucked away in the bowels of the stadium was a group of kids with smiles -- huge, unapologetic, cheesing smiles.
A handful of players were signing autographs for a special group of 100 or so fans in attendance as the Mets hosted the Nationals. These fans were from Tuesday's Children, a nonprofit formed in the aftermath of Sept. 11, 2001, that vowed to help the families of those who lost their lives.
Tuesday's Children has since widened its scope -- from a Families of the Fallen initiative to creating the Resiliency Center of Newtown -- but Thursday brought a chance to remember its origins.
"A lot of people say, 'Well, it was 13 years ago, why are you still around? What are you still doing?'" Tuesday's Children vice chairman Fred Strobel said. "The reality is this morning I was opening up the New York Stock Exchange with two young ladies, one was 14 and one was 13. One was 10 months when their father died, and one was 2 years when their father died. There's a lot of support that's needed, and we're there to do that for them."
Another guest at Citi Field was a familiar face: former reliever John Franco. A Brooklyn native, Franco was a member of that 2001 Mets team remembered for helping the city and country begin the healing process, and his involvement with Tuesday's Children has continued. The group presented him with a "Keep the Promise" award at its annual gala this week.
"It's because we promised to be there for these families, these kids, and John is one of the people who does that," Strobel said. "He's there whenever we need him."
Several dozen Tuesday's Children participants took the field with the Mets prior to first pitch. The organization also thanked the Mets for their ongoing support with an award, accepted by Franco on behalf of the club, during an on-field pregame ceremony.
"It's humbling," Franco said. "When we started out to do this, it wasn't meant to get any awards. It wasn't meant to get all the accolades, the press clippings or anything. It was meant to help out.
"I'm a New Yorker. The one thing about New York is when there's devastation, when there's problems, the true New Yorkers come together and help each other."
In keeping with their annual tradition, the Mets wore hats from various local emergency responder groups -- NYPD, FDNY, etc. -- during batting practice and held a moment of silence pregame. Jefferson Crowther -- whose son, Welles, also known as The Man in the Red Bandana, saved numerous lives on Sept. 11, 2001 -- threw the ceremonial first pitch to Franco.
For more information on Tuesday's Children, visit TuesdaysChildren.org.
Tim Healey is an associate reporter for MLB.com. This story was not subject to the approval of Major League Baseball or its clubs.