Decision to keep playing pays off for O'Malley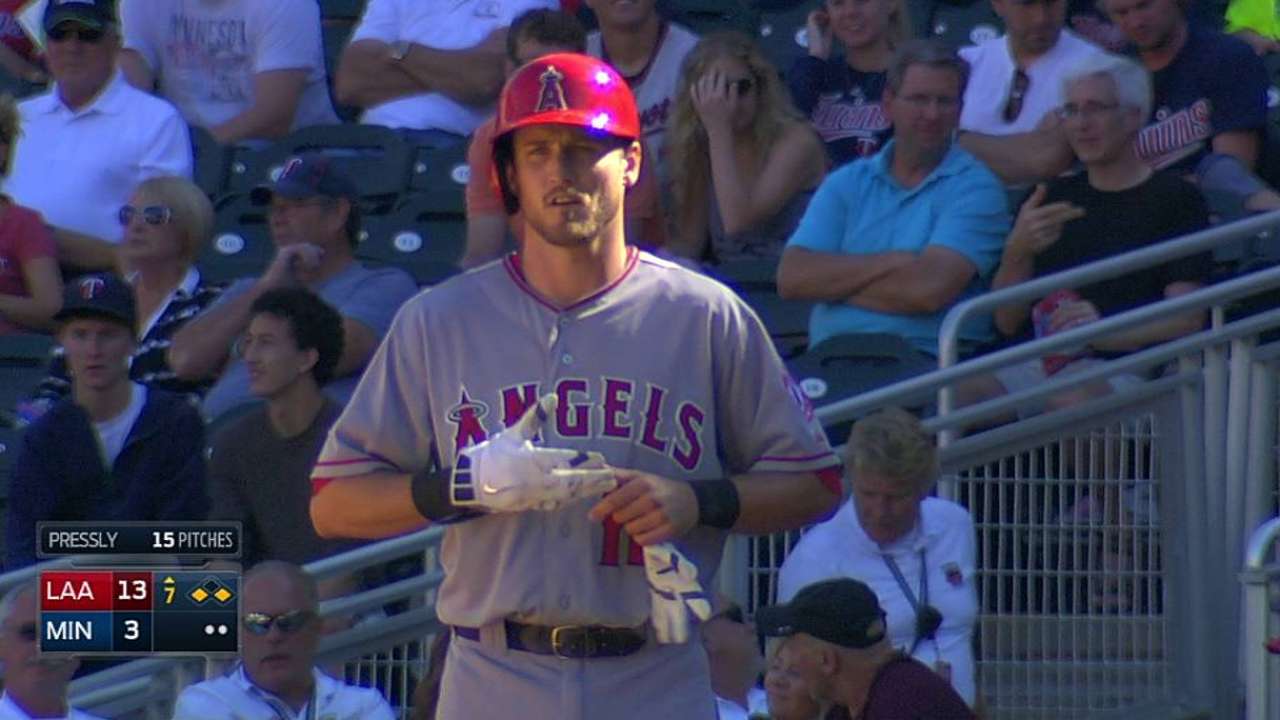 ARLINGTON -- Infielder Shawn O'Malley, placed on the 40-man roster and called up to the Majors for the first time on Sept. 2, just wishes his dad were here to see this.
"I've never seen that man cry," O'Malley said, "but this would be the one time he would, because he would be really, really proud, and he knows everything I went through."
O'Malley's father, Rich, died of a heart attack in July 2013, and O'Malley almost gave up baseball the following offseason. The Rays, the organization with which he spent eight years, didn't want him back. His mother was all alone in their hometown of Kennewick, Wash. The bills were piling up. So O'Malley, 26, gave serious thought to going back to school over the winter, because he had no idea what was next.
But his fiancée, Samantha Paradise, the head women's basketball coach at Andrew College in Georgia, didn't let him.
"She kept my head straight," O'Malley said of Paradise, whom he'll marry on Nov. 29. "She's like, 'You can do it; you're fine. Just keep going. I'm going to do what I can to help you make it.' So I stuck it out, worked hard in the offseason and thankfully, I had a good year."
The Angels reached out to O'Malley shortly after they traded Mark Trumbo on Dec. 10. They were the only team to offer him an invitation to Spring Training, and so they were the ones who reaped the benefit of a solid season, one that saw O'Malley -- a natural shortstop who can play up to six positions -- post a .330/.411/.475 slash line over an 89-game stretch at Triple-A Salt Lake.
When he got to the big leagues, his shoes had holes.
Minor League teams don't provide much equipment, so players work out their own shoe deals. O'Malley's agent would provide them for him, but he was shy about asking. When he came up for his Major League debut, the sides of his cleats were tearing, and his spikes had worn out. So Mike Trout gave him a few of his new, custom-made Nikes.
"That was really nice of him," O'Malley said just as Trout walked by and patted him on the shoulder.
Paradise traveled to Houston when the Angels were there for a two-game series early last week, but O'Malley never played. His Major League debut finally came on Sunday, in the seventh inning of a blowout victory over the Twins at Target Field. Paradise, who was traveling, watched from her phone, but her plane took off just as O'Malley was stepping up to the plate, and she lost reception.
"She was freaking out for about an hour," O'Malley said.
When the plane touched down, Paradise immediately turned on her phone and saw that her fiancée had gone 2-for-2.
"She started crying," O'Malley said. "Other people are looking at her like, 'What the [heck]?' She's been with me since 2010. We've been through a lot together."
Alden Gonzalez is a reporter for MLB.com. Read his blog, Gonzo and "The Show", and follow him on Twitter @Alden_Gonzalez. This story was not subject to the approval of Major League Baseball or its clubs.