Royals reflect on 9/11 events during ceremony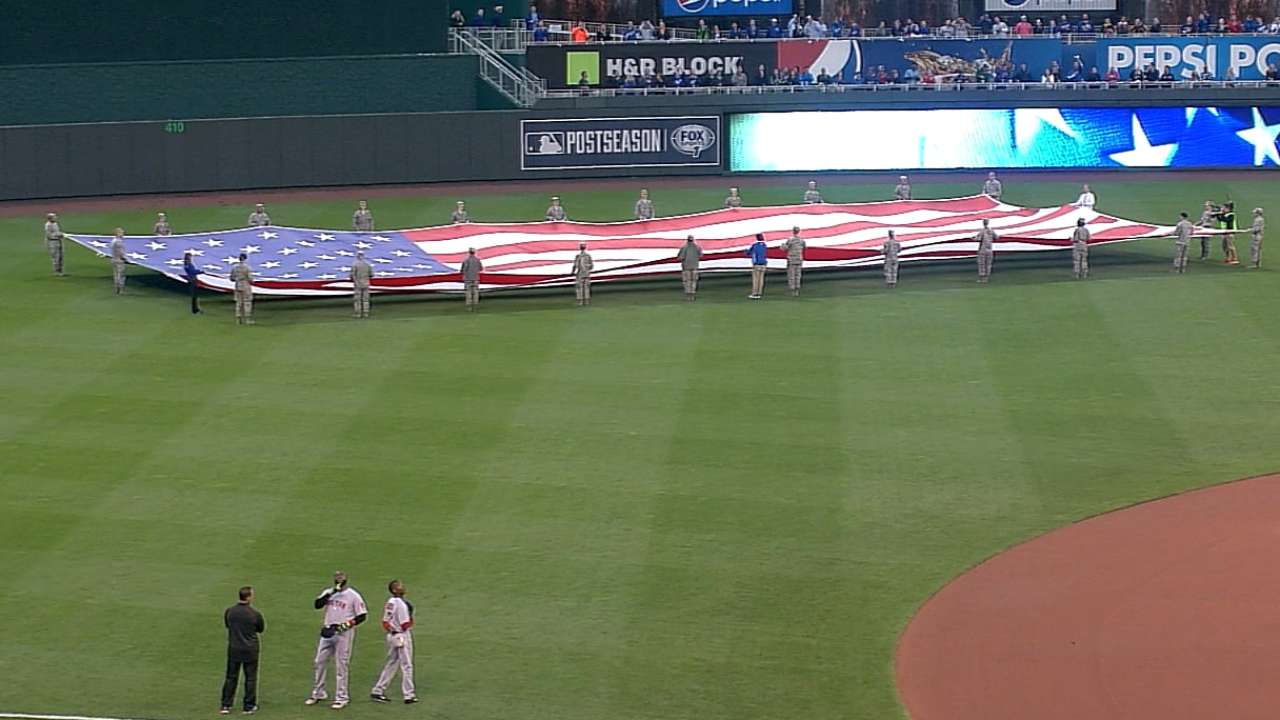 KANSAS CITY -- A tribute to the victims of the 9/11 terrorist attacks in 2001 with remembrances of the heroism and sacrifices of that tragic day was held before Thursday night's Royals-Red Sox game at Kauffman Stadium.
Royals players James Shields, Mike Moustakas and Josh Willingham helped recognize representatives of various branches of first responders in a ceremony at home plate.
A moment of silence was observed for those who lost their lives on 9/11 and for those who continue to serve the country. The colors were presented by Whiteman Air Force Base and during the national anthem by the "President's Own" U.S. Marine Band brass quintet there was a flyover by seven planes.
The Royals also honored the Wounded Warrior Project, a non-profit organization with the mission of honoring and empowering military service members who incurred a physical or mental injury on and after Sept. 11, 2001.
Royals Charities and the family of pitcher Wade Davis made a check presentation of $20,000 to the Wounded Warriors Project.
Manager Ned Yost and many of the Royals players also met with 10 members of the Wounded Warriors and their families prior to the game. The Royals were presented with coins from the group that read "The Greatest Casualty is Being Forgotten."
Filling the Buck O'Neil Legacy Seat was Army veteran Jerry Plantz of Lee's Summit, Mo., whose poem "I Hold the Flag Today" was read at the first candlelight memorial ceremony for the 9/11 victims of United Flight 93.
In addition, the Military Warriors Support Foundation presented retired Staff Sgt. Herbie Ochoa with a mortgage-free home in Kansas City. Ochoa received three Navy and Marine Corps achievement medals and a combat action ribbon for injuries sustained in combat operations in Afghanistan.
Dick Kaegel is a reporter for MLB.com. This story was not subject to the approval of Major League Baseball or its clubs.