Sox opportunistic in beating first-place Royals
Buchholz fans seven, while offense cashes in on three KC errors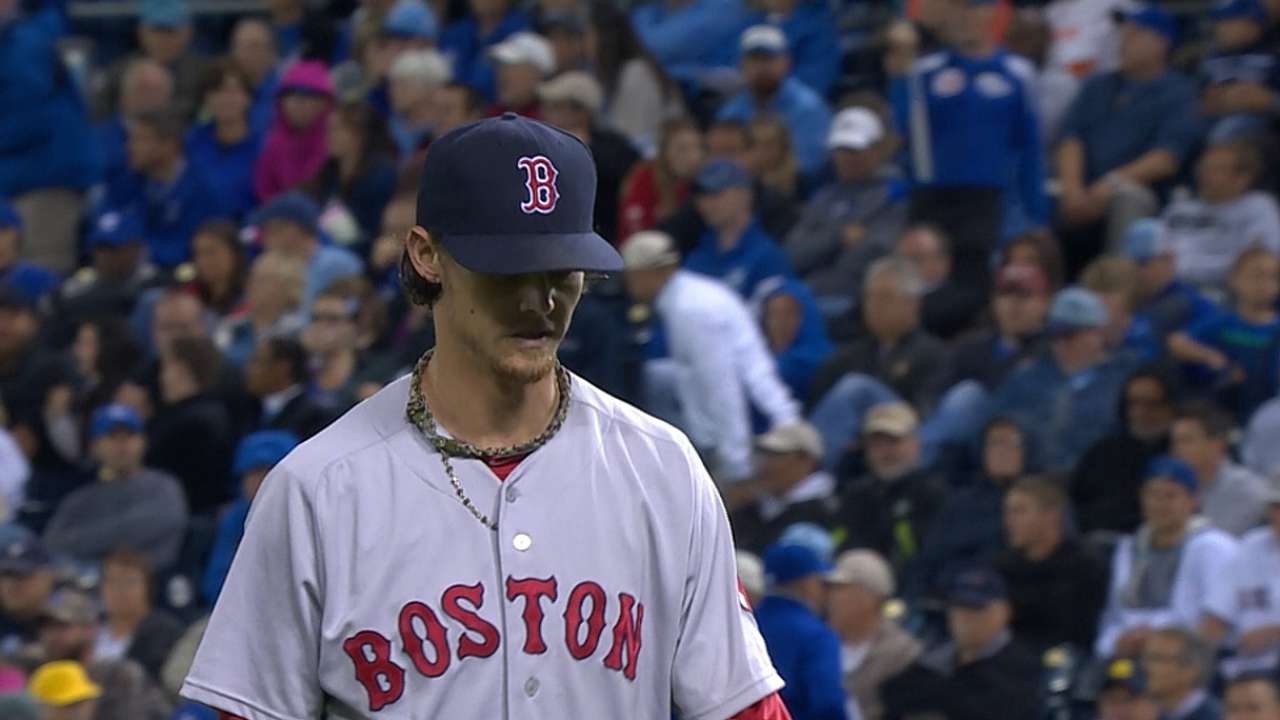 KANSAS CITY -- The case could be made that this final month for the Red Sox amounts to an opportunity for youngsters and for identifying silver linings from a disappointing season. The late emergence of Clay Buchholz would fall under the latter.
Buchholz impressed for the fourth straight time in Boston's 6-3 win over the Royals on Thursday night at Kauffman Stadium. He allowed three runs (two earned) in 6 1/3 innings and fanned seven to earn his third straight victory.
"As we've seen over the last four starts, he's been very efficient, he's had multiple pitches," said manager John Farrell, whose club snapped a four-game losing skid. "I thought he had a great changeup to go along with a well-located fastball tonight, and he continues to pitch very effectively, very consistent."
After scuffling through most of the season, while owning a 6.20 ERA through his first 18 starts, Buchholz has posted a 3.18 ERA in his last seven outings. That figure shrinks to 2.10 spanning his last four.
Farrell attributed Buchholz's resurgence to a combination of confidence and velocity and location of the fastball.
"Those two factors are really what's allowed Clay to get back really get back [and] regain the form that we saw last year," Farrell said of Buchholz, who posted a 1.74 ERA in 16 starts last season.
Boston backed Buchholz with four runs in the first four innings and a pair of tack-on runs in the eighth. Relievers Tommy Layne, Junichi Tazawa and Edward Mujica dispatched the final eight Royals in succession.
"Those guys came in and retired every guy they faced," Farrell said. "It was a very clean effort on their part."
The Sox scored first on a Royals miscue in the second inning. Christian Vazquez slipped a ground ball under the glove and through the legs of first baseman Eric Hosmer, scoring Will Middlebrooks -- who was 2-for-4 with a walk -- from second after his leadoff double.
"[Middlebrooks] had a good night tonight … probably one of the better offensive nights he's had in quite some time, offensively," Farrell said.
Boston repaid the favor in the bottom half with its own error. Alcides Escobar tied it with a bloop single just passed the outstretched glove of second baseman Jemile Weeks. The Royals went ahead, 2-1, when Mike Napoli made a throwing error on an attempt to catch Escobar veering too far off third base after Nori Aoki's single.
Royals starter Liam Hendriks' defense cost him a run in the second, while he cost himself a pair in the third. The right-hander walked Xander Bogaerts, hit Yoenis Cespedes, then he walked Napoli with the bases loaded to tie the game at 2. Middlebrooks pulled Boston ahead, 3-2, when he stroked a single to left and ended Hendriks' night after just 65 pitches.
David Ortiz made Kansas City pay for a pair of errors in the fourth by lacing an RBI single to center to push Boston's lead to 4-2.
"Any time you give a club an extra out, you're likely walking a tight wire, and that was the case on both sides tonight," Farrell said.
While the Red Sox built their lead, Buchholz held KC's offense in check. He allowed zero hits from the start of the third until the end of the sixth, when a couple of Royals hits cut the deficit to 4-3. But even in this rare moment of turmoil, Buchholz shined. He stranded runners on second and first by striking out Escobar for the final out.
Buchholz departed with one out in the seventh after walking Omar Infante. Weeks put the game out of reach with a two-run double in the eighth, scoring Middlebrooks and Vazquez, who coaxed walks off of reliever Aaron Crow.
Mujica worked the ninth for his fifth save.
Jackson Alexander is an associate reporter for MLB.com. This story was not subject to the approval of Major League Baseball or its clubs.