Royals' miscues thwart chance to extend lead
Hendriks labors in short start, while defense makes three costly Es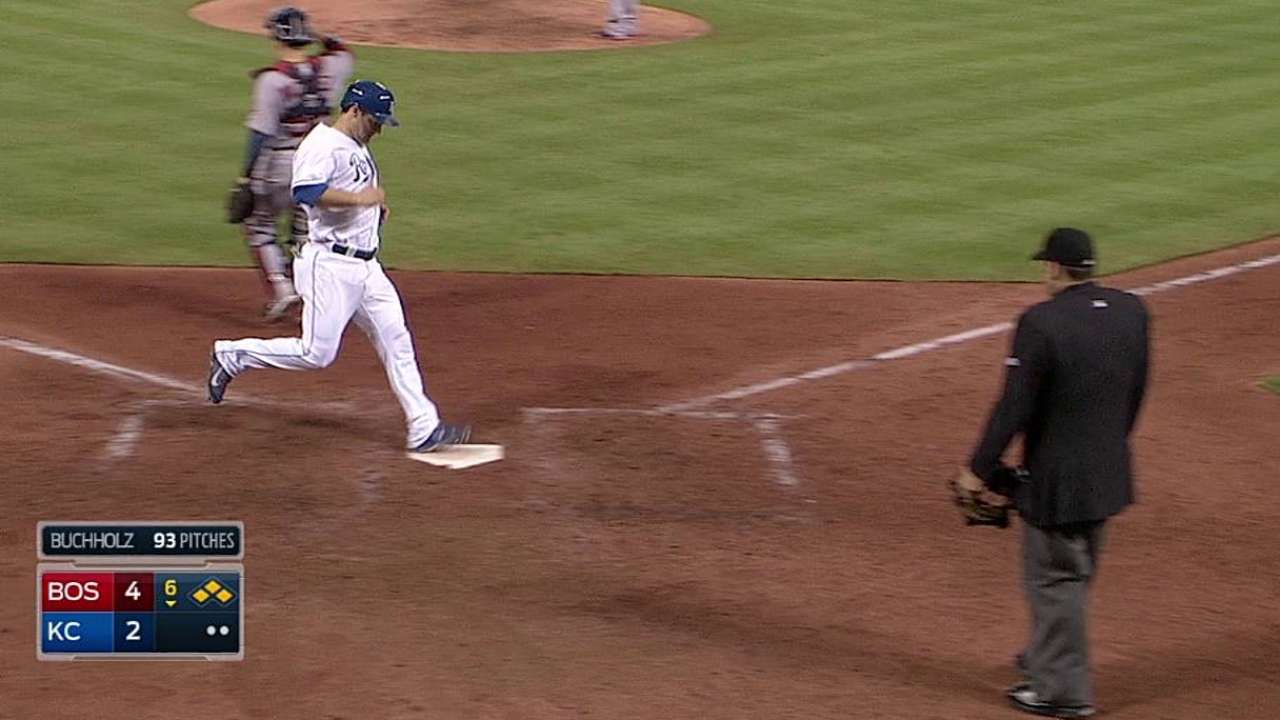 KANSAS CITY -- Boston is mired in last place and long ago counted out. The Red Sox, however, remain annoying to the Royals.
Beginning their only visit to Kauffman Stadium on a chilly Thursday night, the Red Sox posted a 6-3 victory to snap a four-game losing streak, while reducing the Royals' lead in the American League Central to one-half game over idle Detroit. A crowd of 28,673 turned out despite an unseasonable 56 degrees at game time.
The Red Sox have won all four games against the Royals so far this season, including a three-game sweep at Fenway Park right after the All-Star break. That was just before KC's rise toward the top kicked in.
Pitching and defense, two of the Royals' great strengths in their pursuit of the postseason, abandoned them early in the series opener against the Red Sox.
But, in the end, it was the offense that was the major matter for manager Ned Yost.
"It just seems like it's a team-wide struggle right now," Yost said.
Check the team's last 17 games and they have scored four or more runs just five times. Yet, they're 8-9 in those games (excluding a suspended game) and they've managed to keep atop the standings.
However, Yost realizes that they'll probably need to score more runs to stay there.
"But the good thing about it is this thing can turn around quick," he said. "One hit in one game and the floodgates open, and here we go, we're back scoring runs."
Eric Hosmer, one of the five hitless Royals in the middle of the order on Thursday night, knows the importance of ending that struggle.
"It's a 162-game season," Hosmer said. "You're not going to be firing on all cylinders all year long, but the good teams that win divisions and make it to the postseason, they find ways to win those games. It's all we've got to do, find ways to win."
A pitching-defense breakdown doesn't happen often for the Royals, but it made things much easier for the Red Sox.
Liam Hendriks was nominated to take Danny Duffy's rotation turn based largely on his impressive spot start on Aug. 27. He had held his ex-Minnesota teammates to one run in seven innings.
However, against Boston, Hendriks lasted just 2 1/3 innings and left trailing, 3-2, with the bases loaded.
"Instead of just throwing the ball, I think I was trying to aim it a little bit and make it move, and to do everything it really doesn't need to be doing," Hendriks said. "I just need to go out there and throw it. I was always behind today. It just wasn't acceptable."
Not that the usually locked tight defense distinguished itself either.
A muffed ground ball by first baseman Hosmer with two outs in the second inning gave the Red Sox their first run. And in the fourth inning, with reliever Casey Coleman on the mound, shortstop Alcides Escobar and third baseman Mike Moustakas made errors to contribute another unearned run.
Yost was somewhat forgiving about the errors.
"Esky's error was a tough play, short hop. Hoz's ball was hit hard but, he's a Gold Glover, that's a play that he should make," Yost said.
Moustakas' errant throw came after he made a fine diving stop. "A phenomenal play, he just got up and rushed it," Yost said.
Red Sox starter Clay Buchholz himself was damaged by an error during the Royals' two-run second inning. Lorenzo Cain doubled with two out and scored on Escobar's single. After Escobar stole second, Nori Aoki beat out an infield hit and first baseman Mike Napoli's throw to third went awry, allowing Escobar to score.
Cain drove in the third run in the sixth inning with a single and is 5-for-9 in the last two games.
Left-hander Brandon Finnegan, the Royals' top pick in this year's First-Year Player Draft, made his first Kauffman Stadium appearance with one out in the seventh inning. He had debuted at Yankee Stadium by retiring all six batters he faced. This time, Finnegan got David Ortiz on a ground ball and slipped a third strike past Yoenis Cespedes.
Aaron Crow took over against the Red Sox in the eighth and two walks turned into two runs on Jemile Weeks' two-out double down the right-field line.
The Royals were just coming off a tough six-game road trip to New York and Detroit, arriving early Thursday morning and might have been weary. But Yost let them report to the ballpark late, canceled batting practice and insisted he didn't think they were dragging.
"This is the time of year when you don't drag. They were ready to go," he said.
But they didn't cross home plate nearly enough.
"You're going to have days like this, you're going to have days when your team looks a little sluggish," Hosmer said. "Weeks had the big blow with the double late in the game. We battled back and came up short."
Dick Kaegel is a reporter for MLB.com. This story was not subject to the approval of Major League Baseball or its clubs.