Burnett, Phils' young lineup can't handle Pirates
Veteran righty allows four runs in six innings; offense manages six hits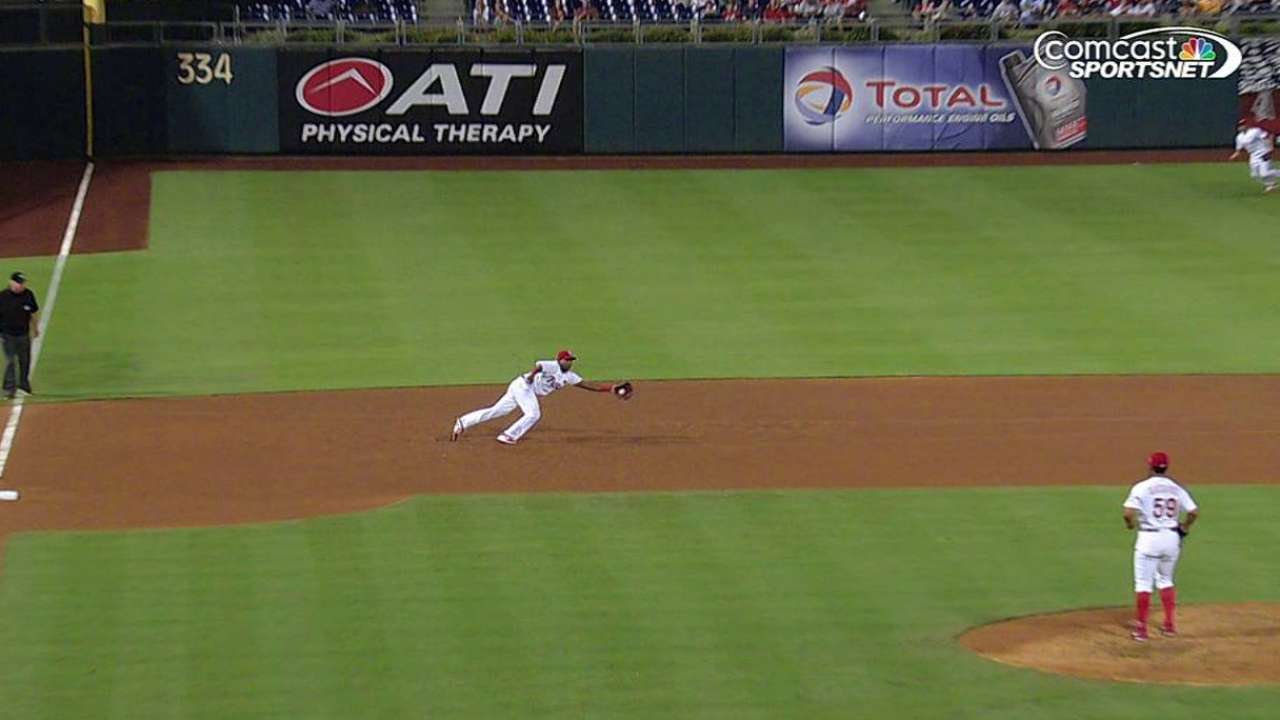 PHILADELPHIA -- Jimmy Rollins is nursing a strained left hamstring and Chase Utley needed a break, so Freddy Galvis and Cesar Hernandez started at shortstop and second base Thursday night at Citizens Bank Park.
"A little youth movement in the middle tonight," Phillies manager Ryne Sandberg said before a 4-1 loss to the Pirates, who took three of four in the series.
A little youth movement in a few other places, too.
Maikel Franco, 22, started at third base, while Darin Ruf, 28, started in left field. Ruf is not a young player -- he is two years older than center fielder Ben Revere -- but he is short on experience with only 414 plate appearances in his career. But interim president Pat Gillick and general manager Ruben Amaro Jr. have said recently the organization probably hung on too long to the belief the core of the 2008 World Series championship team could lead the way to one more championship.
That could mean a younger, more flexible roster next season.
"A little different look than we're used to looking at," Sandberg said about his lineup after the game.
It seems rather unlikely the Phillies will go as young every day in 2015. Rollins and Utley are under contract next season and have full no-trade rights, which they previously have said they have no plans on waiving. (Of course, minds have been known to change.) But with a trade here or there, the Phillies could see more of Franco, Galvis, Hernandez, Ruf and Cody Asche next season.
"We've played together in Triple-A, so it wasn't weird at all," Galvis said.
The young guys (and the older ones) had problems with Pirates left-hander Francisco Liriano, who dominated the Phillies lineup. He allowed four hits, two walks and struck out a season-high 12 in eight scoreless innings.
"That's the best I've seen him in a long time," said Phillies right-hander A.J. Burnett, who allowed four runs in six innings. "When he's got his offspeed where he wants it, changeups and sliders, he mixes in the heat a little bit … but when his offspeed is on, he has that kind of night. He's dominating when he's like that. I tried to go toe to toe with him but he executed a few more than I did. Quite a few more."
Hernandez bunted for a leadoff single in the third and Galvis followed with a single to center to put runners on first and second with no outs. But Francisco retired Burnett, Revere and Franco in order to end the inning.
Revere singled and Franco walked with one out in the sixth, but Marlon Byrd popped out and Ryan Howard struck out to end that threat.
Franco continued to impress, making another nice play in the eighth inning, diving to his left to rob Russell Martin of a base hit.
"He seems to be a good defensive third baseman," Burnett said. "He's always having fun, comes in and works hard. That's for sure."
Burnett allowed one run through five innings before he allowed three runs in the sixth to make it 4-0. The inning started with a single to Travis Snider and back-to-back doubles to Andrew McCutchen and Neil Walker to score the inning's first run. Martin followed with a sacrifice fly to the left-field wall to score McCutchen and a single to right for Gregory Polanco scored Walker.
"Balls over the plate," Burnett said. "I had positions where I could put guys away and I didn't put them away tonight."
It was Burnett's 31st start of the season. His next start increases his 2015 player option to $12.75 million.
Burnett, 37, has not said if he plans to pitch next season.
He dropped to 8-16, becoming the first Phillies pitcher to lose 16 or more games in a season since Mark Leiter lost 17 in 1997.
The Phillies scored a run in the ninth against Pirates reliever Jared Hughes, who put the first two runners on, but Mark Melancon got out of the jam.
Todd Zolecki is a reporter for MLB.com. This story was not subject to the approval of Major League Baseball or its clubs.