Liriano dazzles as Pirates close gap on Cardinals
Lefty fans season-high 12 as Bucs move within 2 1/2 games of first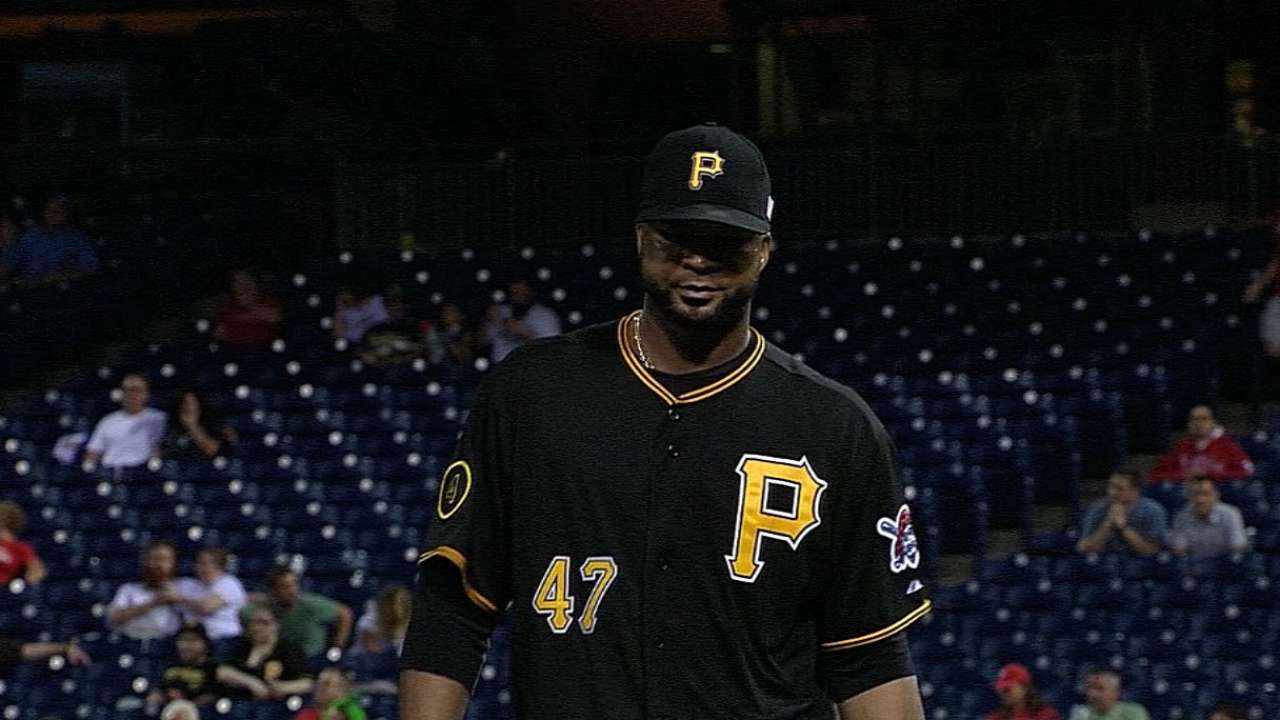 PHILADELPHIA -- Francisco Liriano was the Pirates' best starter when they got out of their 21-year playoff drought last season. He's returned to form as that pitcher, and the Pirates are in firm control of their playoff fate.
Liriano had a strikeout-filled shutdown of the Phillies on Thursday, tossing eight scoreless innings in a 4-1 win at Citizens Bank Park. After starting a road trip with three losses in St. Louis, the Pirates head across Pennsylvania winners of six of seven, first place in their division in sight and owners of a 1 1/2-game lead for the second National League Wild Card spot.
The Pirates are 2 1/2 games back of the Cardinals in the NL Central, but seven of the Pirates' final 16 contests come against the Brewers and Braves, the two teams chasing them for that all important Wild Card spot. And after winning two consecutive series on the road, the Pirates return to PNC Park, where they're 44-28 this season. It's a welcomed script, the Pirates just have to keep winning.
"We don't see it as three losses in a row or three wins in a row," catcher Russell Martin said. "It feels like we won tonight, and we're ready for tomorrow."
The Bucs' latest win came with Liriano out-performing the other top starter for that 2013 team, A.J. Burnett, who got the nod for the Phillies. Liriano notched a season-high 12 strikeouts and allowed just four hits and two walks.
Even with the high punchout totals, Liriano was efficient. He ended with 106 pitches, but needed just 75 to get through six innings. Eleven of Liriano's 12 strikeouts came on five pitches or less, and he had a trio of three-pitch strikeouts.
"I felt great," Liriano said. "I had pretty good command, I was getting ahead in the count and I had pretty good location with every pitch."
Said manager Clint Hurdle: "He continued to keep his delivery in check throughout the evening. Fastball command was there, he used the fastball early in counts to get ahead and the backdoor slider worked extremely well in other fastball counts. And the changeup worked extremely well."
The slider was Liriano's No. 1 weapon to retire opposing hitters. He got nine Phillies to swing through sliders for strike three, including Ryan Howard to finish the sixth inning with two runners aboard.
"It's just a really late break," Martin said of the nine-year veteran's slider. "By the time the hitter is making up his mind to swing, it hasn't broke yet. In the last six to eight feet, that's when the tightness and the depth comes in the pitch. Out of the hand, it looks like a fastball. Same thing with the changeup, everything looks like a fastball coming at you."
Liriano held the Cubs scoreless for six innings in his last start and owns a 16-inning scoreless streak to go with an ERA of 0.67 in his last four outings. Liriano, who had 16 wins and a 3.01 ERA last year, allowed more than two earned runs just once in his last 11 starts and has 80 strikeouts in that 69-inning stretch.
The 30-year-old sustained an oblique injury earlier in June and noted Thursday he's feeling improved each time he steps on the mound.
"Every start, everything is getting better location-wise," Liriano said. "My pitches were down in the zone. I'm trying to get better every start and trying to go deeper into games."
The Pirates got the majority of their offense in a three-run sixth inning, and four of the six hits they had against Burnett came in the frame.
Travis Snider led it off with a single, which was followed by back-to-back doubles from Andrew McCutchen and Neil Walker. Martin collected his sixth RBI of the series on a sacrifice fly to the wall in left, while Gregory Polanco picked up his first RBI since Aug. 17 with a chopping grounder that bounced over the head of second baseman Cesar Hernandez with the infield drawn in.
"I had positions where I could put guys away and I didn't put them away tonight," Burnett said. "I mean, yeah, that's basically the story."
It capped off a nice ending to the story of the Pirates' road trip, which started with their postseason hopes sinking at this time a week ago.
"We finished strong," Hurdle said. "We put the St. Louis trip behind us, we stay in the moment, try to take care of now."
Stephen Pianovich is an associate reporter for MLB.com. This story was not subject to the approval of Major League Baseball or its clubs.