Twin bill sweep helps Tribe's October push
Rookie House fans eight in seven shutout frames; Santana goes yard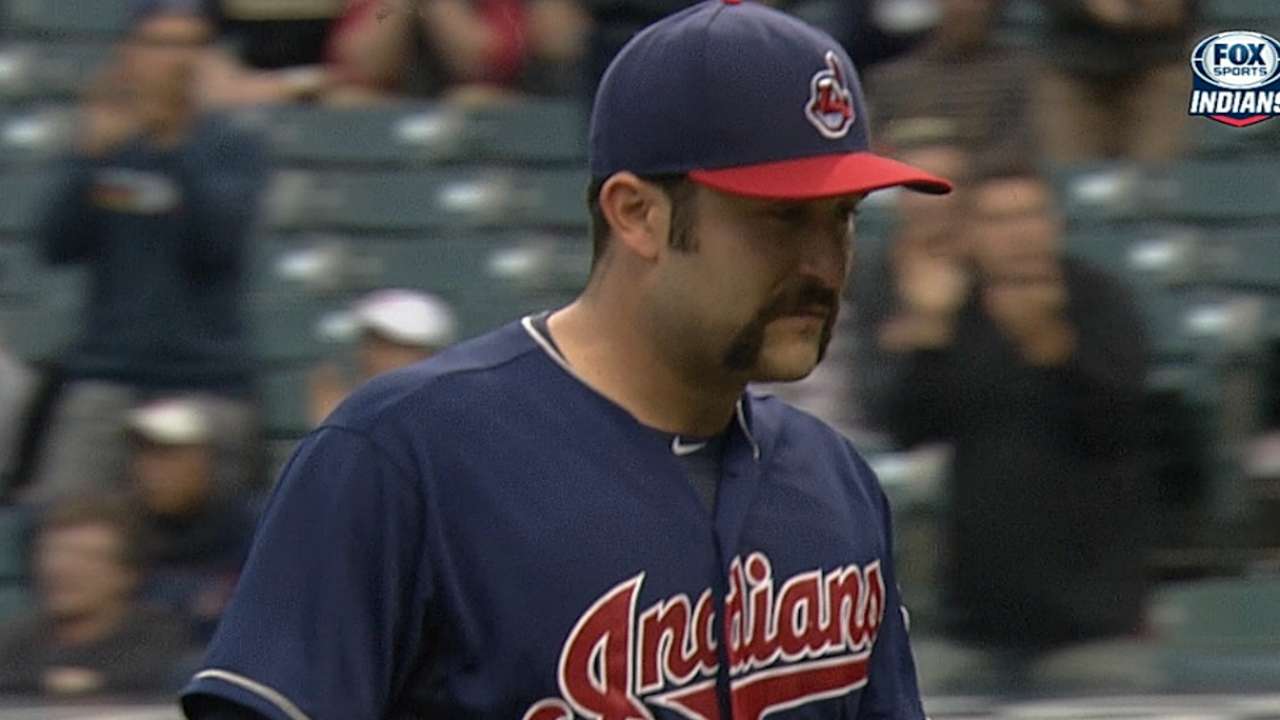 CLEVELAND -- There was a point in time when lefty T.J. House was considered a temporary solution for an embattled rotation. With each start he has logged for the Indians, the rookie has opened eyes and made it look like Cleveland has an unexpected fixture for the future.
On Thursday, House took the mound in the second game of a doubleheader with the Twins and delivered a brilliant performance. On the heels of a stellar outing by Corey Kluber in the first tilt, House handled Minnesota's lineup with apparent ease en route to a 2-0 victory in Game 2 at Progressive Field.
"Finding pitching is one of the best feelings," Indians manager Terry Francona said of House's emergence. "We didn't knock the ball around the ballpark, but because of the way he pitched, it ends up being a really good day."
The twin bill was necessitated by a rainout of Wednesday's scheduled contest between the American League Central foes, and marked the fifth doubleheader of the year for Cleveland. At this stage of the season, the Indians need every win they can get, so sweeping the traditional double-dip helped the Tribe avoid losing any ground in the AL playoff race.
With Detroit idle on Thursday, Cleveland (76-69) trimmed its deficit to 3 1/2 games in the hunt for the AL's second Wild Card spot. The Indians pulled within four games of the AL Central-leading Royals, who lost to the Red Sox, 6-3, on Thursday night. Cleveland now embarks on a 10-game road trip, which begins with a three-game weekend series in Detroit.
The Indians know what is at stake.
"Heading to Detroit, you want to be on a high note," House said. "We have three big games ahead of us. You want to make sure you win them all when you can. Obviously, we lost the first game of this series, but we came back and got both of them today. I'm excited with where we're headed. We have a good ballclub and we're [going] in the right direction."
In the opener of Thursday's doubleheader, Kluber worked into the ninth inning, and the Tribe's offense broke out of its recent funk in an 8-2 rout over Minnesota. Pitching has been Cleveland's strength in the season's second half, and the duo of Kluber and House continued that encouraging development by limiting the Twins to just those two runs over 15 1/3 combined innings.
The 24-year-old House (3-3, 3.42 ERA) matched career bests in innings (seven) and strikeouts (eight), ending with no walks and four hits allowed in the win. In four of the first five frames, the lefty registered 10 or fewer pitches and faced the minimum. House allowed one hit in each of the first three innings, but sidestepped harm with the help of a pair of double plays.
It marked the third consecutive start in which House logged at least seven innings with no walks and no more than one earned run allowed, tying the longest such streak in the Majors in the past 100 seasons. The last two pitchers to accomplish the unique feat -- never done previously by a Cleveland player -- were David Price (2013) and Greg Maddux (2000).
"I would say probably about a month ago, I really started feeling comfortable around here," House said. "We had been working really hard in my bullpen sessions, tracking my mechanics, making sure my ball was staying on a good plane. With that Kansas City start [on Aug. 31], it just got on a roll, and right now I'm riding with it and hoping that it stays."
In the third inning, Brian Dozier sent a pitch from House to the warning track in left-center field, where All-Star left fielder Michael Brantley tracked it down. Chris Parmelee was caught too far off first base on the play, giving Brantley and shortstop Jose Ramirez enough time to relay the ball to first baseman Chris Gimenez for the inning's final out.
Carlos Santana registered the first of his two RBIs in the fourth inning. With one out, he drilled a 1-2 offering from Twins right-hander Ricky Nolasco to deep right field for a home run, giving him a team-leading 27 shots on the season. Santana, who homered in Game 1 of the doubleheader, also equaled a team record (set by him in 2007) for homers by a switch-hitter.
Santana added an RBI single off Twins reliever Caleb Thielbar in the eighth inning for a key insurance run.
"I don't think about home runs," Santana said. "I just want to finish strong."
House and the Tribe's bullpen made the slim lead hold up for an important win. Setup man Bryan Shaw avoided the potential harm of an error in the eighth inning, and closer Cody Allen picked up his 20th save of the year with a clean ninth.
House bounced between Triple-A and the Majors through May and July, but he became a regular part of the rotation in the second half. Over his past seven turns for the Tribe, he has posted a 2.14 ERA with a 1.07 WHIP. In his last three starts, House has allowed only two earned runs with no walks and 20 strikeouts in 21 innings.
"It's really exciting to watch his development," Francona said. "This is a kid that's doing it right in the midst of when we need to win every game."
Jordan Bastian is a reporter for MLB.com. Read his blog, Major League Bastian, and follow him on Twitter @MLBastian. This story was not subject to the approval of Major League Baseball or its clubs.