Nolasco's gem for naught as bats stay quiet
Right-hander gives up one run, strikes out five in seven innings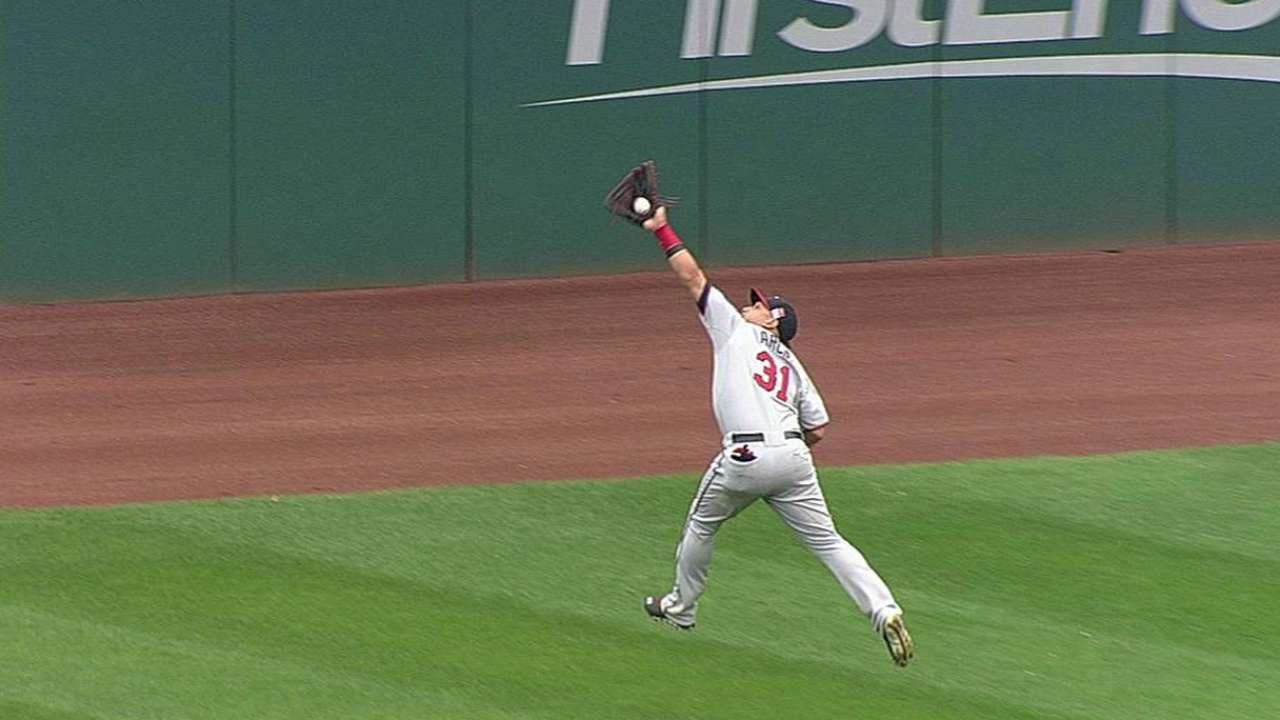 CLEVELAND -- Entering Wednesday, Minnesota was baseball's top-scoring team since August 1, averaging a Major League-high 5.5 runs per game. The Twins looked like a different squad on Thursday afternoon, though, scoring a total of two times as they were swept by the Indians in a doubleheader at Progressive Field.
Left-hander T.J. House limited the Twins to four hits in the second game as Cleveland posted a 2-0 win. In the opener, Indians right-hander Corey Kluber overpowered Minnesota en route to an 8-2 victory.
"They made it tough on us all day," Twins manager Ron Gardenhire said. "We knew it wasn't going to be easy against Kluber, but their kid, House, really pitched well. He was changing speeds, had a nice cutter and changeup, and kept our hitters off-balance. We didn't do anything against him. We didn't do much all day."
Minnesota went 2-for-11 with runners in scoring position and drew one walk in the traditional twin bill, which was scheduled after the teams were rained out on Wednesday night. The Twins claimed the three-game series opener, 4-3, on Tuesday.
Cleveland pulled within 3 1/2 games of the second American League Wild Card berth with the wins, while Minnesota fell to 0-6-2 over its last eight series.
"You don't have to do much scoring when you have this type of pitching around," Indians center fielder Michael Bourn said. "We know we're fighting a tough fight, but we're up for the challenge."
Right-hander Ricky Nolasco (5-11) did his part to keep the Twins close in the second game, throwing a season-high 117 pitches over seven innings. He allowed one run on a fourth-inning homer by Carlos Santana, didn't issue a walk and struck out five.
Cleveland added an insurance run in the eighth when Santana singled off Minnesota reliever Caleb Thielbar to score Bourn.
"One pitch got me, and I threw it right where I wanted it to Santana," said Nolasco, who has gone seven starts without a win dating back to July 1. "You've got to tip your hat to him, because he's really hot right now. That's the way this game goes. It's hard sometimes."
Twins shortstop Doug Bernier, making his first start of the season, was the only player to reach third base against House. The 34-year-old journeyman, who was recalled from Triple-A Rochester on September 2, went 1-for-2 in his 38th career big league game.
House (3-3) matched his career high by tossing seven scoreless innings, allowing singles in the first, second, third and sixth. Cody Allen issued a leadoff walk to pinch-hitter Joe Mauer in the ninth before earning his 20th save.
"Their pitchers were very tough, especially in the second game, because we had been playing all day," Minnesota center fielder Danny Santana said.
Santana went 1-for-5 combined in both contests. It was the rookie's first action since suffering a lower back strain on Saturday.
Twins closer Glen Perkins also was in uniform and available, but did not pitch. He has not appeared in a game since September 4 because of a stiff neck.
Oswaldo Arcia led Minnesota with three hits on the day, while rookie Kennys Vargas had two singles and drove in a run in the opener. Trevor Plouffe accounted for the Twins' other RBI by singling home Mauer in the ninth inning of Game 1.
"Doubleheaders are hard to win, but we played two pretty crisp games," Indians manager Terry Francona said. "We didn't knock the ball out of the park, but because of the way we pitched, it ended up being a good day for us."
Brian Dulik is a contributor to MLB.com. This story was not subject to the approval of Major League Baseball or its clubs.