MLB.com Columnist
Bernie Pleskoff
Pleskoff: Lorenzen has power, versatility to be short reliever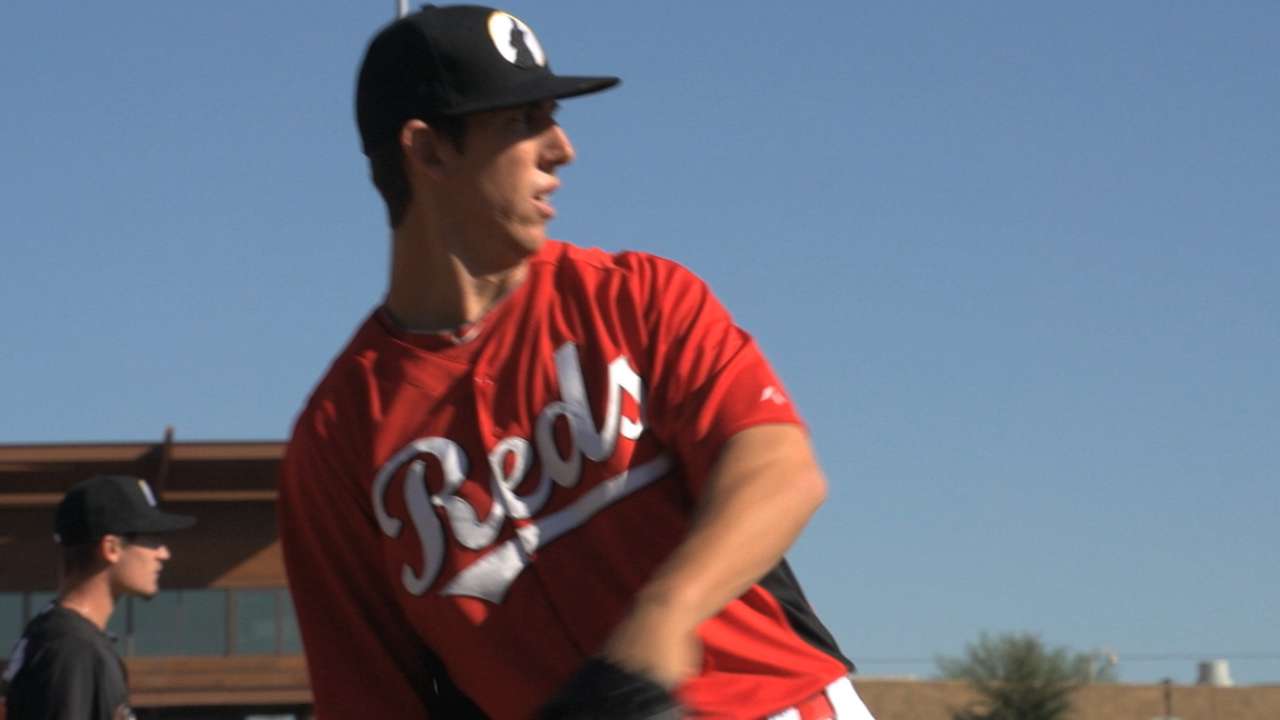 The Cincinnati Reds have a very versatile power pitcher currently in development in 6-foot-3, 195-pound right-hander Michael Lorenzen. He has flown through the Reds' Minor League system, and it appears he could be on a very fast track.
Following Lorenzen's successful career as a baseball player at Fullerton Union (Calif.) High School, the Tampa Bay Rays selected him in the seventh round of the 2010 First-Year Player Draft. Instead of signing with the Rays at the time, he chose to attend Cal State Fullerton.
Lorenzen was a skilled two-way player in college. He played the outfield and was a member of the team's bullpen. Lorenzen closed games and established a school record by recording 35 saves. In essence, he was attractive to scouts both as a position player and pitcher.
Cincinnati selected Lorenzen with a Competitive Balance pick as the 38th player chosen overall in the 2013 Draft. The team has elected to use him exclusively as a pitcher, taking advantage of his strong arm and ability to consistently throw his fastball between 95-99 mph. Lorenzen also has a solid 81-83 mph curveball. Those are his primary pitches, although he is working on a changeup.
Interestingly, the Reds have used Lorenzen as a starting pitcher this year, as opposed to using his fastball/curveball combination out of the bullpen. In his first professional season, he was used mainly in relief.
Lorenzen spent that initial professional year pitching for four teams. He began with Cincinnati's Arizona League Rookie-level team, pitching one inning of one game. Lorenzen moved to the team's Class A Dayton affiliate in the Midwest League, where, pitching in relief only, he threw 8 1/3 innings in nine games. He struck out seven and walked two, establishing an ability to miss bats with good control and command of his primary two-pitch mix. Lorenzen concluded his stint at Dayton with an ERA of 0.00 and a 1.08 WHIP. He yielded seven hits.
Lorenzen then moved to Bakersfield in the Class A Advanced California League. That's usually a hitter-friendly league and environment. Not unexpectedly, the first hiccup of his professional career took place at Bakersfield, where he threw 5 2/3 innings, gave up six hits and walked five and had an ERA of 6.35. The sample size was small, but it was the first of Lorenzen's assignments that wasn't quite blemish-free.
Finally, Lorenzen was assigned to Double-A Pensacola to finish the season. His ERA fell to 4.50 in his final six innings of 2013. Lorenzen's composite totals for his first year as a full-time pitcher included an ERA of 3.00 and a WHIP of 1.57 in 21 innings. Of the 22 games in which he pitched, 21 were from the bullpen.
Lorenzen, the Reds' No. 4 prospect , spent this season back at Double-A Pensacola. The 22-year-old appeared exclusively as a starter, and the results were favorable. He struck out an average of six hitters per nine innings while walking a bit more than three per nine. Lorenzen yielded fewer hits than innings pitched. The net result was a 3.13 ERA and a 1.29 WHIP.
Lorenzen has been efficient and effective in making the transition from the outfield to the mound and from the bullpen to the rotation. However, he is still learning the nuances of being a starting pitcher.
My first look at Lorenzen came in the 2014 Double-A Southern League All Star Game. He was selected because of his 2.41 midseason ERA in 71 innings pitched over 13 starts. Lorenzen was the game's winner, as the South defeated the North, 6-4. He threw one inning, yielding two hits, no runs, a walk and one strikeout. Lorenzen flashed his electric fastball/curveball combination.
A good athlete with a strong and live arm, Lorenzen may not have enough depth in his repertoire to remain a starter. However, he certainly has the pitches to dominate in a short-relief role. That's where I feel Lorenzen best fits. He can get a big strikeout mid-inning or begin an inning and close out a game.
Bernie Pleskoff has served as a professional scout for the Houston Astros and Seattle Mariners. Follow @BerniePleskoff on Twitter. This story was not subject to the approval of Major League Baseball or its clubs.