MLB.com Columnist
Bernie Pleskoff
Owens projects as mid-rotation starter for Boston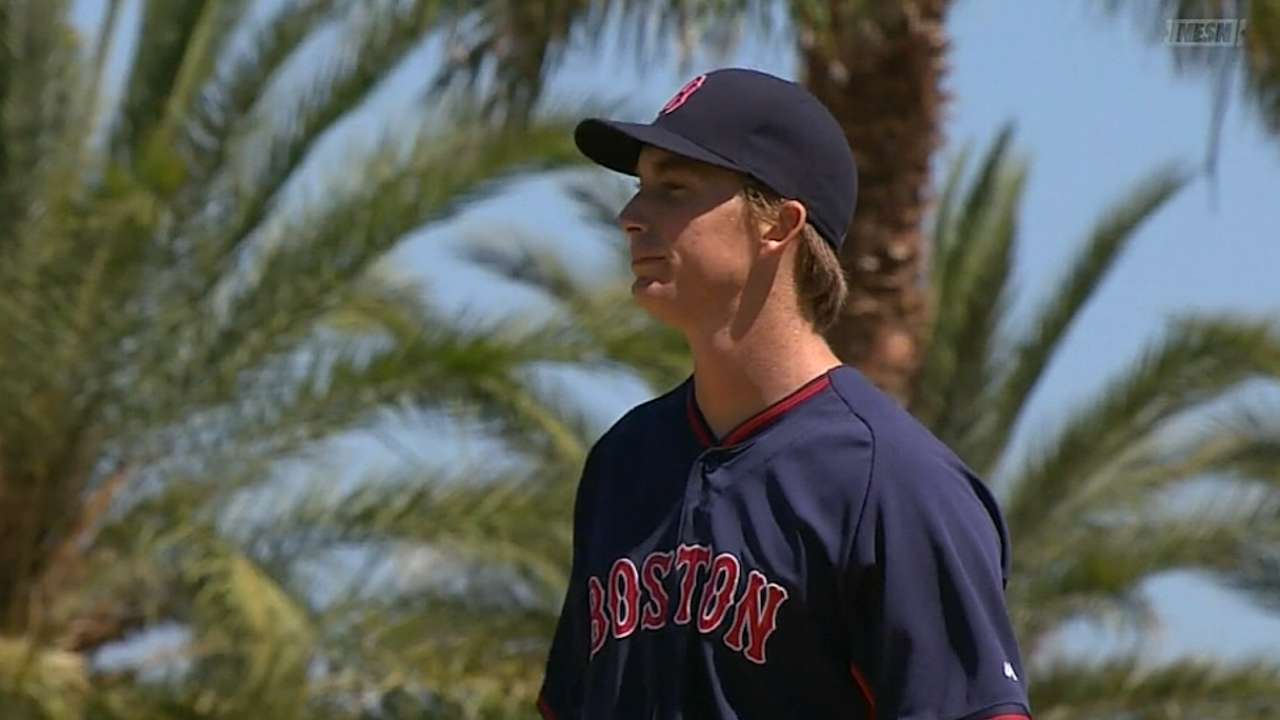 Due to his size, 6-foot-6, 205-pound Boston Red Sox left-hander Henry Owens may remind some people of a young Randy Johnson. Johnson was four inches taller and threw harder. But it would be understandable for people to see some Johnson in Owens. Tall, lean lefties often remind people of the potential Hall of Famer.
Owens doesn't throw with Johnson's velocity. He doesn't have Johnson's wicked fastball/slider combination. In his best days, Johnson could hit 100 on the radar gun. Owens throws a sinker/changeup combination that sits at 91 and 79 mph respectively. When he's commanding those pitches, he is very effective. When Owens' command eludes him, the walks cause him some hiccups. But this year at Triple-A Pawtucket, the walks were fewer than in the past. In fact, he walked only about two men per nine innings this year. That compares with 3 1/2 per nine innings last year. Progress. Excellent progress, at that.
The Red Sox signed Owens after selecting him in the 2011 First Year Player Draft out of Edison High School in Huntington Beach, Calif. He was a supplemental first-round pick, going No. 36 overall in the Draft.
My first scouting look at Owens came at the 2014 SiriusXM Futures Game at Target Field in Minneapolis this past July. Owens started the game for the U.S. Team and worked the first inning. He yielded one hit, to the Braves' Jose Peraza, and struck out the Twins' Kennys Vargas.
Like many tall, thin pitchers, Owens can sometimes have difficulty making all the parts move in synch. The hitter sees arms and legs coming at him, but if his mechanics are off a bit, Owens' long limbs can spell an unwanted change in his delivery. His shoulder can fly open, and he will not be able to control where the pitch is going.
When Owens repeats his delivery, he's solid. A slight increase in his weight last year may have helped him better control unwanted and uncoordinated movement in his mechanics. But Owens can still stand to put even more pounds on his frame. Still only 22, an increase in body depth and muscle could be likely. And very welcome.
In addition to his fastball, sinker and changeup, Owens throws a curveball that is slow moving and fairly deceptive at 72 mph. He has to continue to gain confidence in that pitch, as it's another way to change the eye level and balance of hitters. I do think there is hesitation about the curveball, because leaving the pitch high in the zone could be the net result.
Owens' sinker/changeup combination really helps him keep the ball down in the zone. The changeup in particular is a tough pitch for hitters to time. They don't make solid contact with that pitch, often striking out swinging. No doubt, Owens can rack up the strikeouts. He has an outstanding career average of 10.7 strikeouts per nine innings.
Owens began his career as a 19 year-old at Class A Greenville. He threw 101 2/3 innings, starting 22 of 23 games. The big guy struck out 130 hitters for an average of 11.5 strikeouts per nine innings. Owens threw to an ERA of 4.87 with a WHIP of 1.44.
Owens had a considerably improved sophomore season last year. He had a combined 2.67 ERA pitching at Class A Advanced Salem and Double-A Portland. Owens returned to Portland to start this season. He pitched there until July 29, taking a midseason record of 9-1 and an ERA of 1.99 to his start at the Futures Game. While Owens wasn't as sparkling in a limited sampling at Triple-A Pawtucket, he still pitched very well and made progress.
Owens projects to be a mid-rotation starter. Both left- and right-handed hitters have a tendency to scuffle against his offerings. Therefore, if Owens' secondary pitches don't develop to fulfill a complete repertoire, he could become an outstanding lefty reliever using that wicked fastball/changeup tandem of pitches to induce ground balls or strikeouts when they are most needed in a game. But I still like him as a starter.
Bernie Pleskoff has served as a professional scout for the Houston Astros and Seattle Mariners. Follow @BerniePleskoff on Twitter. This story was not subject to the approval of Major League Baseball or its clubs.