Top five keys to Mariners' playoff push
Seattle well within reach of its first postseason berth since 2001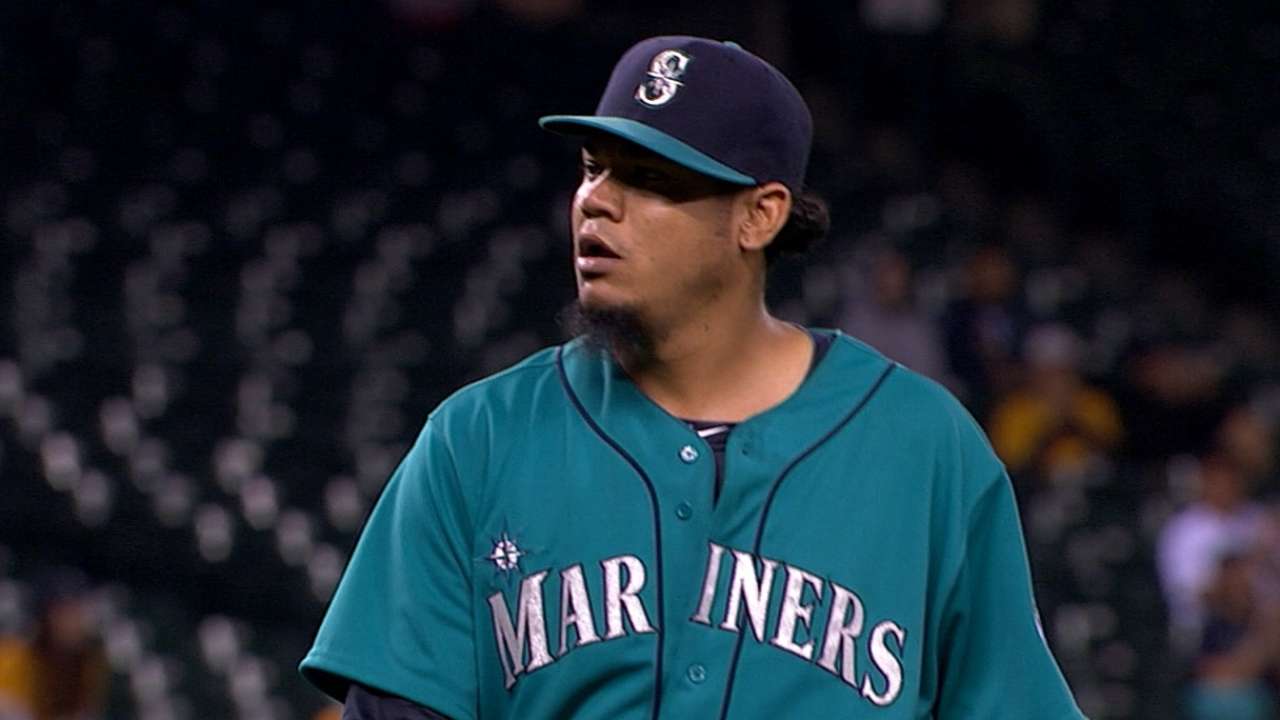 SEATTLE -- It's coming down to crunch time for the Mariners as they pursue their first playoff berth since 2001. With 17 games remaining at the start of Thursday's off-day, Seattle sat a half-game back of Detroit for the final American League Wild Card spot and two back of Oakland for the top AL Wild Card berth.
Here are five things that will determine if the Mariners make the postseason for the first time in 13 year.
1. No more clunkers
Seattle had a chance to move past Detroit with a win Wednesday against Houston, but the Mariners instead dropped that game and the series with a 5-2 loss that manager Lloyd McClendon acknowledged was one of the worst-played outings by his club this year.
With 14 of the 17 remaining games coming against teams with winning records who are also fighting for playoff berths -- including seven against an Angels team that has the best record in baseball -- Seattle can't afford to let down now. But these Mariners have been an anomaly all season, as they're 42-28 against teams with winning records and 36-38 against sub-.500 teams.
This is a club that has continually risen to the occasion ... and that occasion is bigger now than ever.
2. The schedule looms large
Of the Mariners' 17 remaining games, 11 are on the road. But maybe that's a good thing, given that they have just a 37-38 record at Safeco Field, but a 42-28 road record that stands as the best mark in the AL.
A three-game set at Safeco Field with Oakland this weekend is critical, since the fading A's have come back to the pack with a 14-23 tailspin since Aug. 1. The Mariners have the opportunity to further ratchet up the pressure with a series win.
But no matter what happens this weekend, the last looming road trip -- four games at Anaheim, three at Houston and four at Toronto -- could make or break the season. The Halos have been the best team in baseball, the Astros have been surprisingly tough of late and just won two of three in Seattle, while the Blue Jays retain AL Wild Card hopes of their own and are on a four-game winning streak.
Seattle then returns home to close out the regular season with three more games against the Angels, and with no travel day to recover from a long flight from Toronto at the conclusion of that tough 11-game trek. It's a rugged finish to a season, but the Mariners have winning records against all four remaining teams on their slate. So the ball is in their court.
3. Pitching, don't fail me now
The Mariners have stayed in contention with the best pitching in the AL. There have been a few signs for concern recently -- a bad outing by Hisashi Iwakuma in Wednesday's loss to Houston, a recent rough spell for veteran Chris Young, mounting innings for rookie Roenis Elias -- but McClendon has faith in his group.
It helps that Felix Hernandez has been stellar all year and is lined up for four starts in the final 17 games, including the final day of the season, if needed. And rookie James Paxton has been a huge boost for the rotation since returning from a shoulder issue last month. Iwakuma and Young have been very good all year as well, and the ace in the hole is a bullpen with a 2.41 ERA that is the best in baseball.
These Mariners are built on pitching and defense. It's a formula that has paid off to this point, as long as the offense has provided just enough support to make it work.
4. Speaking of offense …
The Mariners aren't going to rewrite any offensive record books, but they need to hold their own with timely hitting and at least some production up and down the lineup in order to score enough to take advantage of that quality pitching.
One good thing to note there: The Mariners hit better on the road, which is one of the big reasons they've gone 42-28 away from Safeco Field. Seattle has the worst home batting average in the AL (.238) and averages 3.5 runs per game at Safeco, but the club is eighth in road average (.253) while averaging 4.4 runs per game.
That extra run each game on the road has proven to be a big difference-maker for a club that is 61-11 when scoring at least four runs a game and 18-54 when scoring three or fewer.
5. What's everybody else up to?
The Mariners' destiny is in their own hands … to a point. Certainly they have the opportunity to beat some of the teams they're competing with to put themselves in position to grab a postseason spot. But things also will depend on how the other teams fare these last 2 1/2 weeks.
Three of these clubs will make the playoffs, with either Kansas City or Detroit winning the AL Central and then two of the remaining teams taking the Wild Card spots. Here's the scenario heading into Thursday's games:
• A's (81-64): Nine of 17 remaining games at home, six of 16 vs. winning teams.
• Royals (80-64): Ten of 17 remaining games at home, six of 17 vs. winning teams (plus finishing a suspended game they trail Cleveland, 4-2, in bottom of 10th).
• Tigers (80-66): Ten of 16 remaining games at home, six of 16 vs. winning teams.
• Mariners (79-66): Six of 17 remaining games at home, 14 of 17 vs. winning teams.
• Blue Jays (76-69): Ten of 17 remaining games at home, 14 of 17 vs. winning teams.
• Indians (74-69): Seven of 17 remaining games at home, six of 17 vs. winning teams (plus finishing suspended game they lead, 4-2, over KC in bottom of 10th).
• Yankees (74-69): Nine of 19 remaining games at home, 12 of 19 vs. winning teams.
Greg Johns is a reporter for MLB.com. Follow him on Twitter @GregJohnsMLB as well as his Mariners Musings blog. This story was not subject to the approval of Major League Baseball or its clubs.