Lynn, Cardinals fall on wrong side of pitchers' duel
Lynn deals dominant start, but St. Louis edged late by Reds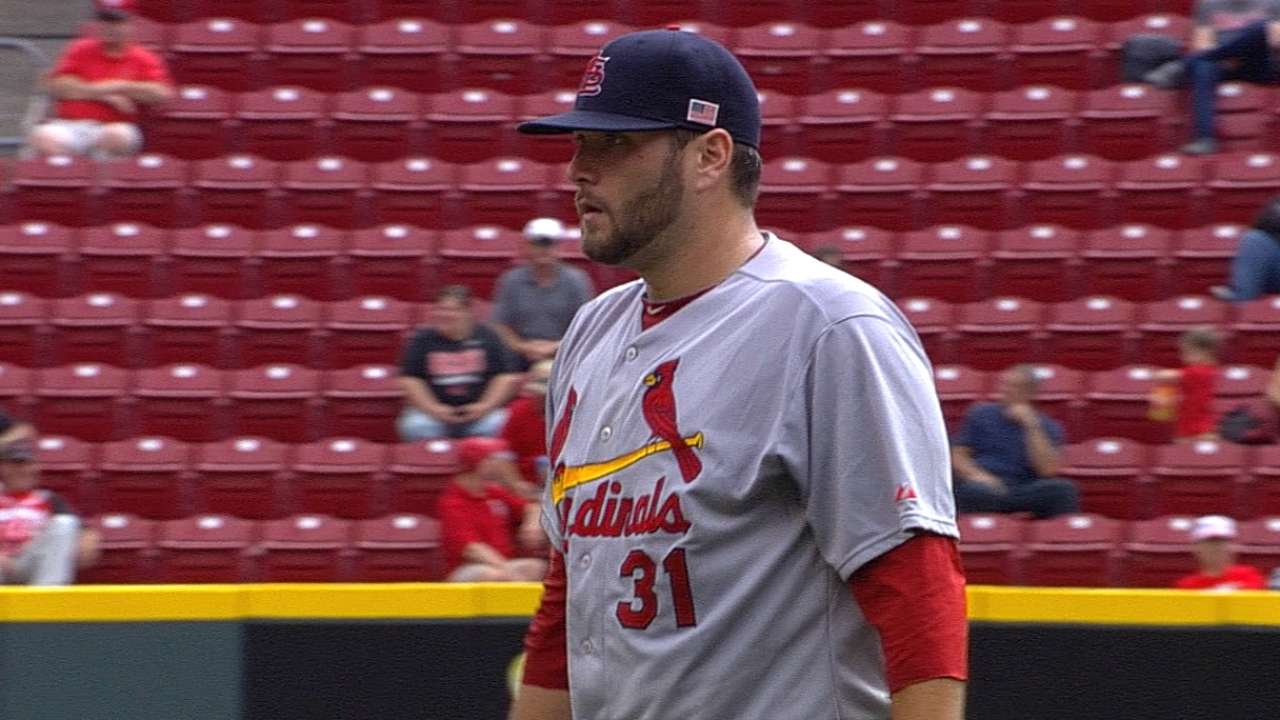 CINCINNATI -- It was after his Aug. 20 start against the Reds, one in which he outdueled Johnny Cueto by dominating over seven shutout innings, that Lance Lynn stood inside the Cardinals' clubhouse and quipped that "it didn't hurt my feelings one bit beating him" when asked if he had relished the opportunity to showcase himself against one of the National League's best.
Cueto returned the jab on Thursday, outpitching Lynn with the help of his defense to lift the Reds to a 1-0 win over the Cardinals in front of 21,688 at Great American Ball Park. After taking four of five games to start this eight-game road jaunt through Milwaukee and Cincinnati, the Cardinals dropped the last three.
Thursday's loss allowed Pittsburgh to pull to within 2 1/2 games in the National League Central race.
"We fought hard," Jon Jay said. "He's a good pitcher. He's got whatever amount of wins (18) for a good reason. Today was a battle. We just ended up short. Lance did a heck of a job matching him. He was just as good."
The difference was defense.
"Today, we just couldn't make the play," manager Mike Matheny said, "and we had them made against us."
Reds first baseman Todd Frazier snared Matt Holliday's chopper down the line to save a run in the third. Four innings later, right fielder Jay Bruce brought back what would have been Matt Adams' 16th home run with a leaping grab at the wall.
"He hit it well enough for it to squeak over but not well enough for it to get it far enough up," Bruce said. "I was just able to time it up and get back there quickly enough and make the play."
Lynn didn't get the same assist behind him, though he was nonetheless terrific while twirling the second complete game of his career. Matheny called it "one of the best starts we've ever seen from him."
Lynn and Cueto traded zeros for seven innings -- with Lynn throwing 88 pitches and facing just one over the minimum in that stretch -- before the Reds broke through in the eighth. It started with a leadoff walk to Brandon Phillips, who then moved to third when Bruce found a hole for his ground-ball single.
Ramon Santiago, the only other Reds batter to have reached scoring position all day, poked a fastball to center field. It was a ball that Jay would normally have slid feet-first to grab. But with a runner poised to tag at third, that wasn't an option.
Jay, trying to grab the ball on the run, watched it nick off his glove. Phillips scored without a play.
"They're going to be aggressive," Jay said. "If I leave my feet there, then they are going to score automatically. It was a big play for them. I go for the catch, and I missed it."
"That one is a tough play running in, but one that he makes almost all the time," Matheny added. "I think part of it was him anticipating getting the glove up quick to make the throw and it didn't work."
Lynn worked out of further trouble, but the Cardinals didn't have the offense to bail him out. It was his sixth career start of at least eight innings. He had won the previous five.
"Today I had four quality pitches," Lynn said. "I don't know if I've had all four working or have used all four like that, but it was a good feeling. I wanted to hopefully stay right there and use that rhythm moving forward."
After being handcuffed by Cueto for eight innings, the Cardinals went down against Aroldis Chapman, with Mark Ellis, pinch-hitting for Adams and representing the go-ahead run, striking out to end the game. Really, though, the missed chances had already come and gone by the time Chapman closed out his third game of the series.
The Cardinals watched several early run-scoring opportunities fizzle. The first two batters of the game reached, though neither would budge. Double plays thwarted chances in the third and fourth when the Cardinals opened the innings with singles.
Cueto closed his outing by retiring 14 in a row, with Bruce's catch serving as glue to that streak. Both Cueto and Lynn allowed three singles over eight innings. The win was Cueto's 18th of the season, while Lynn was denied becoming a 16-game winner for the second time in his career.
"It makes it fun," Lynn said of the duel. "It's always a challenge, whoever you're going against you want to beat them. Today, he outpitched me. I gave it everything I had."
Jenifer Langosch is a reporter for MLB.com. Read her blog, By Gosh, It's Langosch, and follow her on Twitter @LangoschMLB. This story was not subject to the approval of Major League Baseball or its clubs.