Reds ride Cueto, defense to shutout, series win
Bruce's homer-robbing catch aids ace's gem against Cardinals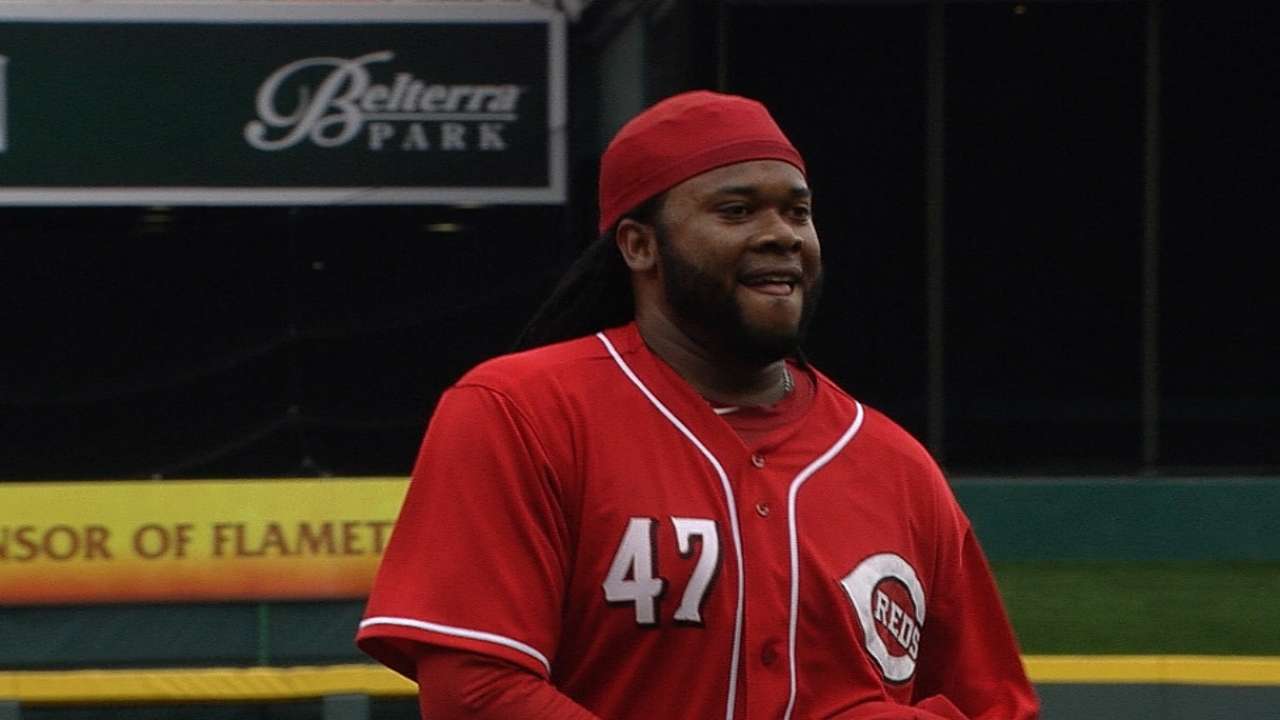 CINCINNATI -- The way things had been going for Johnny Cueto and Lance Lynn, a pitching duel on Thursday afternoon between the two wouldn't exactly have been a far-fetched proposition.
The two right-handers matched each other inning for inning for seven scoreless frames. But thanks to a highlight-reel catch by right fielder Jay Bruce that robbed Matt Adams of a home run and the Cincinnati offense finally breaking through in the eighth, the Reds beat the Cardinals, 1-0, to take three of four from St. Louis at Great American Ball Park.
The series win over St. Louis was the Reds' first in five tries this season, and just their second in the last 13 series against the Cardinals overall.
In the seventh, Adams hit a deep drive to right field against Cueto. Bruce drifted back, timed his leap and reached over the wall to preserve the scoreless tie. A fan was reaching for the ball simultaneously, but Bruce managed to snag the ball anyway.
"You've got to try and get back there as fast as you can and find the way in the process," Bruce said. "I knew it was going to be close. I didn't know if it would be just out of reach. You never want to assume because you don't want to assume it's gone and get back there and it hits the wall."
Needless to say, Cueto was appreciative of Bruce's effort.
"I looked at Jay, and when I saw him timing the ball, and kept looking and kept looking and I saw he got it. ... Thank God that the wind pulled it a little bit in, and Jay got it," Cueto said through translator Tomas Vera.
With the game still scoreless in the eighth, Brandon Phillips drew a walk to lead off the frame and moved to third on a Bruce single. Ramon Santiago then lifted a soft fly ball to shallow center, where Jon Jay charged and dropped it, allowing Phillips to score.
Bruce's defensive gem wasn't the only one on the afternoon behind Cueto. With a runner at third and two outs in the third, Matt Holliday hit a sharp ground ball headed past the bag at first base and down the right-field line, but Todd Frazier snared it on a full-extension dive and flipped to Cueto covering for the out.
Cueto also induced two ground balls that turned into double plays, one of which made a two-on, nobody out situation into a runner-on-third, two-out scenario before Frazier's great play ended the third.
Overall, Cueto went eight innings, allowing three hits and one walk while striking out seven to earn his 18th win, which ties him with the Dodgers' Clayton Kershaw for the Major League lead. He has gone eight or more innings while allowing two earned runs or less 13 times this season, and improved to 10-2 with a 1.55 ERA in day games.
The All-Star right-hander said the classic pitching duel that developed between him and Lynn fueled him as the game wore on.
"What it does is that increases the intensity; every time he goes out there and throws a zero, I come back and I want to throw a zero," Cueto said. "So it's a competition between him and I every inning. And you know what? You keep doing it until somebody scores for you, and thank God they scored for me, and I won the game."
Cueto walked the first batter of the game, Matt Carpenter, and hit the next batter, Jay, to put two on with nobody out in the first. But he settled down thereafter, striking out Holliday and Adams before getting Jhonny Peralta to ground into the force at second.
Following an Adams single to lead off the fourth, Cueto retired the final 14 Cardinals hitters he faced in order.
"I don't know what happens, but every time in the first inning I get kind of goofy," Cueto said with a laugh. "Things happen, but thank God I solved that problem in that time and I came back and made my pitches where I wanted and got out of the inning."
Cueto gave way to Aroldis Chapman, who struck out two in the ninth and picked up his 33rd save of the season to preserve Cueto's first win against the Cardinals since May 14, 2011.
Manny Randhawa is an associate reporter for MLB.com. This story was not subject to the approval of Major League Baseball or its clubs.