Kluber leads Tribe to Game 1 win vs. Twins
Right-hander fans seven in 8 1/3 innings; Santana, Gomes go yard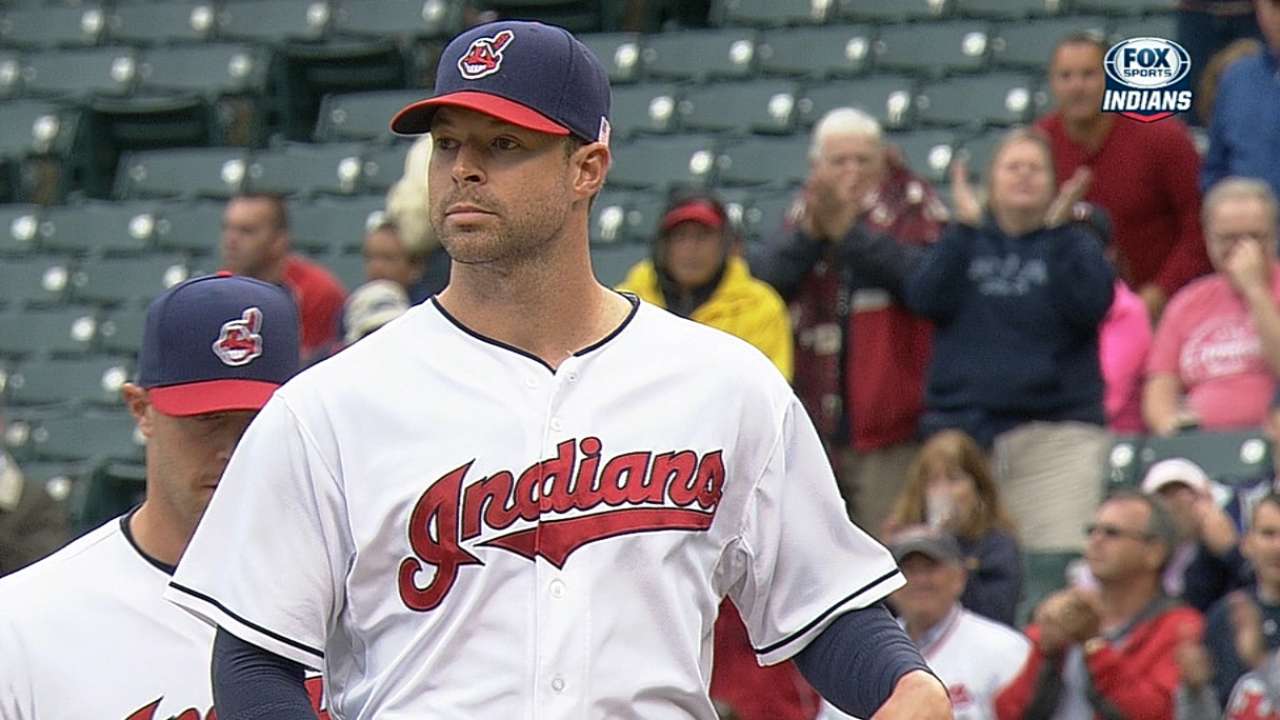 CLEVELAND -- One of the aspects of Corey Kluber's season that has been impressive is the pitcher's ability to overcome a slim margin for error. The right-hander has routinely worked with low run support, magnifying the importance of every single pitch.
In the first game of a doubleheader on Thursday, Kluber was afforded more breathing room than he has been accustomed to this year. Powered by the bats of Yan Gomes and Carlos Santana, Kluber was able to settle in, find a comfort zone and help Cleveland cruise to an 8-2 romp over the Twins at Progressive Field.
"When you have a big lead like that," Kluber said, "you can go out there and be extra aggressive pounding the strike zone. You've got a little margin to work with and a lot of times, when teams get down big, they're going to come out there and try to force the issue a little bit. You can kind of use that against them, too."
With Kluber's 8 1/3 stellar innings, marking the 12th time this season he has pitched at least into the eighth, the righty collected his 15th win. He became the first Indians pitcher to have at least that many victories in a season since lefty Cliff Lee won 22 in 2008 en route to the American League Cy Young Award. In the win, Kluber also lowered his ERA to 2.45.
Cleveland is four games behind the first-place Royals in the AL Central race and is 3 1/2 games back of the division-rival Tigers in the battle for the AL's second Wild Card. The Indians have Kluber to thank for helping lead what has been an incredible second-half turnaround for the rotation, which has kept Tribe in the postseason picture.
Minnesota's lone breakthrough against Kluber in the first eight frames came in the first inning, when Danny Santana shot a pitch down the right-field line for a leadoff double and then scored on a two-out base hit by Kennys Vargas. Following Vargas' single, Kluber held the Twins to a 1-for-19 showing through the end of the seventh inning.
The Twins struck for one run in the ninth off Kluber, but his performance to that point provided Cleveland's offense with more than enough time to mount an attack.
Against Twins right-hander Kyle Gibson, Santana belted a two-run home run in the first inning, and Gomes added a solo shot in the second. Cleveland had three runs two innings into the game, after scoring three runs or fewer in eight of Kluber's previous nine starts, and in 22 of the team's past 32 games overall.
"[Kluber] got that wiggle room and he went out and pounded the zone," Indians manager Terry Francona said. "It seems like every game he pitches, he doesn't ever have that wiggle room where, if you make a mistake, it seems like it's always a one-run game. He just continues to go out and grind through it."
In the third inning, Gomes highlighted a four-run outburst by sending a pitch from Gibson off the wall in left field for a two-run double with the bases loaded. Michael Brantley added an RBI single and Lonnie Chisenhall chipped in a sacrifice fly in the inning, making for an ugly final frame for the Minnesota starter. In all, Gibson was charged with seven runs on seven hits in the loss.
"It's always a good feeling when you're not playing from behind," Francona said. "And then we kept swinging. We did a really good job, because Gibson has been tough, not only against some of the other [teams], but against us."
Brantley ended with two RBIs in the win, giving him 91 on the season. Cleveland has not had a player end with at least 100 RBIs in one season since Victor Martinez and Travis Hafner accomplished the feat in 2007.
That was more than sufficient for Kluber, who issued no walks, scattered eight hits and ended with seven strikeouts in the win. In his candidacy for the AL Cy Young Award, Kluber has also fashioned a 1.56 ERA with 88 strikeouts and 14 walks in 81 innings (11 starts) in the season's second half.
"[Kluber has] been so amazingly consistent and at a high level," Francona said. "He's established himself as one of the better pitchers in the game. Just by knowing him like we do, I don't see that going anywhere, except maybe getting better."
Jordan Bastian is a reporter for MLB.com. Read his blog, Major League Bastian, and follow him on Twitter @MLBastian. This story was not subject to the approval of Major League Baseball or its clubs.