Gibson roughed up early as Twins drop Game 1
Right-hander gives up seven runs on seven hits, including two homers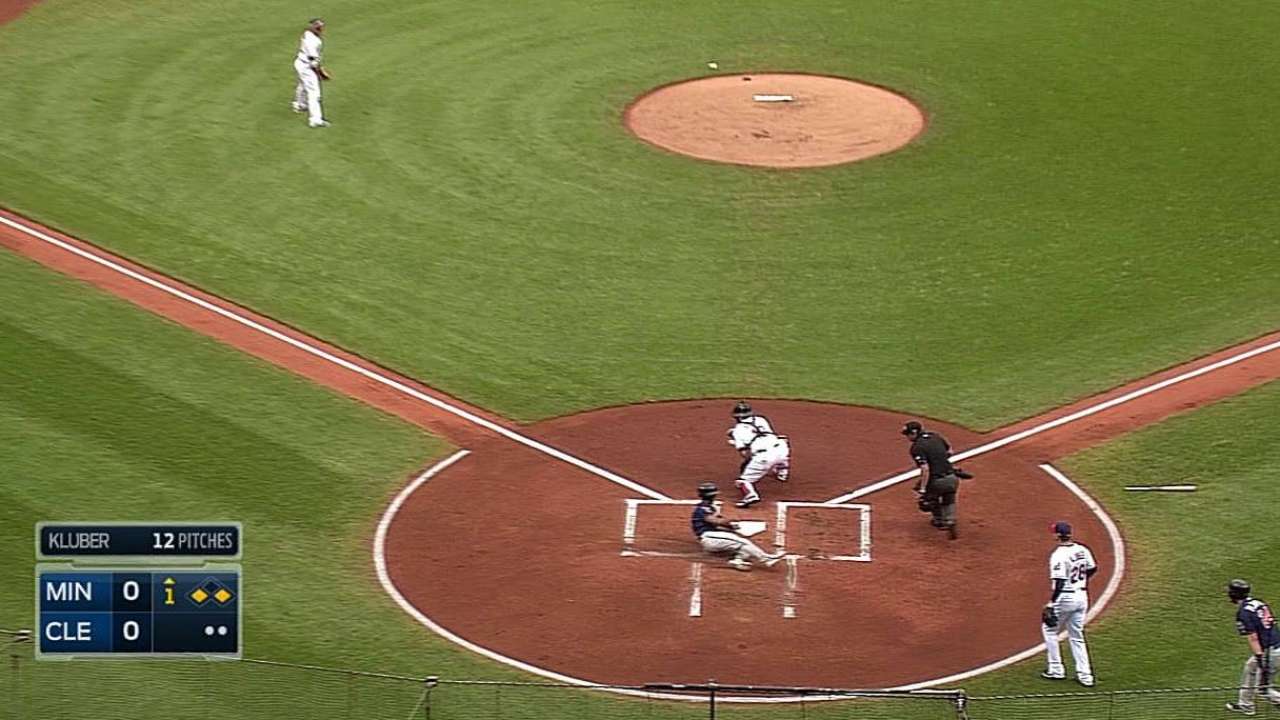 CLEVELAND -- Kyle Gibson started the season strong, but the Twins right-hander is finishing it on the other side of the spectrum.
Gibson was rocked for seven runs in three innings, including homers by Carlos Santana and Yan Gomes, as the Indians cruised to an 8-2 win over Minnesota in Game 1 of a doubleheader on Thursday afternoon at Progressive Field.
Cleveland collected seven hits and a pair of walks off Gibson (11-11), whose last victory occurred on August 13 at Houston. He is 0-2 with a 7.92 ERA in five subsequent starts, averaging five innings per appearance.
"Gibbie didn't give us much of a chance there," Twins manager Ron Gardenhire said. "He couldn't locate, he didn't have command of anything, and he went out of the game early. We're just going to say he had a bad outing."
Gibson didn't record a strikeout during his 60-pitch effort, allowing the top seven hitters in the Indians' batting order to reach base. The 6-foot-6, 207-pound righty insisted that he felt fine physically, but admitted it wasn't his best day.
"It just seemed like everything I was throwing up there, they were hitting," said Gibson. "I felt strong, but there were definitely parts of my game that were lacking. Having a day like this is tough, because I'm running out of starts in the season to work on."
Minnesota took a 1-0 lead in the top of the first when Kennys Vargas singled home fellow rookie Danny Santana, but didn't score again off Cleveland ace Corey Kluber (15-9) until the ninth.
Right-hander Kluber came within two outs of his second straight complete game, allowing two runs while striking out seven. Kyle Crockett entered after Trevor Plouffe singled home Joe Mauer in the ninth, and retired the last two batters of the game.
"We were facing Klubes, who has great stuff, and he was great," Gardenhire said. "You give him a lead, and he did what a good pitcher does, which is make it stand up. When you get down early against him, you're usually in trouble."
Vargas and Oswaldo Arcia had two hits apiece for Minnesota, while Danny Santana doubled in his first action since suffering a lower back strain Saturday.
Anthony Swarzak, rookie A.J. Achter and Lester Oliveros combined to toss the final five innings for the Twins, allowing one run on three hits.
"I was happy with the way those guys pitched," Gardenhire said. "They held the game in check a little bit, which was nice. We just couldn't get anything going offensively against Kluber."
Brian Dulik is a contributor to MLB.com. This story was not subject to the approval of Major League Baseball or its clubs.