Giants sweep D-backs, gain ground in West race
Offense continues hot streak in ninth consecutive home win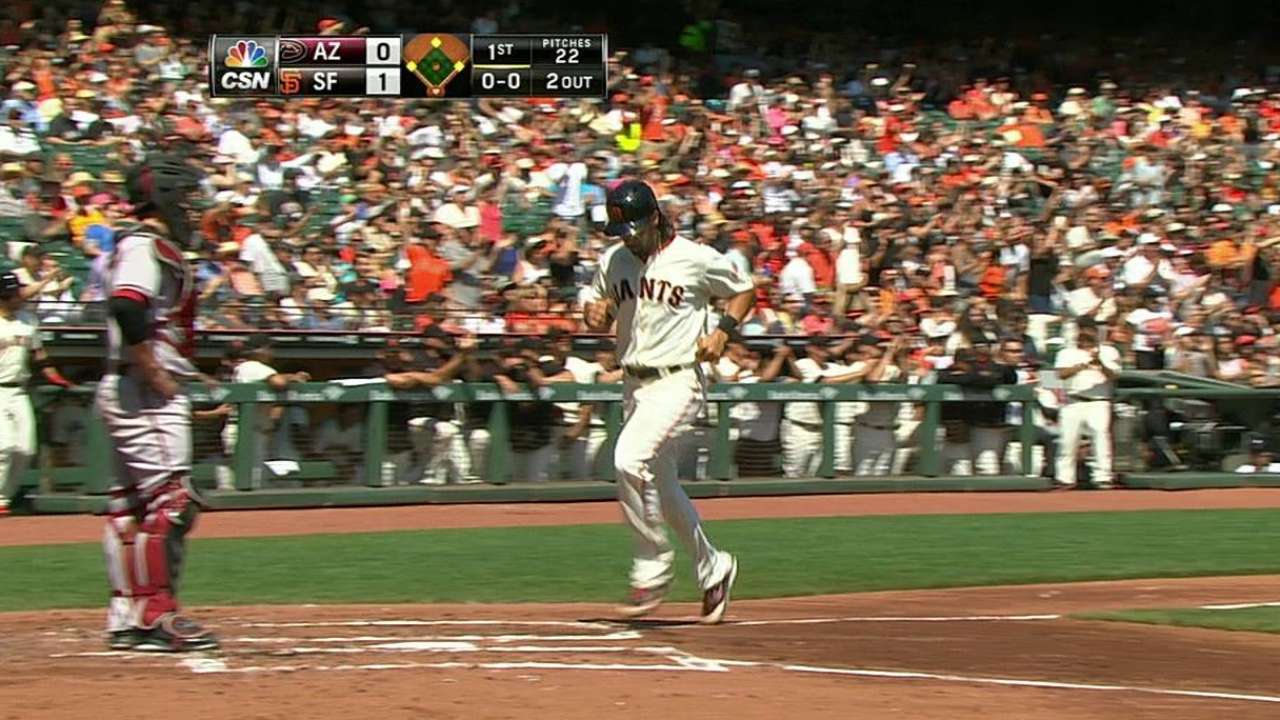 SAN FRANCISCO -- The last time the Dodgers visited AT&T Park, Jake Peavy was in his first weekend as a Giant and his new teammates were reeling: Angel Pagan was injured, production from second base didn't exist, and Matt Cain was just pronounced lost for the season.
The Dodgers swept that three-game series in late July, accelerating the speed on the Giants' summer-long nosedive. Peavy said he'll bust out the proverbial pom-poms in the dugout this weekend, but the righty's latest stellar outing with the Giants helped propel the team to a 6-2 victory against the D-backs on Thursday afternoon.
Riding a nine-game home win streak -- a span in which they've outscored the opposition 58-14 -- the Giants appear as ready as ever to further narrow the two-game deficit their National League West rivals currently own.
"We're feeling good right now," Buster Posey said. "I don't know if I can compare [to the last time they faced the Dodgers], since I can't remember, but we're definitely feeling good right now."
It's easy to see why. They enter their all-important weekend series with the National League West-leading Dodgers with a two-game deficit, and are 4 1/2 games ahead of the Pirates for the NL's first Wild Card spot.
"The team is in a much better place; we had some injuries, there was so much going on there," Peavy said when asked the same question. "Over the past few weeks, we've found some identity as a team and are really playing some team baseball, for each other.
"We'll let the chips fall where they may this weekend."
Everything has come up Giants lately, and that continued Thursday afternoon, with the help of a few rare occurrences.
First, there was a thrown bat.
With runners on the corners and two outs in the first, Hunter Pence literally threw his bat at an offering off the plate from Randall Delgado. That's when second base aided the Giants' playoff push.
Pence hit what appeared to be an inning-ending grounder up the middle in the first, but the ball deflected off second base and past second baseman Chris Owings, who would have had a good shot at forcing Posey out at second. Pagan scored from third to give the Giants a 1-0 lead.
A two-out single by Pablo Sandoval scored Pagan from second to make it a 2-0 game in the third. A Brandon Crawford single scored Gregor Blanco in the fourth. A two-out double by Mark Trumbo in the sixth scored Cliff Pennington to give the D-backs their first run and also chase Peavy from the game. The comeback attempt was squashed a half-inning later, by the day's third rare occurrence.
Juan Perez gave the Giants a 4-1 lead when he doubled down the left field line to score Travis Ishikawa. The RBI was Perez's third of the season and first since his game-winning two-run home run against the Reds in early June. The Giants tacked on two more runs later in the inning.
That was plenty of run support for a pitching staff throwing as well as any in the Majors right now.
Peavy struck out eight and allowed just one earned run in 5 2/3 innings. In nine starts since being acquired at the Trade Deadline, Peavy has allowed 15 earned runs in 59 innings. He's 5-1 with a 1.12 ERA in his last six starts.
"It's been fun to watch him, to see the intensity and the talent that Jake has, and he's been on every start," manager Bruce Bochy said. "A couple starts our defense probably hurt him, but he's really commanding the ball well, all of his pitches."
That's about par for the course of late for Giants starters, who, in their last 10 home games, have collectively posted a 1.00 ERA along with 77 strikeouts and just 12 walks.
Bochy often says quality pitching is paramount. But without a productive offense, it goes for naught. The bats have also held up their end of the bargain, as they hit .353 (12-for-34) with RISP in the there-game sweep of the D-backs. It's all combining to build confidence among a team playing its best baseball of the season at the best time of the season to do so.
"There's nobody in this clubhouse who believes we can't get it done, and nobody's listening to outside influences," Peavy said when asked how the Giants' clubhouse compares with Boston's last year. "We're showing up with a fresh attitude every day, and certainly a lot of the same spirit is in this room. There's a championship pedigree around here."
Times like this weekend's crucial three-game series are when such qualities are supposed to manifest themselves.
"This is what the game is about, and what you're hoping to be in, come September, playing important games," Bochy said. "There's a lot of history with these two teams. It's good for baseball, how the schedule winds up, to have us and the Dodgers going at it."
Ryan Hood is an associate reporter for MLB.com. Follow him on Twitter @ryanhood19. This story was not subject to the approval of Major League Baseball or its clubs.