A's trying to overcome late-season injuries
Catching trio banged up; Doolittle set to return Friday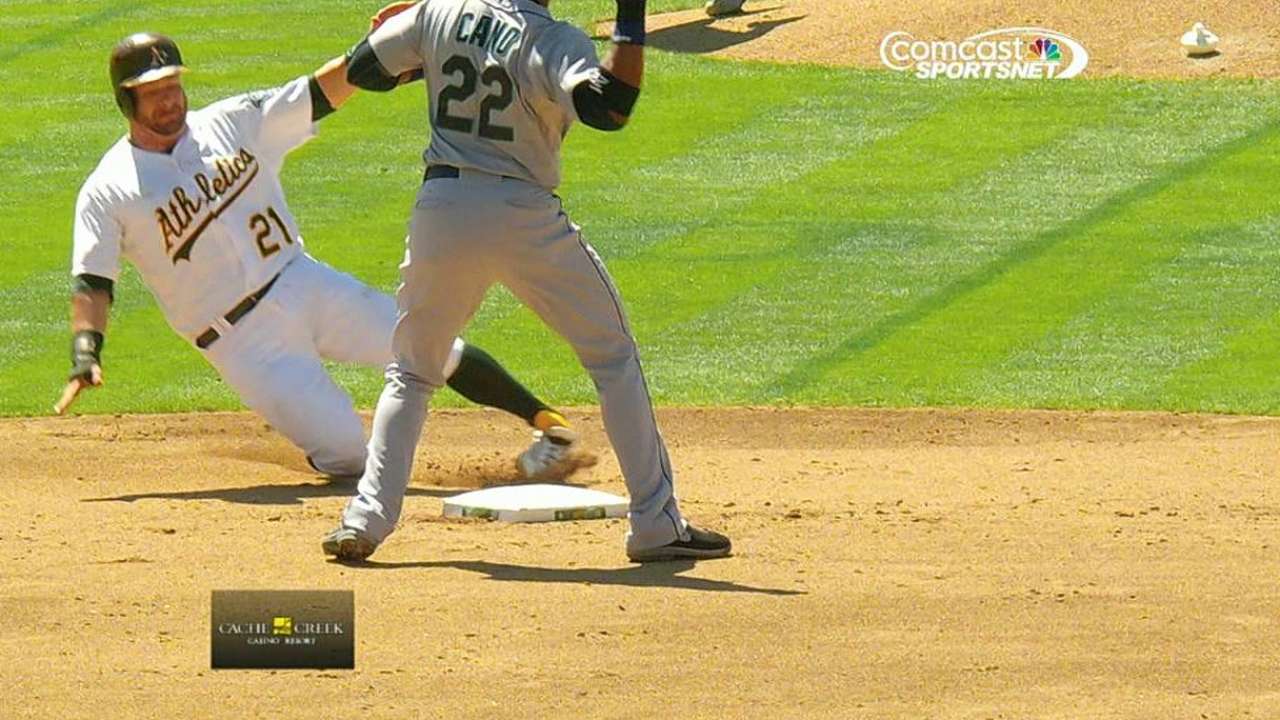 CHICAGO -- A major wrench in the A's offensive struggles of late can be rooted in the deficit of their three-man catcher platoon: Derek Norris, John Jaso and Stephen Vogt.
Since Jaso went down with a concussion on Aug. 23 -- Vogt (ankle) followed on Sept. 3 -- the A's are 5-12 and averaging 3.8 runs per game, well under their season average of 4.6. Granted, the offense as a whole has struggled the last month, but Oakland's triad of catchers was a significant cog in the offensive engine.
Norris, a first-time All-Star this season, has spent the bulk of the time behind the plate. He's is hitting .219 with no homers and five RBIs since the A's began their downward trend on Aug. 10.
Geovany Soto, acquired from Texas on Aug. 24 for depth, has played in six games, including a start in Thursday's series finale. Soto entered the game 3-for-15 (.200) with three strikeouts with Oakland.
"What we had going behind the plate, certainly Geo is doing a great job for us, but between Jaso and Norris, it was as productive of a spot -- as far as catchers go -- in the league," manager Bob Melvin said. "Losing half of that affects you some."
After sustaining his second concussion in 13 months, it's unclear if Jaso will catch again. Even had he been cleared by his concussion specialist to return to baseball activities on Wednesday, Melvin said it was unlikely Jaso would catch the rest of the season.
Vogt, whose sprain Melvin said was more significant than initially diagnosed, took swings in the batting cage Wednesday in Oakland. He's expected back before season's end, but not for the A's critical weekend series in Seattle.
The bullpen is looking forward to the return of closer Sean Doolittle, likely Friday. Out with a rib injury since Aug. 24, Doolittle said he "felt great" Wednesday as took U.S. Cellular Field pregame to play catch.
Doolittle's presence, Melvin said, "makes our bullpen so much better. It really can be significant with one guy out. … A lot of times that's a guy that you're using to get big outs with guys on base, so losing your closer affects everything as far as the bullpen dynamic goes."
Melvin didn't have much of an update on Tuesday concussion victim Craig Gentry, other than that the outfielder was "still pretty foggy [Tuesday]."
"Obviously, we're not going to push these things with the stuff we know and the stuff we have going on," Melvin said.
Daniel Kramer is an associate reporter for MLB.com. This story was not subject to the approval of Major League Baseball or its clubs.