Cards hoping Lackey can be helped by early ejection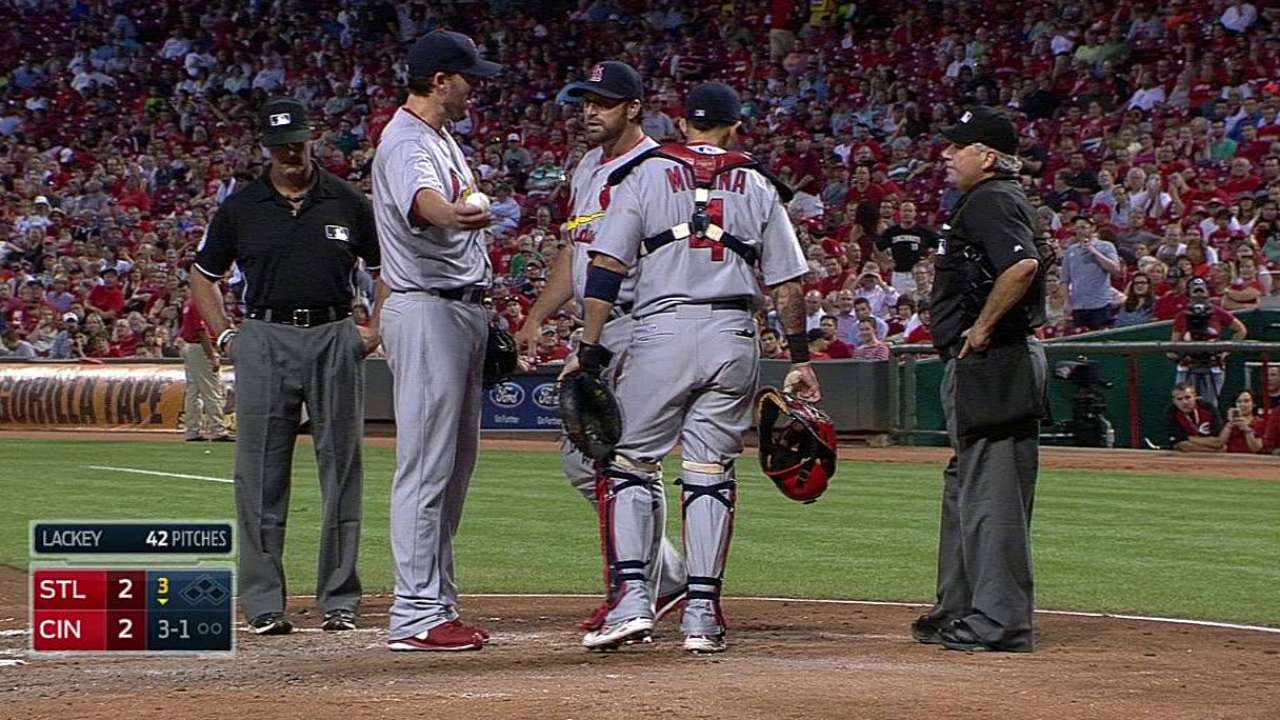 CINCINNATI -- While the Cardinals would have preferred to see John Lackey pitch deeper in Wednesday night's game, manager Mike Matheny said the club is at least hopeful that Lackey's early ejection and an extra day of rest before his next start will help refresh the right-hander, who has labored his last two times out.
Lackey's start against Cincinnati ended prematurely when home-plate umpire Tom Hallion, after warning Lackey to stop arguing balls and strikes, ejected him for continuing. It was a 2-2 game at that point, though Lackey never looked like he had settled in. He noted after the start that he was dealing with some stiffness. Matheny cited a lack of crispness on his pitches.
In his previous start, Lackey had allowed six earned runs on nine hits in six innings.
Lackey has not yet learned whether Major League Baseball will hand down further punishment for his actions on Wednesday. As for the Cardinals, Matheny defended Lackey's propensity for pitching emotionally, comparing Lackey's demonstrative nature to that which the Cardinals saw for years with Chris Carpenter.
The Cardinals were not so lenient with Lance Lynn's expressive demeanor early in his career, as Lynn's in-game gestures or body language were often interpreted to be directed at teammates. The organization hasn't seen the same from Lackey since acquiring him at the Trade Deadline.
"To me, that's one of the things that's inexcusable in this game and that's nothing that John has ever done," Matheny said of showing up teammates or coaches. "Lance's was frustration about what was happening behind him. It's human, and it's normal, but to let it be shown is something that just had to be coached out of him. That hasn't been an issue at all with what John Lackey is doing.
"What it comes down to, first and foremost, in here and in the culture we're trying to establish, if you show up a teammate, we have problems. If you show up a coach, [we have problems]. If you show up an umpire, it's not necessarily our job to completely defend it, but let's realize that that's probably not going to play out for our benefit in the long run."
Worth noting
• After playing 13 straight days upon his return from a thumb injury, Yadier Molina was given Thursday off, and A.J. Pierzynski started at catcher in his place. Since recovering from ligament surgery, Molina is 11-for-47 with five RBIs but no extra-base hits.
• Though the club could tweak its rotation around Monday's off day, manager Mike Matheny said on Thursday that he expects to have the rotation roll over as is following the team's first day off since Aug. 28..
• Outfielder Rafael Ortega and catcher Audry Perez, both of whom were designated for assignment on Monday, cleared waivers and have been outrighted to Triple-A.
Jenifer Langosch is a reporter for MLB.com. Read her blog, By Gosh, It's Langosch, and follow her on Twitter @LangoschMLB. This story was not subject to the approval of Major League Baseball or its clubs.