Cuban slugger Tomas moves closer to MLB eligibility
Outfielder unblocked by US government; showcase in Dominican Republic next week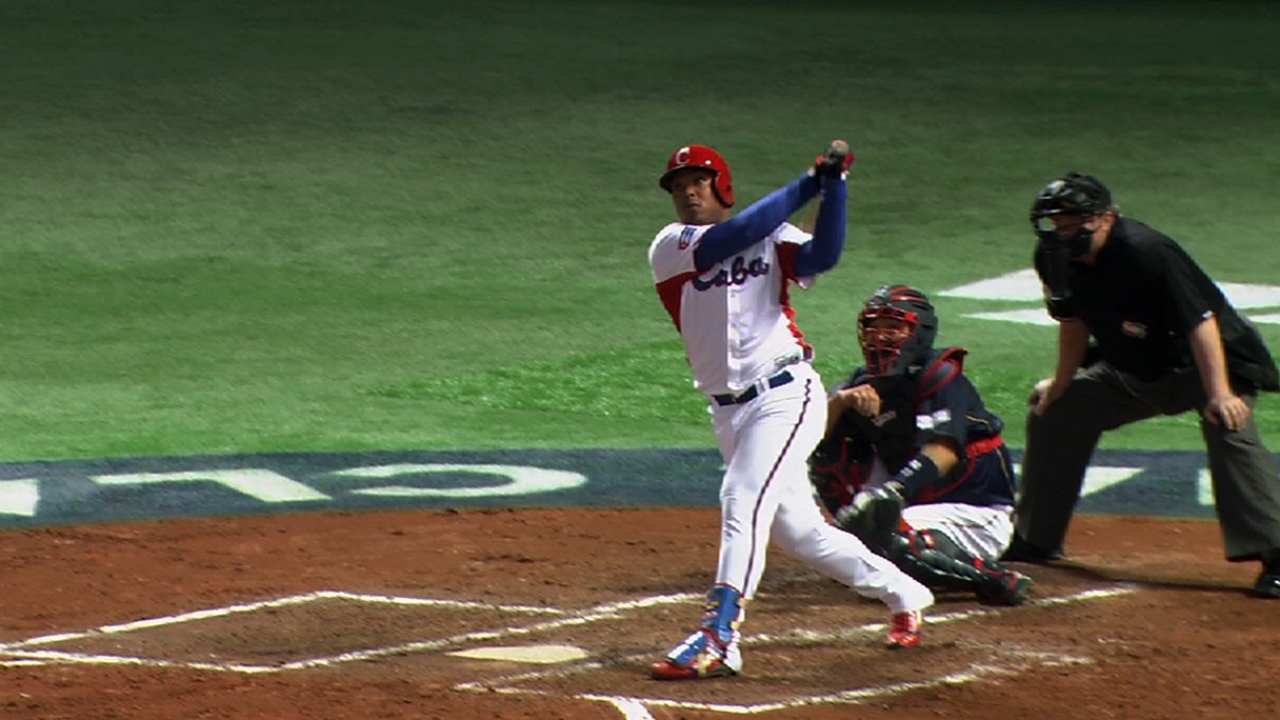 Cuban slugger Yasmany Tomas has taken another step toward fulfilling his Major League dream.
The 24-year-old corner outfielder has been unblocked by the U.S. Department of Treasury's Office of Foreign Assets Control (OFAC), and he is waiting to be declared a free agent by Major League Baseball, according to an industry source.
A showcase for the 6-foot-4, 240-pound Tomas is tentatively scheduled for the end of next week in the Dominican Republic.
The next top Cuban prospect is expected to follow in the footsteps of countrymen Rusney Castillo, who recently signed a seven-year, $72.5 million deal with the Red Sox, Jose Abreu (six-year, $68 million contract with the White Sox) and Yasiel Puig (seven-year, $42 million deal with the Dodgers).
Tomas cannot enter into an agreement with a team until he has been declared a free agent.
Tomas is known for his power and has a reputation for launching long home runs, but he's also prone to big swing and misses. He's agile for his size, and he has a strong arm, but there is room for improvement on defense. As a result, he's characterized as "high-risk, high-reward" type of player in some international scouting circles. He is said to be in much better physical shape than he was in Cuba and has worked on his approach at the plate since leaving the island.
Tomas has some experience as a member of Cuba's international team, including the 2013 World Baseball Classic. He also played five seasons for the Havana Industriales in Cuba's Serie Nacional, which means he will not be subjected to the international signing guidelines when he becomes eligible to sign.
Overall, Tomas hit 30 home runs with 104 RBIs in 205 regular-season games for the Industriales starting in 2008. He never played more than 69 games during the Serie Nacional's 90-game regular season and did not play during the 2010-11 season.
Tomas defected from Cuba in June and later established residency in Haiti.
Jesse Sanchez is a national reporter for MLB.com. Follow him on Twitter @JesseSanchezMLB. This story was not subject to the approval of Major League Baseball or its clubs.