D-backs' offense continues to falter as road trip ends
Delgado allows three runs in four innings to red-hot San Francisco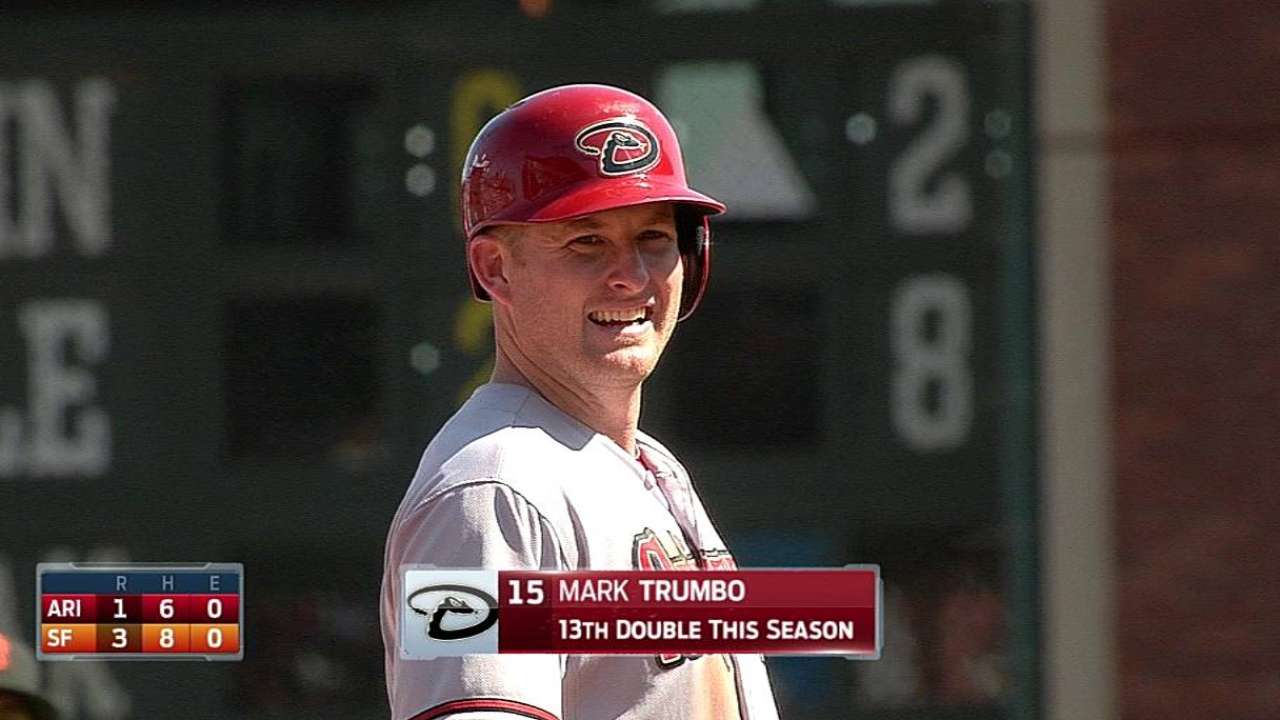 SAN FRANCISCO -- The D-backs' long road trip came to an end Thursday afternoon with another loss, this one by a 6-2 margin to the Giants at AT&T Park.
After 11 days and 10 games, the D-backs are headed back to Phoenix having misplaced their offense while going 2-8 on the trip.
Arizona managed just 21 runs on the trip and 11 of those came in their two wins against the Padres.
"It's definitely frustrating," D-backs outfielder A.J. Pollock said. "You want to play good ball and that wasn't good baseball. If we're not going to hit we're going to have to play better in other areas over a game and we're not doing that."
After being shut out Wednesday night, the D-backs did, at least, manage to score Thursday against Jake Peavy and a host of relievers.
Much like the night before, they did have their opportunities, but were not able to cash them in.
The D-backs stranded a leadoff double in the second and they also left runners on second and third in the sixth.
"I think we need to be more consistent with it," D-backs manager Kirk Gibson said of his team hitting with runners in scoring position. "Got to get more consistent, got to stay with it. Your opponent is trying to get you to do certain things and you can't give into it. You've got to be willing to go to two strikes. If that's what it takes then you have to do it, then you have to be more in 'protect mode,' but before that you don't want to swing at their pitch."
Meanwhile starter Randall Delgado (3-4) was not as sharp as his last start, but in fairness the Giants were fortunate with a few of their hits.
The right-hander allowed three runs on seven hits over four innings as the Giants steadily built a 3-0 lead.
"The first inning he could have easily been out of with no runs and probably facing a couple less hitters," D-backs catcher Tuffy Gosewisch. "He didn't have his best stuff today but I think he battled really well. Some things didn't go his way but he still went out there and executed pitches for the most part. I thought we were behind some hitters that we didn't necessarily want to be behind and that forced us to throw some pitches that ended up getting hit. It's a good team over there. They're rolling right now."
The D-backs finally got on the board in the sixth thanks to a triple by Cliff Pennington and an RBI double from Mark Trumbo.
The Giants, though, responded with three runs in the bottom half of the inning off rookie reliever Matt Stites to balloon their lead to 6-1.
"Stites is not throwing with a lot of confidence right now," Gibson said.
The unfortunate part about the trip for the D-backs is that their starting pitchers pitched well enough for them to have won more games.
"You've got to find a way to win when your pitchers are keeping you in a game like that," Pollock said. "Offense and the defense have to step up. You've got to play good defense and you've got to scratch some runs and we did a bad job of both. So it's frustrating. We've just got to concentrate on finishing strong and playing better baseball because that wasn't very good."
Steve Gilbert is a reporter for MLB.com. Read his blog, Inside the D-backs, and follow him on Twitter @SteveGilbertMLB. This story was not subject to the approval of Major League Baseball or its clubs.