Wise owners can still find useful pieces on waiver wire
Bats easier to find than arms for fantasy owners down the stretch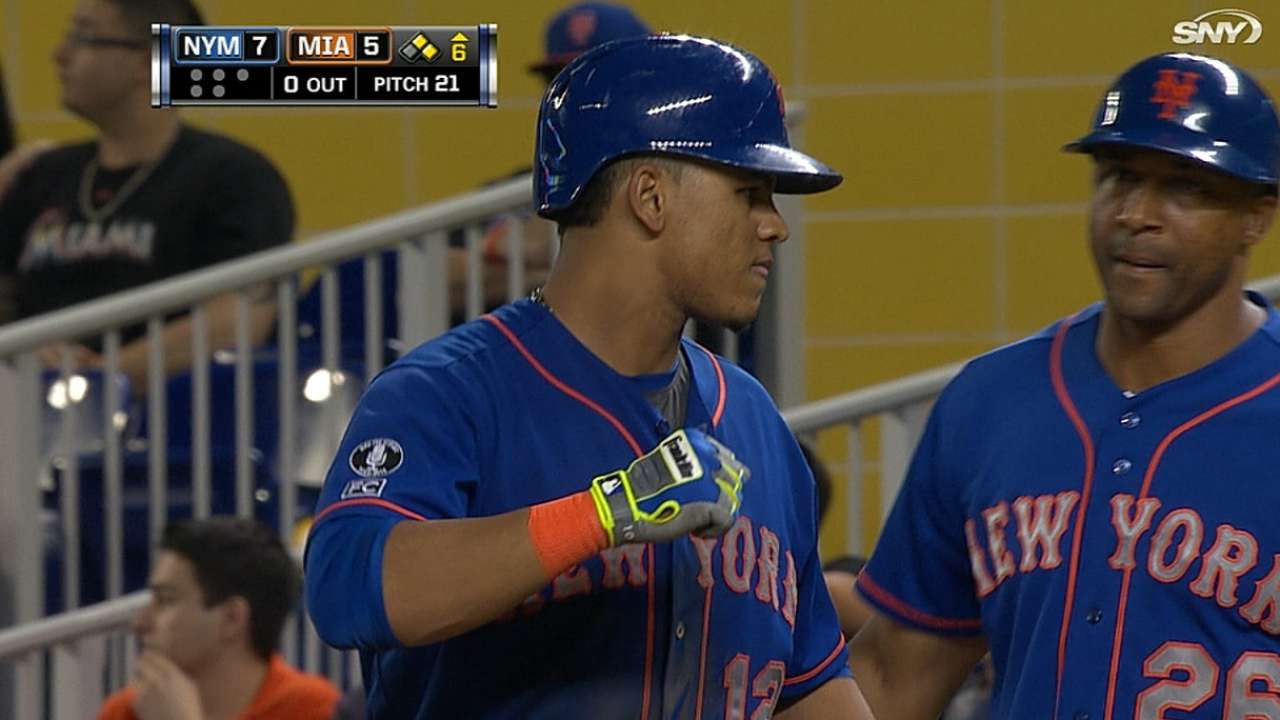 There is little more than two weeks remaining in the 2014 regular season, and the pickings are starting to get slim on the waiver wire. Fantasy owners can likely find a hitter to meet their category-specific needs, but those in search of starting pitchers will find few helpful arms. Some teams have moved to six-man rotations, while others have started to shut down their youngest starters. Shrewd owners will need to spend significant time scouring the waiver wire this weekend in order to set the best lineup for a final push.
Catcher, Travis d'Arnaud (Mets): At 25, d'Arnaud seems to be hitting his stride, as he has collected 13 hits in his past eight games. He has a patient approach at the dish and a fine power stroke, and he offers more upside than other waiver-wire options.
First baseman, Adam Lind (Blue Jays): Lind is hitting cleanup, after the Blue Jays made adjustments for the absence of Melky Cabrera. The lefty slugger has hit .362 vs right-handers, and he will play all of his remaining games in hitter-friendly parks. Lind has not hit for power this season, but he should still drive in plenty of runs in September.
Second baseman, Jose Ramirez (Indians): After hitting .301 with five steals in August, Ramirez has already swiped three bases this month. Fantasy owners who are hurting from the absence of high-profile second basemen such as Dustin Pedroia should give Ramirez a chance.
Shortstop, Brad Miller (Mariners): Miller's blend of speed and power attracts the attention of fantasy owners, but he has struggled to get on base this season. He has gone 11-for-29 (.379) since Aug. 31, with two homers and a steal over that stretch, so this could be the time to give him one more chance.
Third baseman, Casey McGehee (Marlins): The 31-year-old has not hit for power this season, but he has maintained an impressive .295 batting average, and he has already reached 70 RBIs. Fantasy owners who need a replacement for David Wright should strongly consider the Marlins' cleanup hitter.
Outfielder, Juan Lagares (Mets): Determined to be more than just an outstanding fielder, Lagares has been burning up the basepaths in recent games. The 25-year-old saw a nine-game hitting streak snapped on Wednesday, and he swiped six bags over that stretch. Lagares is one of the few sources of cheap speed who can also provide a helpful batting average.
Outfielder, A.J. Pollock (D-backs): Pollock has shown no signs of rust from his lengthy DL stint, as he has gone 6-for-19 (.316) with a pair of stolen bases since coming off the DL on Sept. 2. The 26-year-old should be a great source of batting average this month, and he can also chip in a couple homers and steals.
Starter, Wei-Yin Chen (Orioles): The lefty dominated the Red Sox and Rays in his past two starts, and now he gets to return home for a pair of outings next week. Chen should thrive against a Blue Jays lineup that struggles vs. southpaws, and then he gets another start against a Boston squad that he held to three hits over seven innings on Wednesday.
Starter, T.J. House (Indians): House is a solid source of K's, as he has whiffed at least five batters in five of his past six starts. The lefty allowed just two runs over his past two appearances, and he was lined up for a pair of starts against non-contenders next week before being rained out on Wednesday. House's two-start status is now up in the air, depending on how the Indians choose to adjust their rotation, but it is still possible that he will be slotted for next Tuesday and Sunday.
Starter, Collin McHugh (Astros): This 2014 breakout performer continues to surge, as he has allowed 10 runs over his past eight starts. McHugh boasts and outstanding strikeout rate, and he should thrive in a pair of home outings next week. Of all the starters in this column, he is likely the best option.
Starter, Jarred Cosart (Marlins): The move to the Senior Circuit has been kind to Cosart, who has thrown six straight quality starts. The 24-year-old should be able to continue his late-season surge next week when he faces the light-hitting Mets in pitcher-friendly Citi Field before returning home to tangle with the Nationals.
Starter, Jake Odorizzi (Rays): Odorizzi threw 14 1/3 scoreless innings over two starts before faltering in the Bronx last time out. The 24-year-old has whiffed 168 batters in 159 innings this season, so he should be able to rack up plenty of K's in two home outings next week.
Starter, Vance Worley (Pirates): Worley has been inconsistent this season, so he is not a good option in shallow leagues. The 26-year-old will work at home twice next week, and he has posted a 2.75 ERA in PNC Park this season. Worley could find success against the Red Sox and Brewers, who have combined for a 4-15 record this month.
Reliever, Drew Storen (Nationals): When Rafael Soriano was removed from the closer role, many fantasy owners rushed to add Tyler Clippard, but it was Storen who was given three save chances in as many days from Sunday through Tuesday. The 27-year-old has plenty of closing experience, and he could be among the Major League saves leaders this month. Storen's 1.29 ERA this season shows that he has the ability to keep Soriano from getting his job back.
Reliever, Edward Mujica (Red Sox): The Red Sox have not given Mujica many save chances since he took over for Koji Uehara, so some fantasy owners may have forgotten that he currently owns a closer job. Uehara is expected to pitch in low-leverage situations until he shows that he is in top form, so Mujica could come away with a couple more saves in the coming week.
Fred Zinkie is a fantasy baseball writer for MLB.com. This story was not subject to the approval of Major League Baseball or its clubs.