Rivera thankful for chance that led to career revival
After being out of baseball in 2010, catcher began reboot in Puerto Rico, independent league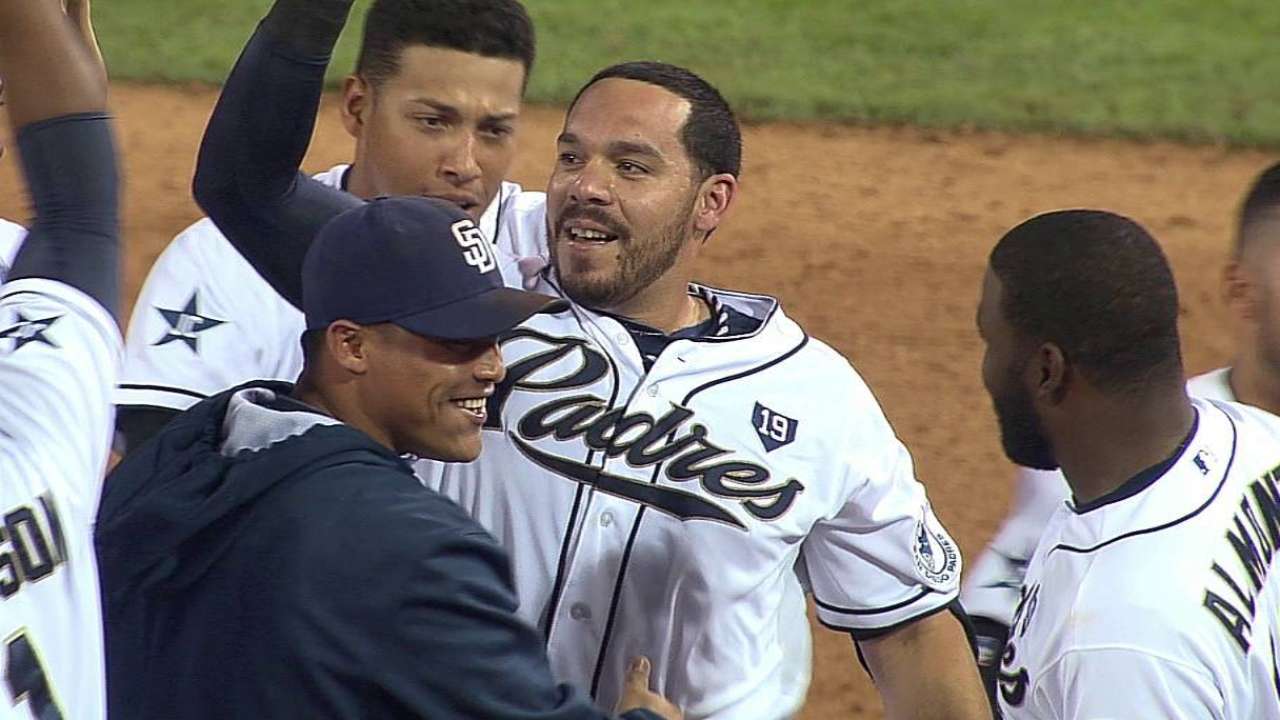 SAN DIEGO -- In the spring of 2010, not quite eight years into his professional career, Rene Rivera sat at his home in Puerto Rico watching Spring Training games on television, waiting for his telephone to ring.
"My agent, now my ex-agent, said there was no interest," Rivera said. "I was thinking that it was over."
At that point in life, Rivera was 25 and, despite a light bat, had built a reputation as a good catch-and-throw guy, good enough to get 53 games with the Mariners from 2004-06. He was the team's catcher of the future at one point, so he was told.
Now, it appeared that Rivera had no future.
Rivera's last hope to stay connected to the game he loved was to play for a semi-professional team in Toa Baja, located 20 minutes from his hometown of Bayamon. Teams in the league were allowed to have one player with professional experience.
For Toa Baja, Rivera was it.
"I got there and found out that these guys all have regular jobs. They worked 8 [a.m.] to 5 [p.m.] each day and then went and played a game … doing it because they love playing," Rivera said. "I think playing there made me fall in love with baseball all over again. So why not give it another chance?"
Former big leaguer Von Hayes, manager of the independent league Camden Riversharks, placed a call to Rivera, remembering him from the Mariners, and offered him a job. Rivera, making $1,500 a month, hit seven home runs in three weeks with Camden before being signed to a Minor League deal by the Yankees.
That started Rivera on his road back to the big leagues.
"I give him [Hayes] a lot of credit," Rivera said. "He thought I had a lot left."
So do the Padres, who are the beneficiaries of Rivera's career revival at age 31, as he's proven to be one of the few non-pitching highlights this season -- both offensively and especially on defense, where he's thrown out a Major League-best 27 would-be basestealers.
Rivera, who signed a Minor League contract with San Diego in December 2012, is now the team's top catcher, having first wrestled playing time away from Nick Hundley and now Yasmani Grandal.
"All year long, he's been a bright spot," said Padres manager Bud Black. "And he has worked his way into regular playing time. He deserves to play."
Getting a spot in a big league lineup more often than not has taken some work, and there have been a lot of twists and turns in a career that began when Rivera signed a professional contract with the Mariners at the age of 16 in 2001.
Rivera made his big league debut in September 2004 at the age of 21. The next spring, he got the call from Double-A in May, notching three hits in his first start. Rivera figured this was the start of a long and prosperous Major League career.
"Oh, I was so young," he said, smiling. "I was immature. I was the best catcher in the organization and I was coming to the big leagues thinking I was going to stay there forever. Looking back, there are things that I could have done different. I would have tried to understand things better, quicker. I don't regret anything. I've learned a lot in the 10 years since, a lot of stuff that has helped me."
After his time in the Mariners' organization, Rivera bounced around baseball -- there's always a place, it seems, for a good catch-and-throw guy.
Rivera was in the Minor Leagues with the Dodgers and the Mets. After his time in Camden, he resurfaced with the Yankees. Rivera got back to the big leagues with the Twins in 2011 before finally signing with the Padres.
Rivera has a pretty good idea why he's flourished the second time around in the big leagues, and with San Diego.
"I could always catch and throw, but now I understand the pitchers better and I communicate with them better," Rivera said. "I remember last year in Triple-A, talking to manager Pat Murphy, he went straight to the point with me, saying I've got to do a better job of that. ... 'Spend time with them, it's about them, not you.'
"I think that was a big step forward for me."
Today, Rivera has the ear of many a pitcher on the Padres' staff, most of whom rave about his pitch-calling as well as his ability to steal strikes -- he ranks seventh in baseball, according to Baseball Prospectus, in extra strikes -- and his knowledge of opposing hitters. The offense -- he's reached career bests in several categories -- is a nice bonus. Defense, though, is Rivera's calling card.
"[Rivera has] helped me out tremendously the last two years," said Tyson Ross. "We sit next to each other on the bench and talk all the time. He's been huge for my career."
As for Rivera's career, it's certainly in much better shape now than it's ever been. The same, he insists, goes for his life in general. Rivera has been married since March 2012 to Mariel Perez, and the couple has twin girls, Julianna Renee and Ivanna Mariel, who will turn 1 on Sept. 26.
"I think I started realizing when I got married and she got pregnant that it's not about me no more. It's all about them. I think that's the moment my career turned around," Rivera said. "When you dedicate what you do for the other people in your life, the others you love, then you're going to have success."
Corey Brock is a reporter for MLB.com. Keep track of @FollowThePadres on Twitter. This story was not subject to the approval of Major League Baseball or its clubs.