Numbers show Reds aggressive running to home plate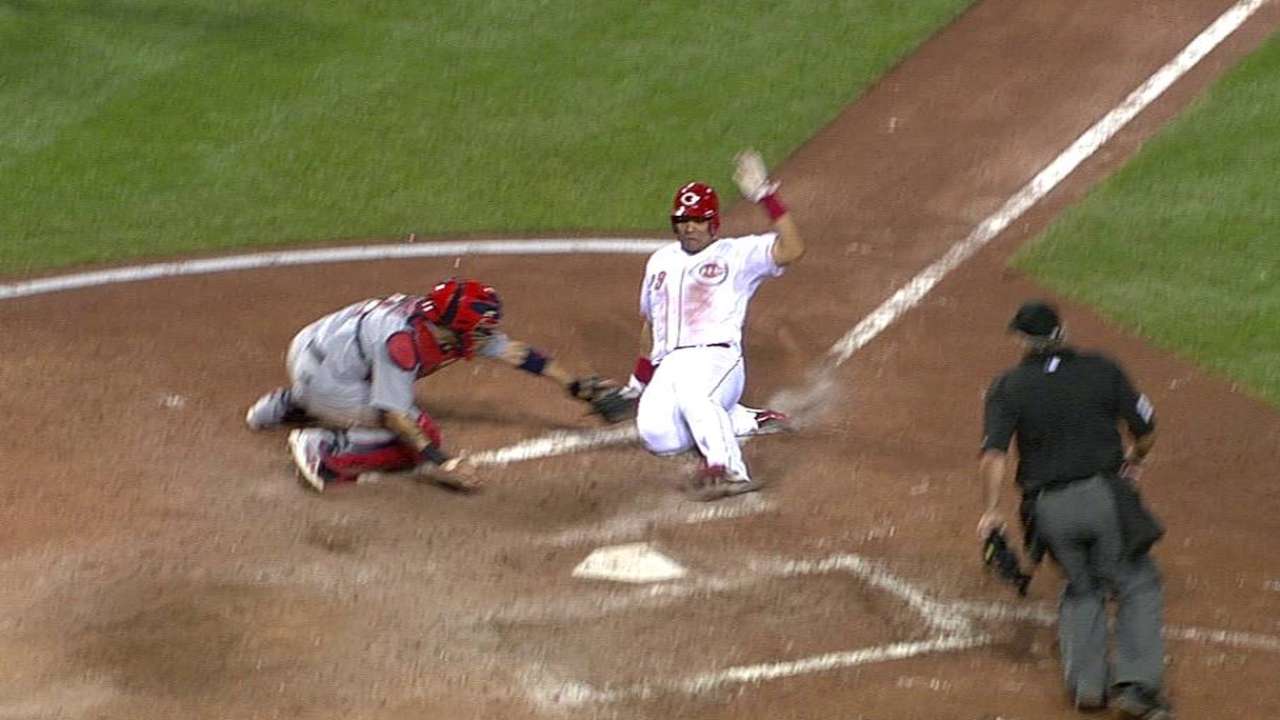 CINCINNATI -- Before the season began, first-year manager Bryan Price promised that the Reds would be more aggressive on the bases. The numbers have backed that up -- both positively and negatively.
The Reds lead the Majors in runners out at home plate in non-force plays with 27, according to Baseball-Reference.com. The league average is 16. Cincinnati also entered Thursday leading the National League with a .360 average with runners at third base and fewer than two outs, and was fourth in runs scored in that split.
Out No. 27 happened to the Reds during Wednesday's 4-2 win over the Cardinals when third-base coach Steve Smith waved Brayan Pena around to try and score from second base on a Brandon Phillips rolling single into left field. Chris Heisey scored from third base on the play but Pena was easily out on a one-hop throw from Matt Holliday.
Local baseball statistician Joel Luckhaupt reviewed the 27 plays and broke them down by the types of situation:
• Eleven outs came on contact plays, which are on ground balls to the infield. Price has a managerial rule that his players usually must run on contact from third base with one out.
"It's not an uncommon philosophy for any manager with one out. With no outs, it's less common, because you have a better chance to be conservative there and drive them in," Price said. "With one out, it's a common practice, in particular when you have guys like [Billy] Hamilton or [Chris] Heisey or [Jay] Bruce or [Todd] Frazier or [Zack] Cozart -- when you have guys who are at least average runners at third base.
"Sitting around waiting for guys, if you're hitting .220 as a team with runners in scoring position, what are you waiting for? What are you waiting for with one out and a runner at third base?"
The Reds entered Thursday batting .249 with runners in scoring position, which was ranked eighth in the NL. They are batting .239 RISP since the All-Star break.
• Four outs were on player decisions to try and score. One example was April 13 vs. the Rays. Tony Cingrani hit a grounder to shortstop and Devin Mesoraco was thrown out running on contact from third to home. Then, Cingrani drifted far from first base to draw a throw, but Cozart tried to score and was thrown out for the inning-ending double play.
• Two were questionable calls for Luckhaupt based on the video, including June 26 at San Francisco, when Hamilton tried tagging up and scoring on a popup to Giants second baseman Joe Panik and was thrown out. Hamilton later said it was his decision to go there. On April 25, Joey Votto was thrown out by right fielder Jason Heyward in a double play when he tagged up and went home on a Bruce flyout at Atlanta.
• Ten of the outs at home came on base hits into the outfield. Three of those were close plays, with two of the three subject to replay and upheld. Seven plays at the plate weren't close at all, including Pena's on Wednesday.
Price and Smith both confirmed the 10 runners out at home on coaching decisions.
"It's just trying to make the right decision," Price said. "We've had 10 guys thrown out trying to score where Smitty's been in charge of sending them, and I don't think that's a ridiculous number, by any means."
Smith has been a target of criticism from fans at times this season. Price backed up his coach.
"I don't listen to any of that stuff. [Previous third-base coach] Mark Berry talked about people in our ballpark getting on him a lot about decisions that he made," Price said. "A lot of those decisions, No. 1, are made by the manager; a lot of them are consistent baseball decisions that are made around the big leagues, and it doesn't matter if it's Dusty Baker or Bryan Price or if it's Bobby Cox or if it's any of these other guys."
Mark Sheldon is a reporter for MLB.com. Read his blog, Mark My Word, and follow him on Twitter @m_sheldon. This story was not subject to the approval of Major League Baseball or its clubs.