Aviles returns to game action in doubleheader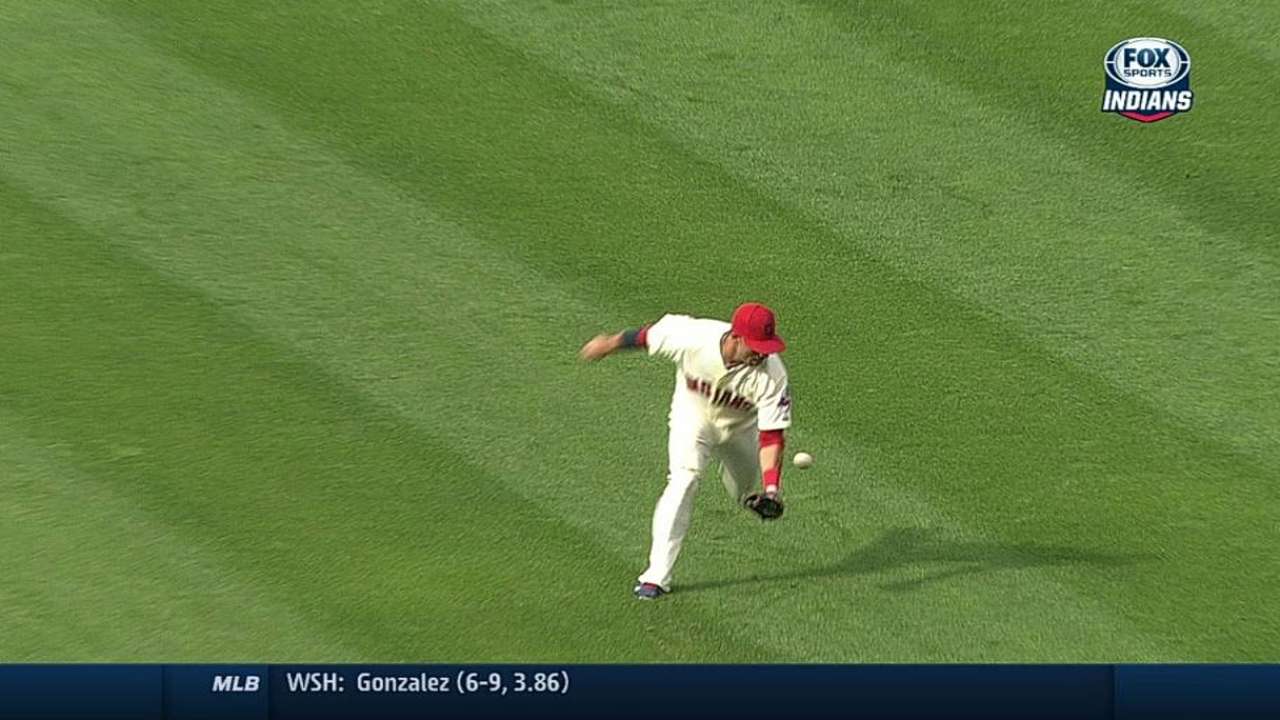 CLEVELAND -- Considering the unknowns that are involved with a concussion, Cleveland is counting its blessings that Mike Aviles needed fewer than two weeks of recovery time.
Prior to Thursday's 8-2 win over the Twins in Game 1 of a doubleheader, Indians manager Terry Francona noted that Aviles was cleared by both the team's medical staff and Major League Baseball to resume playing. The veteran utility man came off the bench for the first game and was given the start at third base for the second game against Minnesota.
"He kind of came through it quick, which is good," Francona said. "He looks really good. The hard thing for me is, because of the weather, we didn't get on the field. So I've got to figure out how to handle [easing him back into the mix]."
Due to a rainout on Wednesday night and the early start on Thursday, the Indians did not have pregame workouts on the field. Under the circumstances, Francona and Cleveland's coaching staff were not able to see Aviles run through drills beyond his activities indoors, so the manager wanted to be smart about how he used the utility man out of the gate.
Francona noted that Aviles has a good track record against Minnesota's Game 2 starter, Ricky Nolasco. Heading into Thursday's action, Aviles had a .636 (7-for-11) career average with one homer and four RBIs against the Twins righty.
Before throwing Aviles into the lineup against Nolasco, though, Francona gave him a pinch-hit appearance in the eighth inning of Game 1. Aviles struck out swinging.
In the first inning of Cleveland's tilt against the Tigers on Sept. 1, Aviles made a diving attempt on a fly ball from Ian Kinsler, but came up short and hit his head on the ground. Aviles remained in the game for three innings before being removed with what was initially described by the Indians as "whiplash" symptoms. He began experiencing concussion symptoms in the following days.
With rosters expanded in September, the Indians did not need to place Aviles on MLB's seven-day concussion list, but he still followed the league's standard protocol for such injuries. Following a gradual return to baseball activities, Aviles was able to run through nearly an entire normal pregame routine by Tuesday.
Entering Thursday, Aviles had hit .245 with five home runs, 12 doubles, 12 stolen bases, 33 RBIs and 35 runs scored in 97 games for Cleveland this year.
Jordan Bastian is a reporter for MLB.com. Read his blog, Major League Bastian, and follow him on Twitter @MLBastian. This story was not subject to the approval of Major League Baseball or its clubs.