Joseph making most of long-awaited opportunity
Rookie catcher had set record for career games played at Double-A Bowie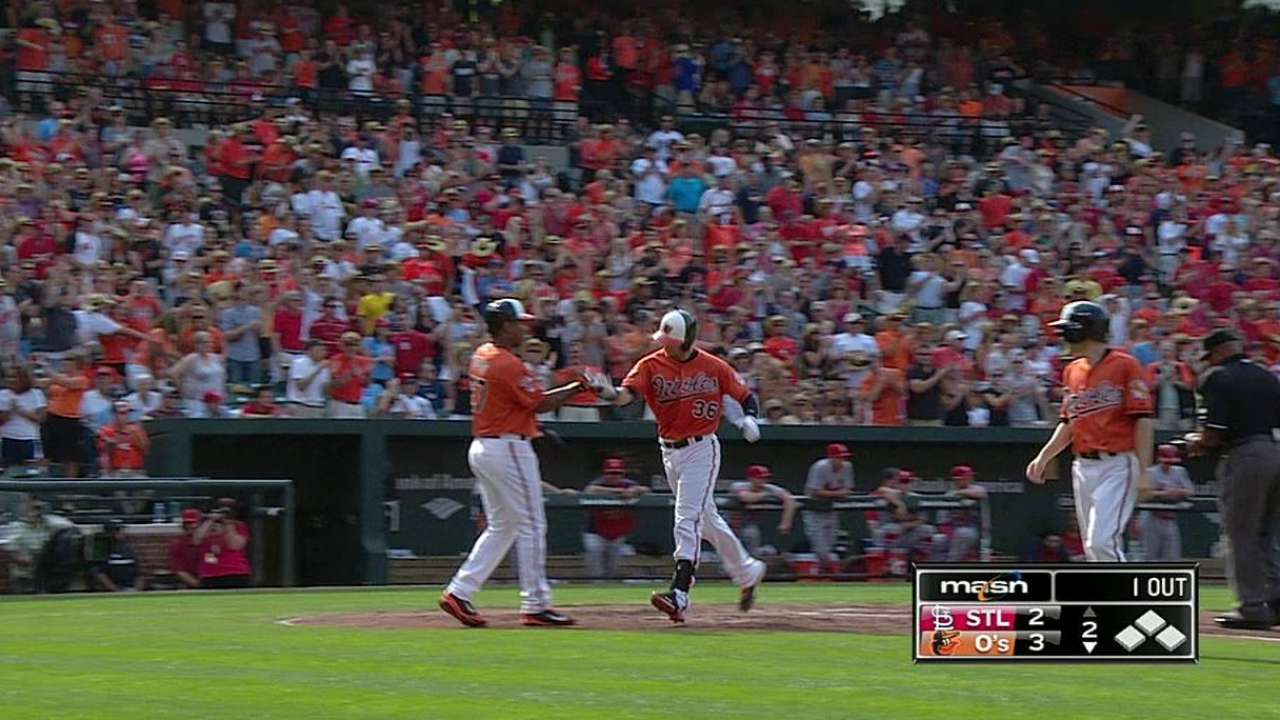 BALTIMORE -- Caleb Joseph heard the same criticisms often enough to know what to expect when he went up to the Cape Cod League in 2007: "We'll give him a chance," coaches and scouts often said. "He's OK. He doesn't really do anything great."
It wasn't particularly a surprise to Joseph when the Falmouth Commodores released him before the season. They were waiting for a pair of catchers to be eliminated from the College World Series, and their runs ended sooner than expected.
A few hours before Joseph was ready to get on a train for another league, he received a call from Mike Roberts, the father of then-Orioles All-Star and current Yankees infielder Brian Roberts. The elder Roberts, who coaches the Cotuit Kettleers in the Cape Cod League, wanted Joseph to try out.
There wasn't much that stood out to Coach Roberts about Joseph, except for a "buggy-whip" swing. It's almost all hands, and [it is] exceptionally rare for a college righty.
Roberts gave Joseph a chance, and he was rewarded with an All-Star season by the catcher.
"Pretty much like the story of my life," said Joseph, now 28. "Given a lengthy opportunity, I was going to the All-Star team."
It wasn't the first time Joseph was passed over for flashier prospects, nor would it be the last.
Joseph was passed over by Southeastern Conference programs, only to become a seventh-round Draft choice out of Lipscomb University in Nashville, Tenn., by the Orioles in 2008. He watched so many younger players put up lesser numbers and pass him by at Double-A Bowie that he nearly retired, only to finally get his chance in the Majors as a starter this season for a Baltimore club that could play deep into October.
Joseph's opportunity finally came through a mixture of patience and an untimely break for the O's. Thirty-four games into 2014, starting catcher Matt Wieters' season came to an end due to an elbow injury. After six years in the Minors, Joseph finally got called to the Orioles.
Four of those years, Joseph spent in Bowie, where those bound for the Majors separate themselves from fringe prospects. He now admits he grew content with being the latter.
"Looking back, I realized that to make it to the big leagues, you've got to really stand out if you're a guy like me," Joseph said. "When I was in it, I was just satisfied with kind of being pretty good in that league."
Some time before Joseph set the Baysox's record for games played, he knew he had to change something. His record-setting 400th game only proved that.
The occasion was Bull Durham meets Cal Ripken Jr. Play stopped when the game became official after the fifth inning for fireworks. After the game, Joseph was presented a No. 400 jersey.
"That's not the kind of record you want to have," Mark Joseph recalled his son, Caleb, telling him over the phone.
Joseph finished that season with a .299/.346/.494 slash line and 22 home runs while setting Bowie career records for hits and RBIs. But he had already proven he could hit. Joseph needed to show that he could also catch.
At the insistence of catching coordinator Don Werner, Joseph started mimicking Wieters midway through last season. Like the American League Gold Glover Award winner Wieters, Joseph now sets his feet to throw before he receives the ball.
"It's a totally different kind of style," Joseph said. "What he does is really hard. I'm still trying to figure it out."
This "cheat" has helped Joseph compensate for an admittedly mediocre arm and bump his caught-stealing percentage from 34 percent in the Minors to an AL-leading 43 this season -- a better number than even Wieters has posted.
Baltimore's catchers -- Joseph, along with Nick Hundley -- have filled in adequately for Wieters in the midst of a pennant race.
"It makes it a lot easier to see how they're playing," Wieters said.
And Wieters' cheat made it easier for Joseph to stay in the mix until he had a chance to find his bat.
As of Aug. 1, Joseph was a sub-.200 hitter. The next day, he went 2-for-3 with a home run. Joseph's average jumped to .209. The next game was the same -- 2-for-3, one home run and another spike. Manager Buck Showalter surmised that Joseph had finally grown comfortable enough with his defense to be loose at the plate.
"You don't do the things he did over a long season catching last year," the manager said after Joseph's second homer, "and not have offensive skills."
In each of the next three games, Joseph again launched a home run. His batting average jolted to .228 and has since risen to .236, to go along with nine homers.
Aug. 9 was the day Joseph etched his name in the O's record book with a fifth straight game with a homer -- a club mark for catchers. His buggy-whip hands darted through the zone at the first pitch he saw that day.
As he rounded the bases, Joseph could think back to every opportunity he was denied. His celebration was a bit more pronounced, complete with a yell and emphatic high fives. They finally had to take him seriously now. Joseph had left his mark in the bigs.
"It's just a big whirlwind of emotions," Joseph said, holding back tears after the feat. "You set a record, and maybe seven, eight months ago, I was thinking about hanging it up. Every day in the big leagues is such a blessing."
David Wilson is an associate reporter for MLB.com. This story was not subject to the approval of Major League Baseball or its clubs.