MLB.com Columnist
Tracy Ringolsby
Elder statesman LaTroy still going strong
Unlike most 40-somethings, Hawkins a major contributor as Rockies' closer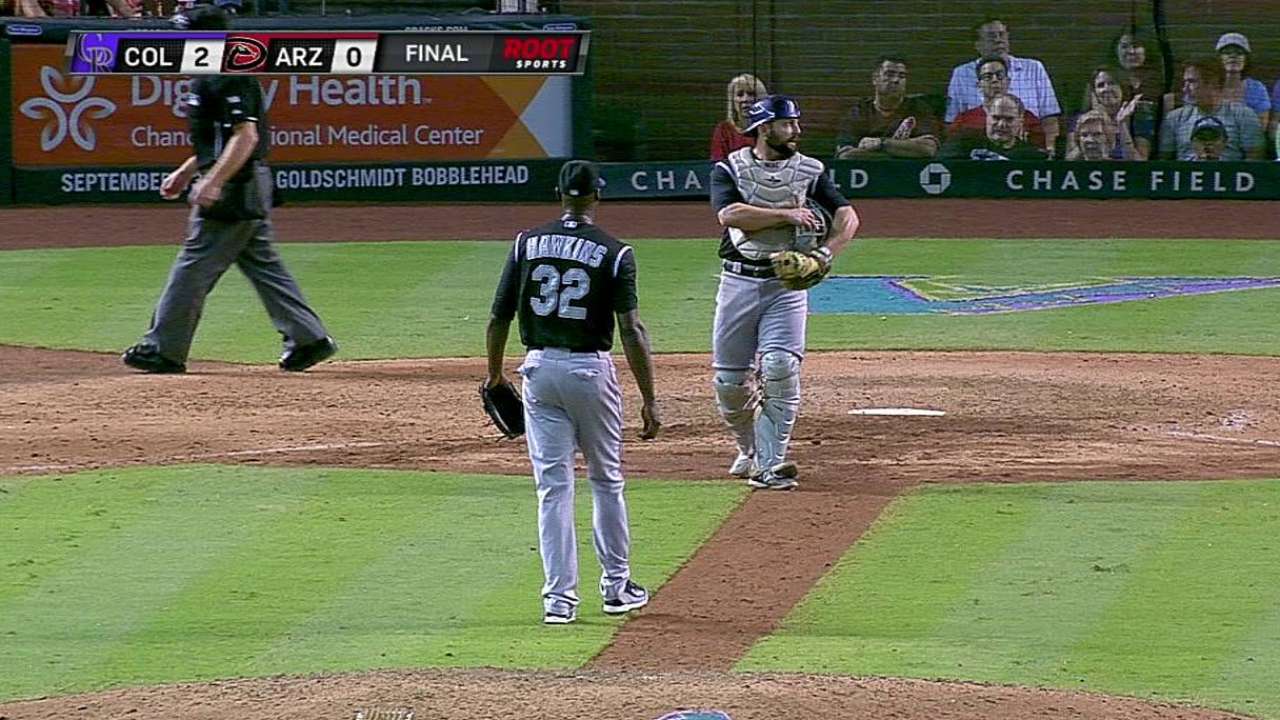 LaTroy Hawkins never was sure what his baseball future would bring. But he wanted to enjoy it. Signed by the Twins four days after being drafted in the seventh round in 1991 -- having turned down a basketball scholarship to Indiana State in the process -- his hope was to get to the big leagues.
"And when I did that, I wanted to stay there [for] four years to vest [in the pension plan]," said Hawkins. "Then, it was get 10 years in so I could max [on the pension]."
Hawkins did that and then some.
Hawkins, who turns 42 on Dec. 21, is the third-oldest player on a big league roster this year, younger than only Raul Ibanez of the Royals and Jason Giambi of the Indians. Now in his 20th season in the Majors, he's No. 1 on the list of tenure. And he is still going strong.
And Hawkins is not just hanging around as an extra man. Given the role of the closer when he signed with the Rockies last December, he has converted 22 of his 25 save opportunities.
Hawkins' next appearance will be the 995th of his career, which ranks 16th on the all-time list, seven behind Goose Gossage and 10 fewer than Mike Jackson.
And Hawkins is cherishing each appearance.
The only personal piece of memorabilia in Hawkins' home in Prosper, Texas, is a framed Twins jersey from his early big league days. However, he has been saving a baseball from each appearance since No. 900, writing the date and place of the game on each ball. When Hawkins reaches No. 1,000, he will have a display created so the 101 baseballs can adorn the wall at home.
"I never have collected things [from my career], and just thought this would be a way to look back at what has happened," said Hawkins. "Getting 1,000 appearances is something special."
Who would have ever thought it would happen?
Certainly not Hawkins. He never had bright-lights ambitions.
"When I got drafted, I thought I was going to get to play baseball and get paid for doing it," said Hawkins. "That's the best job in the world."
It was really great for a kid from Gary, Ind., a steel-mill city gone bad, which is just south of Chicago, where daily survival is a challenge. It's a company town, and when U.S. Steel automated its Gary plants, the town's economy hit bottom.
Patience, however, can be a challenge.
During his second year in pro ball, Hawkins was ready to quit. He was sent to extended spring camp instead of a full-season Minor League team.
"I called my grandfather and told him I was going to quit baseball and come home," Hawkins said. "He said, 'Where you going to stay?' I thought I'd stay with him, but he told me, 'I don't let quitters stay in my house.' I got the message."
And then, in the spring of 1995, after splitting the previous season between the Double-A and Triple-A levels, Hawkins was sent back to Triple-A so he could continue to develop while the big league players were on strike. When the strike was settled, Hawkins didn't get a callup, and he went home at the All-Star break that year again thinking he had enough.
"This guy I knew asked me for $2," Hawkins recalled. "I'm thinking, 'I'm making $1,400 a month and he wants $2 from me.' He told me he was making $200 a month.
"That was it. I went back to Salt Lake City [the Twins' Triple-A affiliate at the time] and got my stuff right. I didn't want to have to ask somebody for $2."
It's worked out well for Hawkins.
Currently in his second tour with the Rockies, Hawkins spent his first nine seasons with the Twins, and he has split the past 11 between the Rockies, Cubs, Astros, Brewers, Mets, Giants, Angels, Yankees and Orioles.
Hawkins was a member of Colorado's 2007 World Series team, which won 14 of its final 15 regular-season games, including a one-game tiebreaker with the Padres. The Rockies then swept the Phillies in the National League Division Series and the D-backs in the NL Championship Series before being swept by the Red Sox in the World Series.
"That September/October was the best memory of my career," Hawkins said. "Nobody had [that kind of run] before. It was special."
But then Hawkins' career has been pretty special, too. While he has moved around since leaving the Twins, he has gone to Spring Training with a big league contract every year except 2013, when he was coming off shoulder surgery. The Mets offered a Minor League deal and an invitation to big league Spring Training.
Hawkins balked.
"I initially told [my agent] Larry [Reynolds], 'No,'" Hawkins said. "I told him I was not signing a Minor League deal. I told him I'd be dead before I'd do that. Larry said he'd call me back in 24 hours. He wanted me to think about it. I did. He was right."
No sense calling it quits too soon, said Hawkins.
"I learned a long time ago that this is a full-time job, and the only way to give yourself a chance to be successful is to take care of yourself," said Hawkins. "That's the easy part for me. I enjoy being an athlete. I want to look the part."
And he handles the part real well, too.
Tracy Ringolsby is a columnist for MLB.com. Read his blog, Write 'em Cowboy. This story was not subject to the approval of Major League Baseball or its clubs.