MLB.com Columnist
Anthony Castrovince
Numbers game: Players opt for unusual digits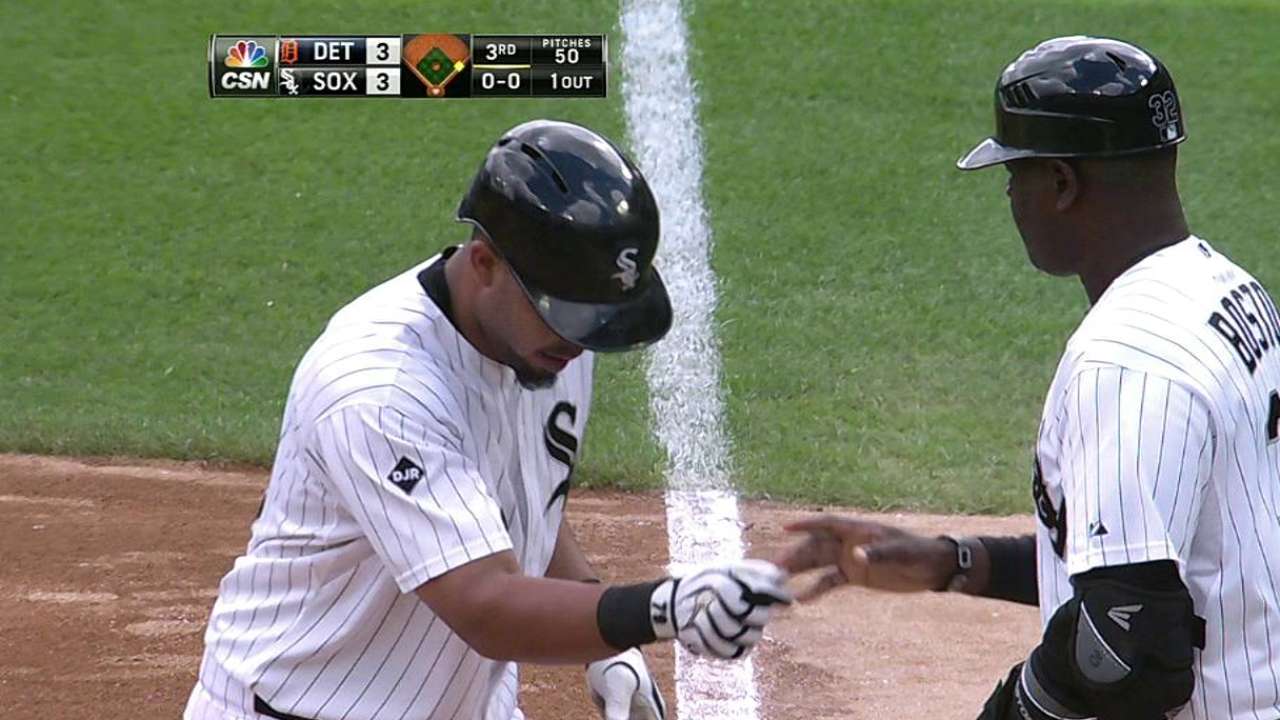 Jose Abreu, the runaway favorite for the American League Rookie of the Year Award, has put up some amazing numbers with the White Sox. He's hit 33 homers and 33 doubles. Abreu has driven in 99 runs. He has a .966 OPS.
Pardon us, though, if we focus for a moment on another number: Abreu's jersey number. It's No. 79, and it's rare territory for such a premier player.
"I asked my mom to pick a number for me," he said through an interpreter last fall. "She identified a number that people would remember who 79 was, what 79 had done on the field. So my mother picked the number. I wear it for her."
While the numbers on his baseball card are putting Abreu in special company, so, too, is the number on his back. Usually, anything from 70 on up is reserved for non-roster guys in Spring Training or new callups who are likely to soon swap it out for more desirable digits.
But some guys -- guys like Abreu and Prince Fielder (who switched to No. 84 with the Rangers this year as an homage to his birth year) and like recent Royals callup Terrance Gore (who can be seen flying around the bases with No. 0 on his back) -- don't mind standing out.
In that spirit -- and with the help of Baseball Reference's jersey numbers database -- here are some interesting notes on baseball's strangest jersey numbers.
0 and 00: Baseball has had many heroes of zero -- the vast majority since the 1970s -- but the most notable use of these numbers came on the 1985 Blue Jays, when Al Oliver (0) and Cliff Johnson (00) became the only teammates to wear the two variations of nothing.
09: Microsoft Excel might sometimes make it a pain to put a zero before another number, but catcher Benito Santiago got away with it because he didn't like the way his chest-protector strap ran right down the middle of the single-digit 9.
70: Four guys have worn this big number this season, including, perhaps appropriately, Reds pitcher "Jumbo" Diaz.
71: The only established player to wear 71 was reliever Scott Linebrink, who took it on late in his career as a tribute to longtime Padres bullpen catcher (and current scout) Mark Merila, who wore that number and who has battled an inoperable brain tumor.
72: The highest number regularly worn by a Hall of Famer, 72 belonged to Carlton Fisk during his long White Sox tenure, as an inverse of the 27 he wore with the Red Sox. This month, Jason Giambi has been wearing 72 after giving up No. 25 in a tribute to Indians great Jim Thome.
73: "Moneyball" was all about finding baseball's undervalued numbers, and the 2002 season celebrated by the book and movie included a pivotal trade for lefty reliever Ricardo Rincon, who wore No. 73.
74: Dodgers closer Kenley Jansen wears it, following in the footsteps of former All-Star closer Ugueth Urbina.
75: Barry Zito wanted to wear No. 12, but that was taken. So he took two numbers that added up to 12 and wore them while unleashing one of the game's nastiest curveballs.
76: There have been no seasons of significance for a player wearing 76.
77: Pudge Rodriguez wore it briefly with the Astros in 2009, in order to, in a strange way, keep his traditional number (7), which had been retired for Craig Biggio.
78: See 76.
79: It took all of a few months for Abreu to establish himself as the greatest player to wear No. 79. No ceremony is planned yet.
80, 86, 89, 90, 92, 93: Per Baseball Reference, no player in Major League history has worn these numbers. Somebody better get on that.
81: "Everyday" Eddie Guardado wore it with the Reds in 2006 and '07 as the inverse to his usual No. 18 (retired for Ted Kluszewski).
82: Only one guy -- Johnny Lazor (Red Sox, 1943) wore 82. For more than 60 years, it was the highest number assigned to a Red Sox player.
83: Eric Gagne wore it with the Red Sox after getting traded to Boston in July 2007. That didn't turn out so well. Justin Turner wore it with the O's in '09.
84: As mentioned, Fielder wears (or wore) it because he was born in 1984. "It's just fresh," he said. And he was right. J.T. Snow was only player to previously wear No. 84 (with the Red Sox in 2006), as a tribute to his late father.
85: Lastings Milledge wore 85 with the Pirates and Nats near the end of his tumultuous career.
87: The only instance of a use of 87 is a weird one. Dan Otero wore it on a single road trip in 2012 with the Giants while waiting for his real number change -- from 43 to 37 -- to get approved by the Commissioner's Office.
88: The beautiful symmetry of the double-8 has been exploited several times over the years, including by Kyle Blanks of the A's and Josh Outman of the Yankees this year. The most notable name to wear it, though, was Albert Belle, who donned it with the O's at the end of his career because, in Baltimore, 8 forever belonged to some guy named Ripken.
91: Alfredo Aceves wore it with the Yankees and the Red Sox as a tribute to -- gulp -- Dennis Rodman. Hideo Nomo wore it with the Royals in 2008.
94: Relievers Felix Heredia (Cubs, 2001) and Jose Mesa (Tigers, '07) both wore it as an inverse of their usual 49.
95: We have no reason to remember Takahito Nomura's brief career with the Brewers (2002) other than the fact that he's the only player to wear 95.
96: Bill Voiselle grew up in Ninety Six, S.C., and he received permission from the National League to wear the number with the Boston Braves and the Cubs from 1947-50 in honor of his hometown.
97: Joe Beimel, who resurfaced in the bigs in that terrific Mariners bullpen this season, has the distinction of being the only player to wear No. 97. He wears it because his son was born in 1997.
98: Onelki Garcia wore it with the Dodgers last year. He's the only one.
99: As you no doubt remember, the oddball Manny Ramirez wore this oddball number during his time with the Dodgers (2008-10) and the White Sox ('10). Thirteen other guys have worn it, most notably Mitch Williams during the Phillies' run to the World Series in 1993.
We'll be sure to let you know if anybody ever wears No. 100.
Anthony Castrovince is a reporter for MLB.com. Read his columns and follow him on Twitter at @Castrovince. This story was not subject to the approval of Major League Baseball or its clubs.