Born to hit: Astros' Altuve thriving at plate
Small stature hasn't slowed second baseman on path from Venezuela to Houston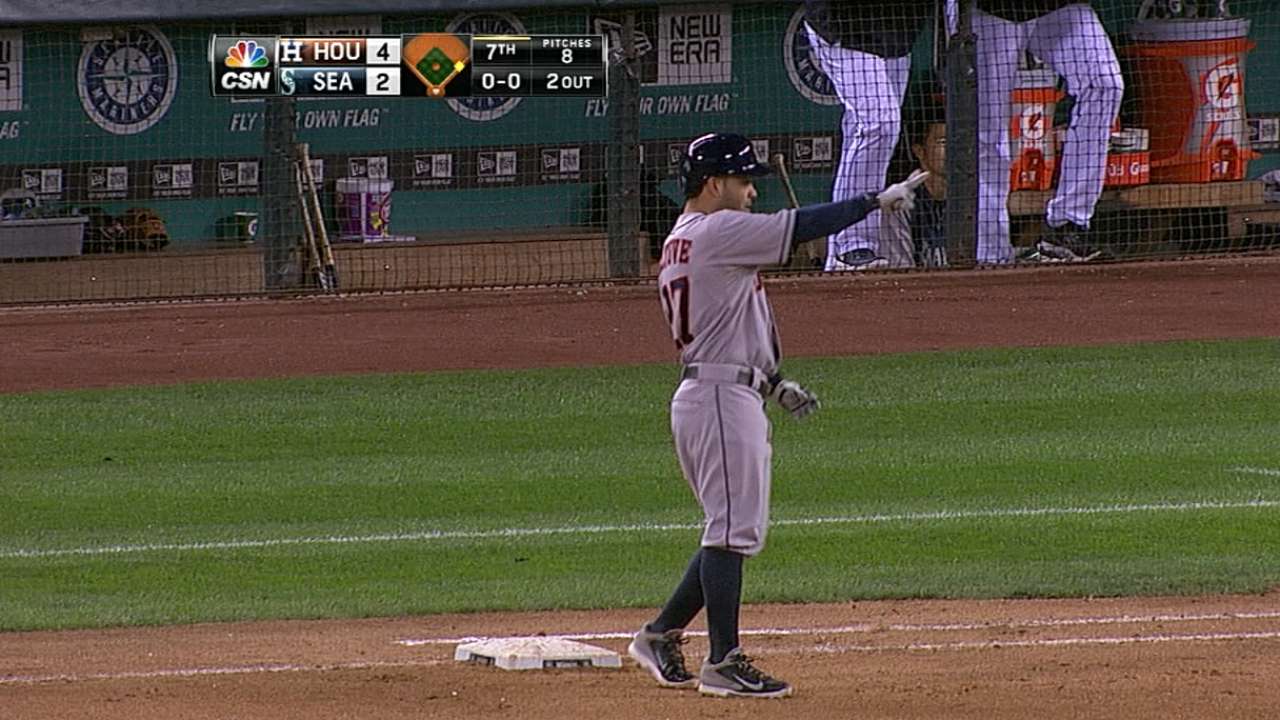 SEATTLE -- Even on the day Jose Altuve was coming into the world, baseball was a focal point of his family. With his mother in labor in a hospital in Venezuela on May 6, 1990, his father was next door -- visible from the delivery room window -- watching a game at a local stadium.
Perhaps it was only fitting that Carlos and Laste Altuve became parents that day to one of the best hitters in the game, a 5-foot-6 dynamo second baseman who bucked the odds throughout his life and is on the cusp of becoming the first Astros player to win a batting title.
"They ran from the hospital to the stadium to tell my dad, 'Hey, you have your kid already!'" Jose Altuve said. "He said, 'OK, OK, let's go!' He was a big fan of baseball."
Carlos Altuve wound spend much of his free time the next few years throwing baseballs to his oldest son with hopes he would inherit his father's love of the game. Reaching the Major Leagues was the ultimate dream.
"He always told me," Jose said, "you've got to hit to make the Major Leagues."
Jose has been hitting since, defying naysayers to win a tryout with Houston at 16 years old despite concerns over his small stature. He tore up the Minor Leagues and was called up straight from Double-A midway through the 2011 season at 21 years old.
Altuve was a National League All-Star in his first full season in the big leagues, and he made an effort last winter to get faster, leaner and better. Anything to get more hits.
Altuve went 2-for-5 in Wednesday's win over the Mariners to join Craig Biggio as the only Astros players to reach 200 hits in a season, and now he has his sights set on Biggio's single-season club record of 210 hits (1998) and maybe a batting crown. Altuve is hitting .336, just ahead of Victor Martinez (.333) and Adrian Beltre (.326).
"It's going to be really hard to win a batting title," Altuve said. "I don't want to say I'm not focused on that, but I'm more focused on other things like winning games and staying healthy. ... Winning a batting title would be awesome, but we've got guys like Martinez, Beltre, [Robinson] Cano -- they're really good."
Houston general manager Jeff Luhnow, who first saw Altuve while scouting the Appalachian League in 2008, awarded Altuve a four-year, $12.5 million contract extension last year. The extension runs through 2017, with club options for '18 ($6 million) and '19 ($6.5 million).
It's a team-friendly deal and a solid commitment to the man who's become the face of a franchise on the rise.
"It's important because we have a generation of fans that are without the iconic Astros heroes of prior generations," Luhnow said. "He's the first one for this generation for young kids growing up, coming to Minute Maid Park wanting to follow a team and get to know the personalities.
"There are others that are going to follow him, hopefully [George] Springer, hopefully [Jon] Singleton. He certainly has established himself enough now our fans are investing in him, investing in the relationship with Jose Altuve. It's an important part of following the team, wanting to be able to connect with players and know they're going to be around."
The fact Altuve, 24, is mentioned among some of the best players in the game is remarkable considering his size. He's always been the smallest player on the field, always been the little guy with a chip on his shoulder and something to prove.
Altuve sees it as a positive.
"I know it's not very common to see guys my height in the big leagues," he said. "I think it's better because it's made me more popular. Everywhere I go, people look at me and go, 'Oh, a little guy. What's his name? Altuve.' So everywhere I go, they know me because of my height. That's good."
Altuve first caught Houston's attention while playing second base for the Venezuelan 16-and-under national team. The Astros had actually sent Omar Lopez, currently their manager at Class A Quad Cities, to see a another player, a shortstop named Angel Nieves, in Venezuela.
"I drove five hours and I watched a couple of games, and we ended up signing the kid, Angel Nieves," Lopez said. "He was good and had some tools, so we took a chance. But I put my eyes on Altuve, the little guy."
The late scout, Wolfgang Ramos, vouched for Altuve and wanted him to come work out at Houston's Venezuelan academy, which has since closed. Altuve was small, but he had great hand-eye coordination and consistently put the bat on the ball. And he could run.
"They made a mistake to let me hit against a lefty pitcher, and I raked," Altuve said with a smile. "They said, 'OK, this guy can play.'"
Al Pedrique, then a special assistant under general manager Tim Purpura, got a call from academy director, Pablo Torrealba, and asked if he could come see Altuve for himself, but Pedrique was delayed and missed the workout. Pedrique came back the next day and finally got his eyes on Altuve, who was raw defensively. And, yes, short.
"My second time back in the country, Pablo Torrealba, the director of the academy, and Omar Lopez said the kid showed a lot of improvement," Pedrique said. "I wrote my report, and the issue I ran into at the beginning was they weren't sure about his size."
The ability to put the bat on the ball couldn't be ignored, though, and Pedrique met with Altuve's family and finally decided to sign him, offering him $15,000. His father was an assistant engineer at a chemical company (his mother was a housewife), so money wasn't an issue. Still, $15,000 was too much to pass up.
"Pedrique said, 'OK, this is what we have, $15,000. You take it?'" Altuve said. "I was putting that money in my pocket before I answered that. I always believed the hardest thing for me was an organization giving me the opportunity."
Altuve's rise was a quick one. He spent only one year playing for the team's Venezuelan Summer League in 2007 before the Astros made a decision to bring him to the U.S., which was unprecedented for a player so young. And since Houston didn't have a Gulf Coast League team at the time, Altuve was sent to Rookie-level Greeneville, a big challenge culturally and a big step up in competition. The team wanted him to cut down on his aggressiveness and take more pitches.
"The one thing we all noticed and I noticed from the very beginning is how he played the game," former Astros farm director Ricky Bennett said. "He was very instinctual. You didn't have to tell him to do some of the small things we had to tell other young players, whether it's taking the extra base or throwing to the right base. He just knew how to play the game, and from that standpoint, I knew he would be able to handle himself."
Altuve split 2009 between Greeneville and short-season Tri-City, and he split 2010 between Class A clubs Lexington and Lancaster. In 2011, he batted .408 for Lancaster and earned the promotion to Double-A Corpus Christi, where the hitting didn't stop. Altuve had batted .361 in his first 35 games when general manager Ed Wade called Bennett and asked his thoughts about calling him up.
"I said, 'Ed, from what I know about the kid and how he goes about it and his makeup, he won't have a problem,'" Bennett said.
The call to the Majors certainly wasn't a surprise to Altuve's father, who later was able to retire with financial help from his son. Altuve's parents now have a home two miles from him in Maracay.
"My dad said, 'Maybe they call you up to the big leagues,' and I said, 'Dad, listen, I only have three weeks in Double-A and I'm not even on the 40-man roster, so I don't think so,'" Altuve said. "Like a week after that, they called me up. I was surprised."
The rest is history ... well, almost. Altuve still has some work to do to catch Biggio. While he's encouraged at the Astros' improved overall play this season and optimistic about the direction of the team, Altuve is aware of the history he's chasing.
"Biggio is the franchise guy for the Houston Astros," Altuve said. "Now 200 hits, people are going to start talking a little more about Jose Altuve. I want to stay here and, believe me, I want to finish my career in Houston."
Brian McTaggart is a reporter for MLB.com and writes an MLBlog, Tag's Lines. Follow @brianmctaggart on Twitter. This story was not subject to the approval of Major League Baseball or its clubs.