Sale drops ERA to 1.99 with eight shutout innings
Lefty strikes out nine, walks two; Semien homers off Kazmir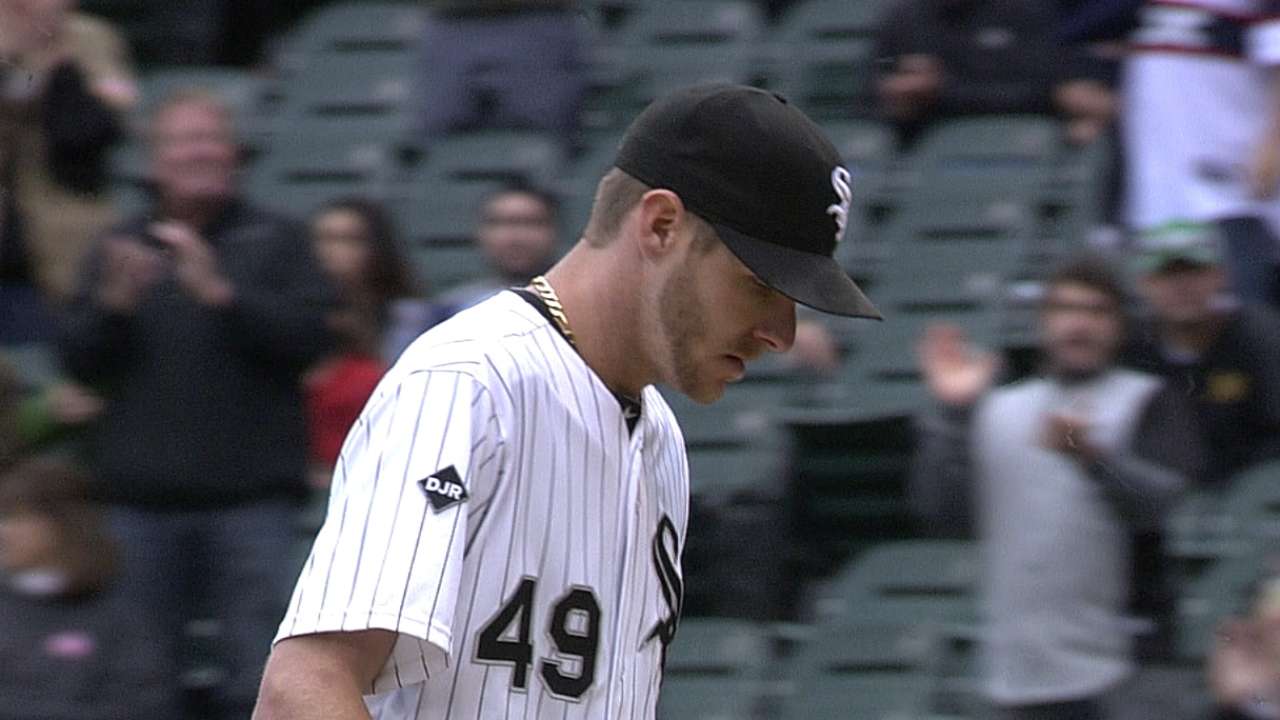 CHICAGO -- Opposing pitchers don't have the luxury of making mistakes against the White Sox in games started by ace hurler Chris Sale.
Oakland's Scot Kazmir made precisely one mistake, resulting in a Marcus Semien sixth-inning home run, during a brilliant complete-game effort Thursday afternoon at a chilly U.S. Cellular Field. And it was one mistake too many in the 1-0 victory for the White Sox (66-80), marking just the second time the South Siders have posted back-to-back wins since Aug. 2 (also on Aug. 31 and Sept. 2).
If Kazmir (14-8) was brilliant, then Sale once again defied description.
Sale (12-3) walked Coco Crisp to open the game, and allowed Jed Lowrie's one-out single in the second. He then retired the next 17 straight before Lowrie opened the eighth with a single to right. Sale also struck out nine and walked two.
One of those walks was issued to Alberto Callaspo with two outs in the eighth, following Lowrie's single. After a trip to the mound by manager Robin Ventura, who drew immediate boos from the crowd as he left the dugout, Sale was allowed to finish the inning. He retired Crisp on a ground ball to second baseman Carlos Sanchez, leaving him at 110 pitches and slightly over the team-imposed September pitch limit of 100.
His inning-ending departure from the mound was punctuated by Sale's celebratory fist pound into his glove. Ventura simply wanted to gauge Sale's state of mind, having watched his hurler enough times that he knows when a sequence of overthrowing might be coming and it might be time to remove him.
"Today I thought he had a great rhythm, just being able to throw pitches when he wanted to, getting back into counts. He was tough," said Ventura. "Any time he gets like that, he has the ability to throw a game like he did today."
"He's coming out there trying to give me a breather," said Sale of Ventura's visit. "'Getting past the 100-pitch mark, this is your last guy, so bear down right here. I'm giving you a breather, so let's go.' That's what that was."
Over 24 starts covering 163 innings, Sale has allowed 116 hits, 34 walks and 10 hit batsmen. He has fanned 192, and Sale dropped his American League-leading ERA to a miniscule 1.99. Sale has produced eight or more strikeouts in six of his last seven home starts, and the White Sox, a team sitting 14 under .500, have a 15-9 record behind Sale.
Sounds like the resume of a prime 2014 AL Cy Young candidate.
"I've thought about the World Series and Cy Young and all that stuff," Sale said. "But as soon as it comes in my mind, it comes back out because I don't play the game for that. I play for everybody in here."
"Off hand, I can't give you a number," said Lowrie, when asked where Sale ranks among the game's best pitchers. "But he's one of the better ones in the game."
The White Sox didn't exactly do much against Kazmir, finishing with just four hits. Kazmir struck out seven and walked one, getting taken deep on an 0-1 hanging curve to Semien. It was a nice bounce back for the infielder, who made three errors at third in Tuesday's loss, but played strong defense at shortstop Thursday to go with his fourth homer.
Three wins over the A's (81-65) became an overall bright spot for the White Sox. They have two remaining series against the Royals and one against the Tigers, so a team well out of playoff contention could have a significant say about a team or two reaching the postseason.
"You have to find something fun in this game and where we are at in the standings isn't fun," White Sox catcher Tyler Flowers said. "We are not where we want to be, but you have to stay positive and have goals in mind to keep you competing and play hard every day."
"Hopefully, that's something in the future we can build on and just finish stronger in September," Semien said. "If we play our game, play good defense, put up some runs, we know that we can hang with those teams."
Scott Merkin is a reporter for MLB.com. Read his blog, Merk's Works, and follow him on Twitter @scottmerkin. This story was not subject to the approval of Major League Baseball or its clubs.