White Sox, A's pause to remember 9/11 heroes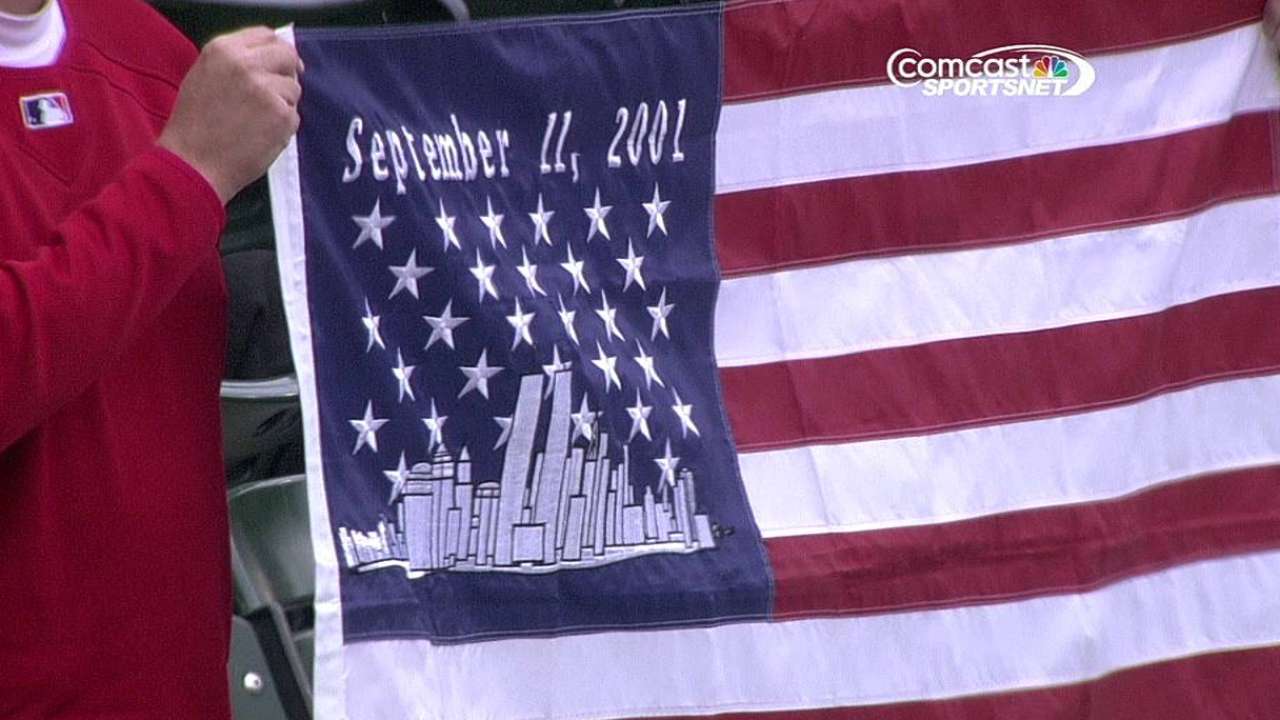 CHICAGO -- Robin Ventura has vivid memories of the atrocities that took place 13 years ago on September 11, when two planes hit New York's World Trade Center Towers, killing close to 3,000 people. He was a third baseman for the New York Mets at the time and realized the role baseball played in the overall healing process.
"We were in the middle of it for most of that time and for baseball, as a player, you didn't realize how important it was to get back and play," said the White Sox manager. "Not necessarily for yourself but for everybody else.
"You went through a period of time where you didn't know if it was OK to smile or laugh or do anything like that. To be able to go back and play and people come to the game, that was their outlet. It wasn't necessary for you to have an outlet. I'm proud of the way the Mets handled it when I played there and of the things that we did."
Ventura mentioned that it was difficult going to the ballpark and focusing on baseball stuff, as the players realized many people at the ballpark had lost friends or relatives in the attacks.
White Sox pitching coach Don Cooper was in Nashville, Tenn., at the time, but the proud native of New York had relatives living just 10 minutes away from the World Trade Center. He remembers flowers, pictures and messages adorning the overpasses leading from his home into the city when he first returned. He remembers the city banding together as one, helping the police and fire departments. He also remembers David Letterman returning to the air after some time away and talking about New York as the greatest city in the world.
"Just a horrible, horrible day," Cooper said. "I remember it being tragic. I remember that I couldn't take my eyes off the TV, sitting there an many times weeping at the devastation and the loss of people.
"You could see the building from my porch. I remember going back home for the first time and looking to the left and the buildings were gone."
The White Sox and A's honored the day of remembrance prior to Thursday's game with military service members and first responders taking the field for a pregame moment of silence. Players, coaches and umpires wore hats adorned with the American flag, and a "We Shall Not Forget" silhouetted batter ribbon was displayed throughout U.S. Cellular Field. In addition, special lineup cards and base jewels were used for all games.
A's manager Bob Melvin served as the D-backs bench coach in '01, when Arizona beat the Yankees in one of the most memorable World Series in baseball history.
"We went in shortly thereafter and went down to Ground Zero and spoke to the first responders and saw firsthand what was going on. It's a day I'll never forget," Melvin said. "It was an off-day. We got in late and everybody was up early to go there.
"So inspiring to see that, and then on top of that what baseball did to kind of get past it, the entertainment value that ... certainly what was going on in New York and what the Yankees did in that Series as a whole, I think helped everybody get past it. But the thing that stood out the most to me was all the heroes that were a part of cleaning that thing up and getting past it and the people in New York being so resilient. It's very inspiring."
Scott Merkin is a reporter for MLB.com. Read his blog, Merk's Works, and follow him on Twitter @scottmerkin. This story was not subject to the approval of Major League Baseball or its clubs.