A's blanked by Sale; Wild Card lead trimmed to one
Kazmir gives up one run on four hits in complete game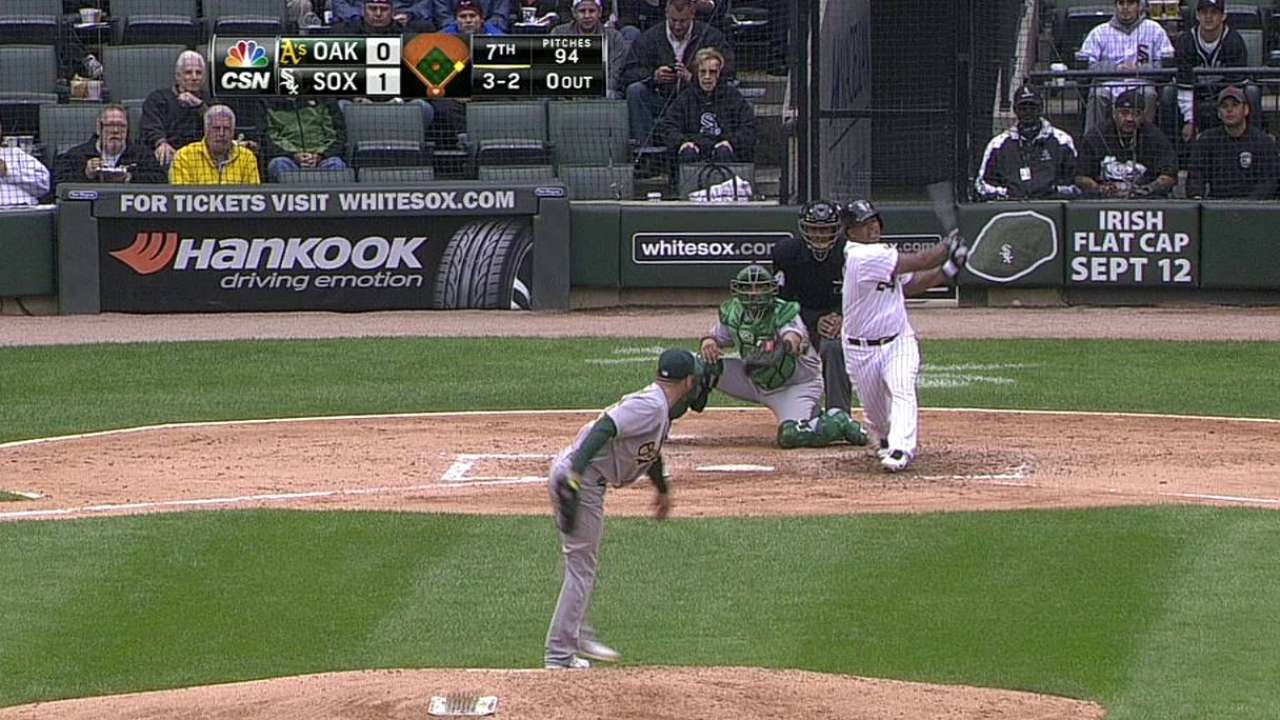 CHICAGO -- The Athletics' snowball of one-run losses in the midst of what has been a calamitous five weeks continued Thursday with a 1-0 loss to the White Sox, who took three of four in the series.
Scott Kazmir gave up an uncharacteristic home run to start the White Sox sixth inning, and it was all the South Siders needed after a dominant, two-hit performance by Cy Young hopeful Chris Sale.
Oakland is now just one game ahead of Detroit for the top American League Wild Card, and 1 1/2 over Seattle, where they open a three-game weekend series on Friday.
"We're playing for our lives now," A's manager Bob Melvin said. "Just the way it is. We put ourselves in this position."
The A's, shut out for the ninth time this season, have lost 11 of their last 14. First place in the American League West -- a division they sat atop for the bulk of the season until Aug. 18 -- is all but lost. The A's trail the surging Angels, winners of seven straight and 13 of 15, by 9 1/2 games with 17 to go. The Angels played the Rangers on Thursday night.
The most anxious part about the team's skid the last month, Melvin said, has been that the one-run games aren't going the A's way like they were a year ago, when they played their best in September, going 19-8.
Eight of the A's last nine games have been decided by one run. They've lost seven.
"Every night it seems like it's the same story, so it's very frustrating," Melvin said. "I don't know how to designate a particular number on it."
The homer off Kazmir was delivered by Marcus Semien, a player who helped the A's to their only victory during the series in Chicago. Semien sent an 0-1 curveball into the left-field seats just two days after committing three errors in the A's 11-2 win on Tuesday.
"When Sale's throwing, one run might be able to get a win for us," Semien said. "I'm glad it worked out that way."
The three-time consecutive All-Star, Sale trimmed his AL best ERA to 1.99. Sale recorded nine strikeouts and allowed two walks and two singles -- both from Jed Lowrie.
"It feels like you're almost stepping into the box 0-2 against him because he's got such great command of all three of his pitches," Lowrie. "When he's got the velocity and command like he did today, he's going to be tough."
Kazmir tossed 113 pitches over eight innings, and allowed four hits with seven strikeouts and a walk. The one earned run was the fewest he'd surrendered in any of his eight losses this season.
"Great performance," Melvin said. "I mean, one curveball decides the game. That's unfortunate. That's how we've been playing."
Kazmir said the matchup with Sale didn't hinder his approach from a run-support standpoint, which has been troublesome for the A's of late. They've scored 41 runs during their 3-11 run since Aug. 28, with 11 of those coming in a win Tuesday.
"You don't really think about it like that; you really don't," Kazmir said. "It comes to a point where a lot of guys are in scoring position, you can't make a mistake, but it has nothing to do with the run support we're getting or anything like that. It's just the way you pitch. It's something where we don't really change our game at all."
Jake Petricka earned his 13th save, but not after Sam Fuld led off the ninth with a single. Josh Donaldson then grounded into a dazzling 6-4-3 double play. Adam Dunn followed with a walk, but Derek Norris struck out to end the contest.
"For the better part of four months, we've been a real good offensive team, and for a month and whatever it is here, we haven't," Melvin said. "We've been two different teams. The one that played through July and the one that's up to this point right now."
So which team will show up in what has become a pivotal series in the Wild Card race against the Mariners?
"The biggest thing is not being resigned to a destiny or fate -- just keep fighting," Lowrie said. "We need to realize the opportunity that we have and just continue to fight. We have an opportunity to play the team right behind us and hopefully take advantage of that opportunity."
Daniel Kramer is an associate reporter for MLB.com. This story was not subject to the approval of Major League Baseball or its clubs.