Navarro makes Blue Jays look smart for signing him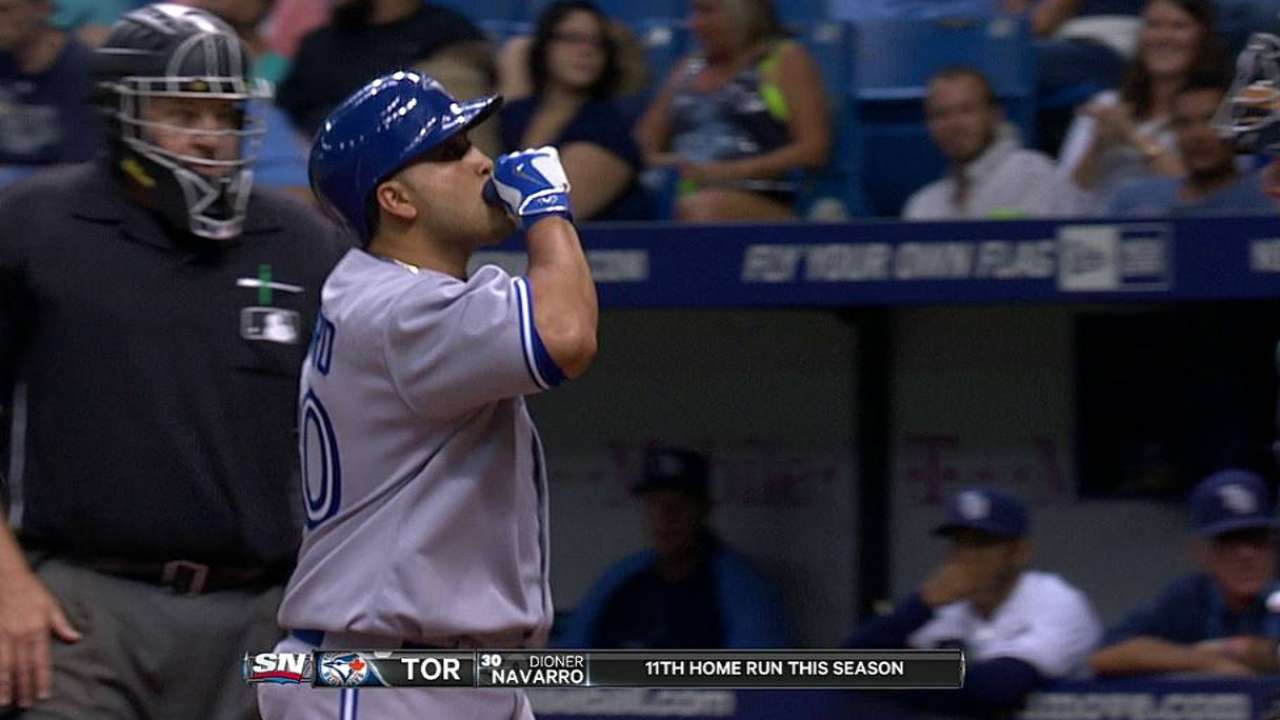 TORONTO -- There was a lot of head-scratching and even some eye-rolling around the league when the Blue Jays made catcher Dioner Navarro their only significant offseason addition prior to the 2014 season. Toronto general manager Alex Anthopoulos was putting his trust in a player who had been a backup four years in a row. Even though Navarro was handed the starting job on a silver platter, there were doubts about whether his body could handle the workload.
Navarro has not only thrived in the role, but he seems to have saved his best for last. Instead of fading down the stretch, the notoriously slow runner is in the midst of a full-on sprint toward the finish line.
"This is kind of the rebirth of my career," Navarro said. "Just being able to translate whatever I do in the offseason into the season has been outstanding. I know that I've been part of this group. I said in Spring Training I'm happy with the Toronto Blue Jays for giving me the opportunity when a lot of people thought I was still a backup catcher.
"I've proven people wrong, and it's just all about me and my family. They believe me in, I believe in me. I knew I was capable of doing it and I'm really happy with the results so far, but we still have a few games to go, and our goal is to make a push to the playoffs."
Prior to this season, Navarro hadn't appeared in more than 89 games since 2009. Even during his peak in Tampa Bay, he topped out at 120, but this year has been a completely different story. Navarro has already played in 127 games, and he's on pace to play in more games this season than he did from 2010-12 combined.
The original thought was that a heavy workload would catch up to Navarro. The dog days of summer would take their toll, and if the Blue Jays weren't careful, it would impact not only his defense but also his bat. That hasn't been the case as Navarro will enter Friday night's game vs. the Rays having hit safely in 14 of his past 16 games.
On the season, Navarro's average is up to .287 with 12 homers and 68 RBIs. He has five doubles, three homers and 15 RBIs over that same span, and he also ranks first on the team with a .358 average with runners in scoring position. Navarro's OPS is a respectable .743 and almost .200 points higher than last year's starter, J.P. Arencibia. To say it has been a significant upgrade would be a serious understatement.
"He has done a fantastic job," Blue Jays manager John Gibbons said. "We didn't know what to expect, how he was going to hold up, but he has held up pretty good. He's beat up, like a lot of catchers are this time of year, but it really hasn't affected his hitting.
"That's usually where you notice it, in a lot of ways that's why you don't see a lot of good-hitting catchers. The ones that are, it starts to take its toll as the season goes on, but he has really picked it up the last few weeks."
At times, Navarro has been criticized for his pitch-framing skills and ability to block balls in the dirt, but he deserves at least some of the credit for the surprising performance of Toronto's rotation. The Blue Jays' starting staff was supposed to be a weakness on this team, but instead, it has turned into a strength.
The performance also comes from a staff that almost always lets the catcher call the entire game. It's well-known that left-hander Mark Buehrle rarely shakes off a pitch, and that type of mentality has trickled down to the younger members of the staff like Marcus Stroman and Drew Hutchison.
It's impossible to quantify the impact and the role that a catcher has in the game-calling, but it's telling that start after start, a lot of starters go out of their way to praise Navarro's work.
"He has a good thing going with the pitching staff," Gibbons said. "He has been around the game a long time, so he has seen most of the hitters. He knows what works, what doesn't work, and now he has learned this staff and knows what each guy can do. That sometimes can take a month or two, but he learned that and he knows what to go to. They have confidence in him, and that's when things are good."
Gregor Chisholm is a reporter for MLB.com. Read his blog, North of the Border, and follow him on Twitter @gregorMLB. This story was not subject to the approval of Major League Baseball or its clubs.