Giants keep pace thanks to Vogey, late runs
NL West deficit remains 2 1/2 games after SF gets to Arizona 'pen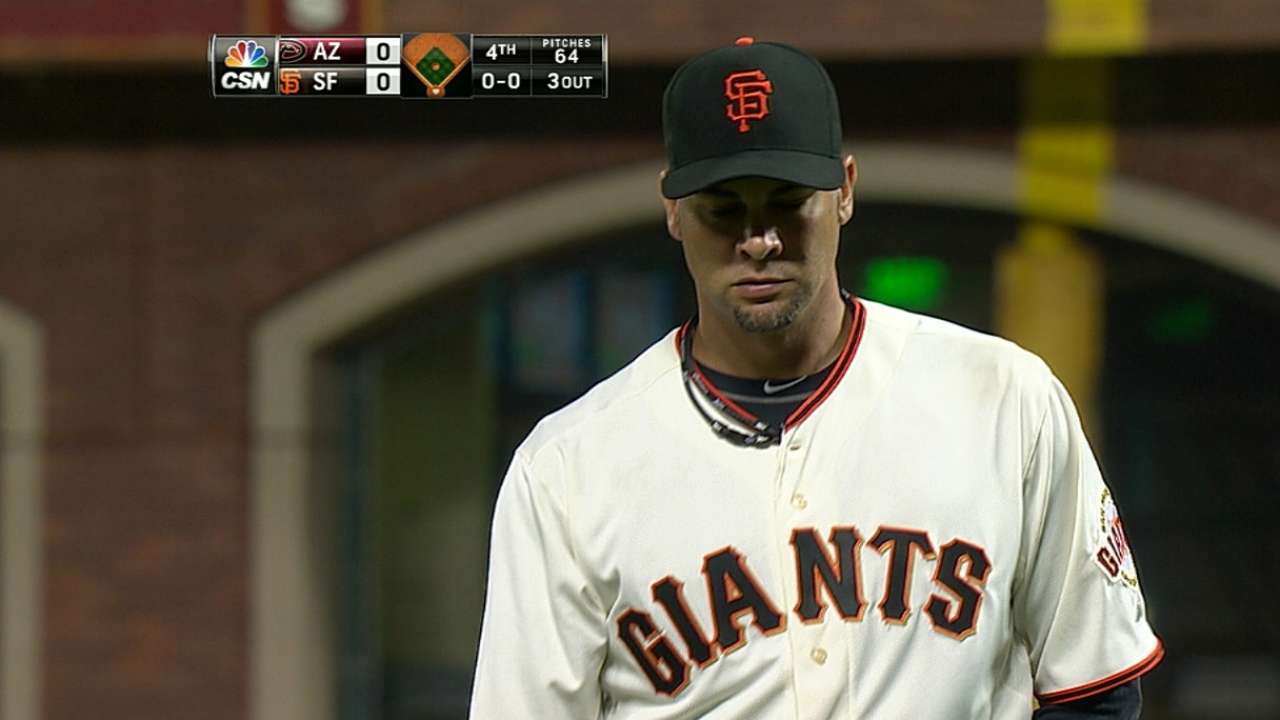 SAN FRANCISCO -- Though Ryan Vogelsong received no decision in the Giants' 5-0 victory Wednesday night over the Arizona Diamondbacks, San Francisco's latest triumph at least can be attributed to him.
Vogelsong worked 6 2/3 innings, offsetting five walks by yielding two hits. He initially appeared destined for a much shorter outing, issuing three walks and reaching three-ball counts on three other batters among the first nine D-backs he faced. But Vogelsong ended the second inning by coaxing opposing pitcher Josh Collmenter's grounder to third base, leaving the bases loaded and launching a stretch in which he retired 14 of 15 batters.
Vogelsong thus held Arizona at bay long enough for the Giants to sustain their near-inevitable rally in the seventh inning, a four-run uprising that featured RBI doubles from Gregor Blanco and pinch-hitter Matt Duffy.
San Francisco took another step toward securing a postseason berth with its eighth consecutive home victory, its longest such streak since a nine-game burst from May 6-22, 2011. While the Giants' 11th win in 14 games overall left them 2 1/2 games behind first-place Los Angeles in the National League West, they also retained their four-game lead over Pittsburgh for the league's top Wild Card spot.
Vogelsong insisted it was sheer coincidence that he escaped the second-inning jam just as Tim Lincecum scampered to the bullpen to begin warming up.
"At that point, you have to get somebody going in case something happens," Giants manager Bruce Bochy said.
Vogelsong acknowledged seeing Lincecum. However, Vogelsong said, "You have to keep your focus on making pitches."
With refreshing candor, he added, "I got pretty lucky that the pitcher was up in that situation. It could have been a whole different story if it were a position player."
Vogelsong survived despite matching his highest walk total since May 14, 2012, against Colorado.
"I think it's one of those 'effectively wild' deals," he said. "... It was one of those nights where I was kind of all over the place and couldn't really get anything to consistently work for me."
Bochy removed Vogelsong after the right-hander issued his final walk, which put D-backs on first and second base in the seventh inning.
"With how I wasn't commanding the ball, that was the way to go at that point," Vogelsong admitted.
Jean Machi (7-1) retired pinch-hitter Jordan Pacheco on a grounder to end the inning and shift the emphasis to the Giants' offense.
"I thought it was pretty important to keep the runs off the board and give them a chance to hit with the game tied and not behind," Vogelsong said.
The Giants have frequently seized those chances while leading the NL in scoring, batting average and hitting with runners in scoring position since the All-Star break. This would be no exception, though they mustered three singles in six innings off Collmenter.
"Every time we came to the dugout, we said to each other, 'Let's help [Vogelsong] out,'" Blanco said.
After D-backs reliever Oliver Perez (3-4) walked Hunter Pence to open the seventh, Blanco experienced an adventurous at-bat. He missed a bunt attempt, argued a called second strike and fouled a pitch off plate umpire Brian Gorman's face. Blanco maintained that he wasn't dwelling on the theatrics of his plate appearance.
"I just wanted to move [Pence] to second base no matter what," Blanco said.
Blanco exceeded his expectations by scoring Pence with a grounder past first base that right fielder Alfredo Marte overran and could not pick up immediately. One out later, Brandon Crawford's infield single put Giants on the corners. That prompted Arizona manager Kirk Gibson to replace Perez with right-hander Evan Marshall.
Duffy handled Marshall's 2-0 fastball perfectly, lining the high, outside delivery to right field. That scored Blanco. Crawford came home on a wild pitch before Duffy scored on Angel Pagan's sacrifice fly. The Giants added a run in the eighth as Pablo Sandoval doubled and scored on Travis Ishikawa's two-out bloop single.
Gibson offered praise for the Giants, who have won six of the teams' last seven meetings.
"They play hard," Gibson said. "They keep pressing the issue and we didn't respond."
Chris Haft is a reporter for MLB.com. Read his blog, Haft-Baked Ideas, and follow him on Twitter at @sfgiantsbeat. This story was not subject to the approval of Major League Baseball or its clubs.