Mariners miss chance on Iwakuma's off night
Offense, defense also struggle as Astros rookie wins MLB debut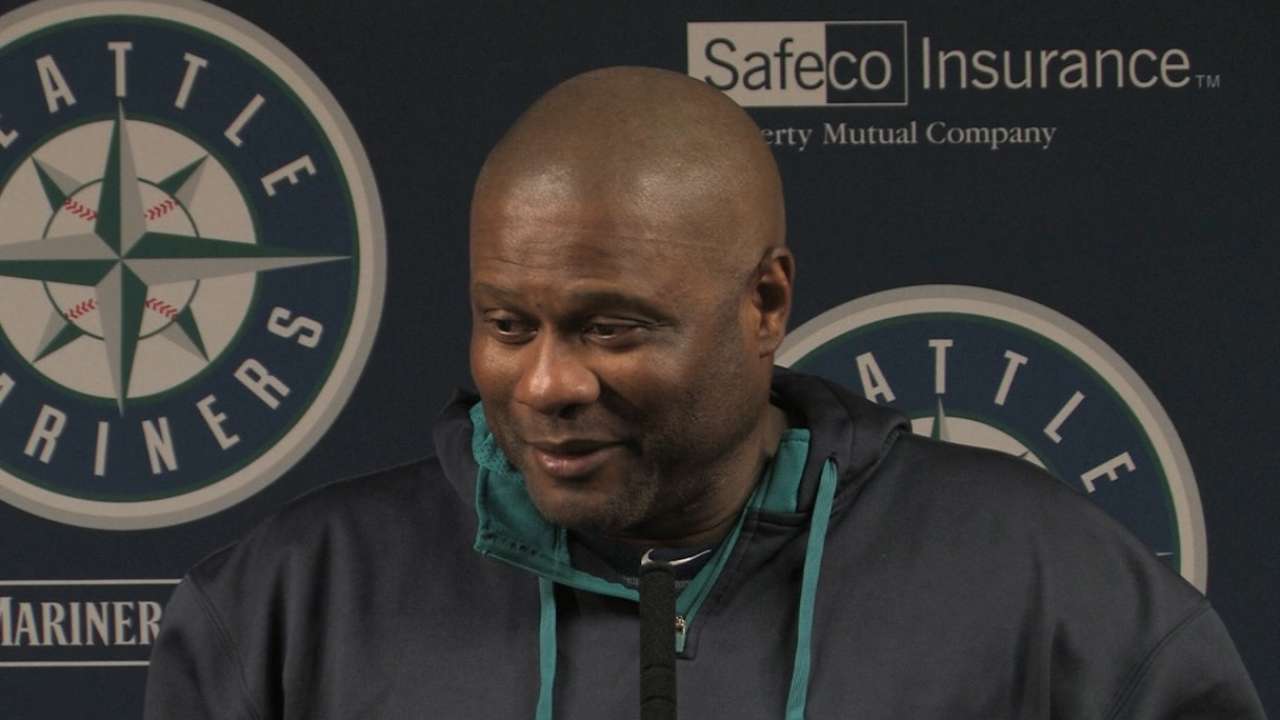 SEATTLE -- Mariners manager Lloyd McClendon wasted no time in offering an unflinching assessment of his club's pitching, hitting and defense after Seattle fell, 5-2, to the Astros on Wednesday night at Safeco Field.
"[Hisashi Iwakuma] had a bad outing. Our hitters had a bad outing. Our defense had a bad outing," McClendon said. "Everything was bad. It was just one of those days."
The Mariners needed a win to move back into sole possession of the second American League Wild Card spot.
Instead, they dropped two of three games to Houston and squandered a chance to pick up a game on the Athletics and Tigers, both of whom lost Wednesday. At 79-66, the Mariners sit a half-game behind Detroit for the second AL Wild Card berth and two games behind Oakland for the first AL Wild Card spot.
For the second straight night, it was the offense that foundered - the Mariners finished with five hits -- though Iwakuma, who fell to 14-7, didn't do much to help his cause.
The 33-year-old right-hander entered the night a winner in five of his last six starts but went just 4 1/3 innings, allowing four runs on six hits and two walks.
"Everything was up the zone," Iwakuma said through interpreter Antony Suzuki. "I couldn't command pitches down in the zone. It cost me the game."
The Mariners also simply couldn't get going against Houston starting pitcher Nick Tropeano, who picked up the win with five-plus innings of two-run ball in his Major League debut after going 9-5 this season with Triple-A Oklahoma City.
"We swung at a lot of bad pitches," McClendon said.
Iwakuma quickly put Seattle in a hole when he ran into trouble in the second inning. After a one-out walk to Jon Singleton, he got Matt Dominguez to pop out before Alex Presley followed with a single. Backup catcher Max Stassi then delivered the blow, lining a single into left-center to score two runs. The next hitter, Jonathan Villar, added an RBI double that glanced off the wrist of left fielder James Jones, as the Astros jumped to a 3-0 lead.
"I couldn't get strike one, which kind of hurt me, too," Iwakuma said. "If you have to throw a strike, they kind of wait for that fastball and that splitter."
Iwakuma tried to make adjustments, and it looked like he did when he worked around a double to strike out two in the third, then worked a 1-2-3 fourth, but he couldn't rediscover his rhythm.
"From pitch one it was sort of off a little bit," catcher Mike Zunino said. "He didn't really have a feel for his slider and his split was up in the zone and his fastball gradually rose into the zone. For him, if he's not down in the zone, it's tough for him to find that."
Yes, Seattle showed signs of life in the bottom of the second when Zunino, who entered with a .195 batting average, hit a two-run double to cut the lead to 3-2.
But Tropeano, who led the Pacific Coast League with a 3.03 ERA, was unbothered. After Robinson Cano singled with one out in the third, he induced Kendrys Morales into a double-play grounder to end the inning, then retired the Mariners in order in the fourth and the fifth.
"First time I went out there I was a little nervous," Tropeano said. "But after that first pitch, kind of just settled in, I threw my game and the nerves kind of just went away."
Houston's offense wasn't done.
In the bottom of the fifth, Jose Altuve snapped an 0-for-9 skid by lining a one-out, RBI double off Iwakuma to give the Astros a 4-2 lead. Iwakuma followed by walking Dexter Fowler before McClendon opted to bring in reliever Dominic Leone, who struck out Chris Carter and Singleton to escape trouble.
The Mariners looked like they might chip into the deficit when Michael Saunders led off the bottom of the sixth with a walk, which caused Houston interim manager Tom Lawless to replace Tropeano with reliever Darin Downs. But the left-hander proceeded to strike out Cano before Morales grounded into his second double play of the night.
"What do you want me to say? I managed bad, they played bad," McClendon said. "It's just the way it goes."
Kyle Seager began the seventh by drawing a walk, but Logan Morrison hit into a 6-3 double play with the infield shifted before Brad Miller fanned.
With Mariners reliever Tom Wilhelmsen pitching the eighth, the Astros added another insurance run with Presley's RBI single to make it 5-2.
Is the pressure getting to a Mariners club that hasn't made the postseason since 2001?
"I think everything is magnified being in the hunt this time of the year when the games are that important," Seager said. "I don't think you're doing the team or yourself any justice if you dwell on it for too long."
The Mariners are off Thursday, then begin a critical three-game series against the A's on Friday night.
"We seem to always have off-days after we've been playing well," Zunino said. "Hopefully after playing badly, having an off-day will help us regroup."
Adam Lewis is an associate reporter for MLB.com. This story was not subject to the approval of Major League Baseball or its clubs.