Tropeano debuts with win, Altuve hits 200th
Rookie holds early lead after Astros strike with three-run second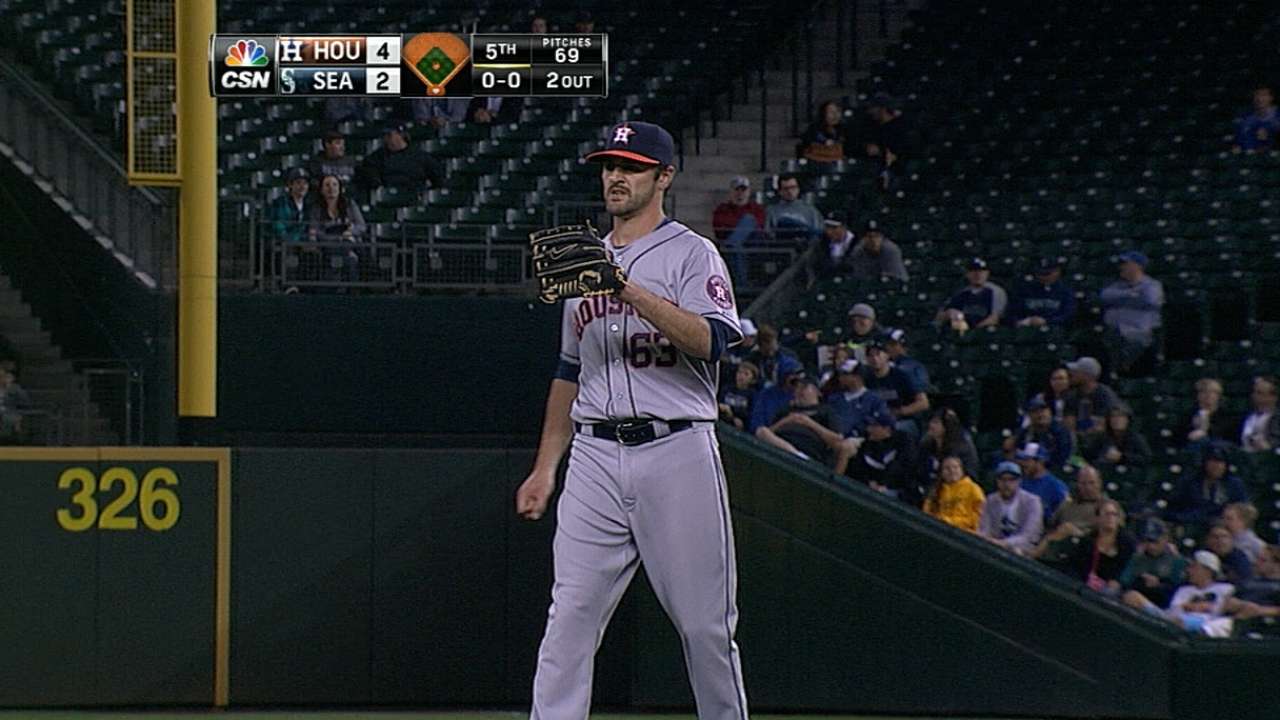 SEATTLE -- When the time comes for Nick Tropeano to reflect upon his first career Major League win, he'll undoubtedly think about Jose Altuve.
Tropeano and Altuve, a pair of 24-year-old Astros teammates, both had career milestones in Wednesday's 5-2 victory over the Mariners at Safeco Field, with Tropeano getting a win in his first big league start and Altuve becoming the second player in franchise history to reach 200 hits in a season.
It all made for a fun night at the ballpark for the Astros, who have won eight of their last 10 games by taking consecutive series from American League West playoff contenders: the Angels, A's and Mariners.
"They have a different mojo going right now," interim manager Tom Lawless said. "They're not intimidated by anybody. They know who we're playing and they know the other team has a lot at stake. We're going out there with the attitude, we can play with them and we can beat them. You can see it on the field, the way we play."
Tropeano, who struck out Austin Jackson to start the game, worked five-plus innings and allowed two runs, four hits and two walks while striking out five. He's the first Astros starter to win his Major League debut since Jarred Cosart last July.
"It's a little surreal," said Tropeano, who was buoyed by a vocal cheering section. "Just my Major League debut, kind of all just kind of happening so fast. Just glad I got it out of the way and got my feet wet and helped contribute to a win."
Altuve, who entered the game in an 0-for-7 funk, lined out and grounded out in his first two at-bats before he hit an RBI double in the fifth inning for hit No. 199. He lined a single into left field off reliever Danny Farquhar in the seventh for his 200th hit.
Altuve requested the ball, which was thrown into the dugout by third-base coach Pat Listach.
"We win this game and get 200 hits and the momentum we're having right now, it's pretty special for me," Altuve said. "The team is playing great. I couldn't ask for more. We're going outside, playing hard, we're winning, and I think that makes me feel really good."
The All-Star second baseman is 10 hits shy of Craig Biggio's club record of 210, set in 1998, and will have a good chance of breaking it with 16 games remaining. Altuve leads the Majors in hits, batting average (.336), multihit games and three-hit games. He also stole his 52nd base, which leads the AL.
"That's what I told him after the game, 'It's hard to do what you did this year. You continue to keep on going, but to get 200 hits ...'" Lawless said. "That club is a little club to belong to. I don't think he knows how hard it is to do it. Congratulations again to him."
Rookie catcher Max Stassi, who caught Tropeano at Triple-A, had a two-run double and scored a run in a three-run third inning that put the Astros ahead, 3-0.
"He's developed himself into a pretty good player," Lawless said. "From day one in Oklahoma City to now, he's improved. He's improved his offense, he's improved his defense and it was key to get that hit and get on the board early."
The Mariners got a two-run double from Mike Zunino to cut the lead to 3-2 in the bottom of the inning, but the Astros kept adding on. Altuve's RBI double in the fifth pushed the lead to 4-2, and Alex Presley added an RBI single in the eighth to make it 5-2.
"We swung at a lot of bad pitches," Mariners manager Lloyd McClendon said.
Astros starters are now 6-0 with a 1.95 ERA in the team's past 10 games. Relievers Darin Downs (two innings), Jose Veras and Tony Sipp held the Mariners to one hit over the final four frames, with Sipp getting the save.
"The starting pitching has been tremendous, and we've got guys chasing special seasons," Sipp said. "Hopefully it will roll over into next year."
Brian McTaggart is a reporter for MLB.com and writes an MLBlog, Tag's Lines. Follow @brianmctaggart on Twitter. This story was not subject to the approval of Major League Baseball or its clubs.