Peralta stifles Fish as Brewers end rough stretch
Righty allows just one late run; Clark helps out with first homer, RBIs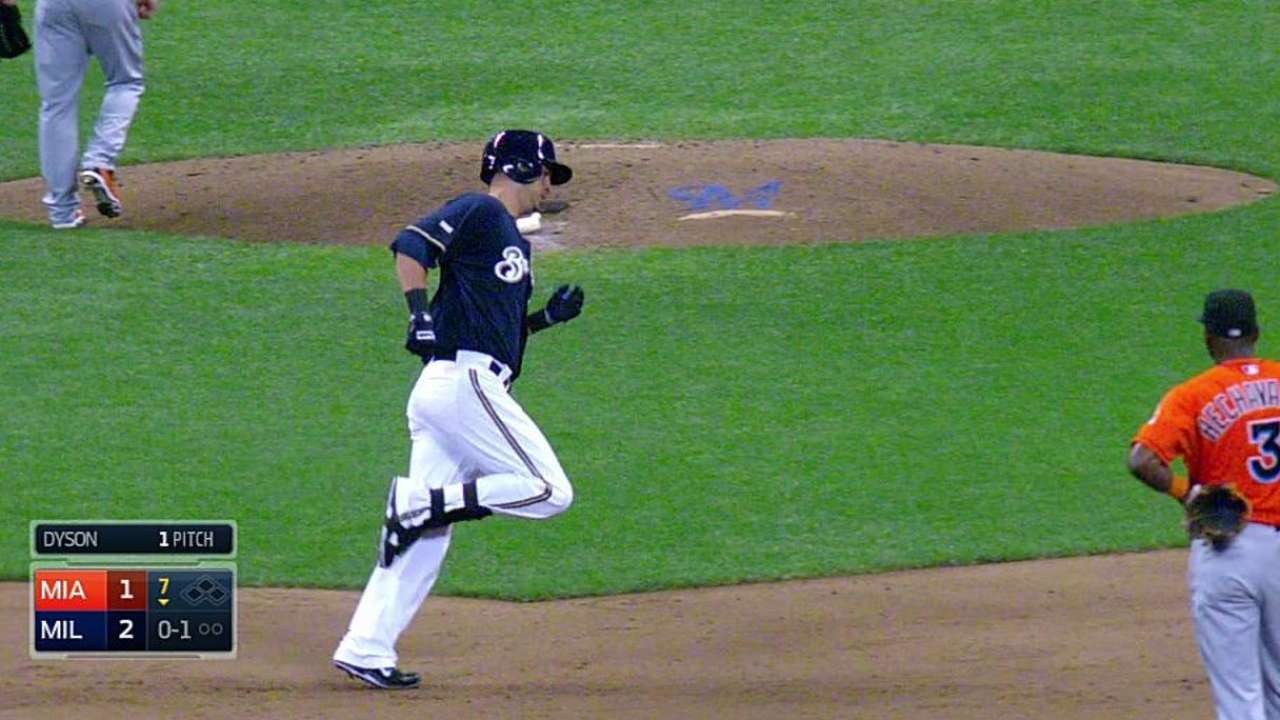 MILWAUKEE -- The Brewers needed a victory Wednesday to avoid their worst 20-game stretch in a decade. Heck, the Brewers needed a win to avoid losing their sanity.
Wily Peralta delivered a strong start, September callup Matt Clark delivered his first two RBIs and Francisco Rodriguez rebounded from a crushing outing the night before in a 4-1 win over the Marlins at Miller Park. It was the Brewers' second victory in 15 games, and their fourth victory in 20 games.
"I think we needed it as a team," said Peralta in Milwaukee's understatement of the year. "That's a good one. If we keep motivated and keep fighting ... I think we'll get some wins."
The win was necessary to keep pace with the Pirates in the chase for the National League's second Wild Card (the Brewers remained 1 1/2 games back), and to avoid what would have been Milwaukee's first 3-17 stretch since August 2004. That year's club lost 94 games.
While Peralta limited the Marlins to one run on five hits in 6 2/3 innings -- with the run and three of the hits coming in the seventh inning -- the Brewers' opportunistic offense of April made a rare appearance in September.
After an error put Jean Segura at second base in the third inning, he alertly stole third when the Marlins threw over to inquire whether he'd missed first base. That positioned Peralta for his third RBI of the season on a sacrifice fly.
"As a starter, errors are going to happen, things are going to happen, weird stuff like that's going to happen," said Marlins pitcher Jarred Cosart. "But it was my mistake by lobbing the ball over there and giving Segura a base and then allowing the pitcher to get an RBI."
"It changed the momentum of the game," Segura said. "A guy at third with nobody out is way different than being at third with one out."
More runs followed. Clark, making a rare start at first base, hit another sacrifice fly in the fourth inning for his first Major League RBI, then lofted his first big league home run in the seventh to make it 3-1. Later in that inning, Carlos Gomez made it 4-1 with an RBI single that dribbled on the infield.
The fortunate breaks were the likes of which carried the Brewers to a 20-7 start in March and April, and to the top of the NL Central.
"Yeah, we did get some breaks today. It's been a long time," Brewers manager Ron Roenicke said. "That helped. But we really played a good game today."
Clark is under consideration for additional playing time as the Brewers seek more offense from first base, and his home run came at a critical moment in the game. Reliever Jonathan Broxton had just stranded the bases full of Marlins in the top half of the seventh inning after Miami made it a 2-1 game when Clark led off with a homer to right field against Sam Dyson.
"I don't really remember much of it," Clark said. "I think they gave me a concussion when I walked through the dugout, but it's definitely an awesome feeling to put us up by two right there."
Peralta had lost three straight starts before his win Wednesday, which was fueled by his best changeup in weeks. Peralta said he had been working on that pitch, a complement to his fastball/slider combination, in recent bullpen sessions.
"To go out there and give the team a chance to win, that's huge for me and for the team," Peralta said. "You're going to sometimes go through stretches where you have bad ones, but you have to keep your head up and work on what you have to work on in the bullpen, and go out there and do the best that you can."
He got help from Broxton, who recorded four outs for his fifth scoreless appearance since coming to Milwaukee in a trade with Cincinnati, and Rodriguez, who faced his first save opportunity since Aug. 27 and converted, giving the closer 40 saves this season. For Rodriguez, it was a bounce-back from an outing Tuesday night in which he surrendered three go-ahead runs in the ninth inning on a pair of Marlins homers. The Brewers lost that game, 6-3.
Now, with his first save since Aug. 24, Rodriguez has 40-plus saves for the fifth time in his career, and the first time since saving a record 62 games for the Angels in 2008.
"He was pretty upset about yesterday," said Roenicke, "so this was really good to see."
Adam McCalvy is a reporter for MLB.com. Read his blog, Brew Beat, and follow him on Twitter at @AdamMcCalvy. This story was not subject to the approval of Major League Baseball or its clubs.