Harang shows veteran composure in terrific outing
Righty shuts down Nats in finale, striking out nine over seven innings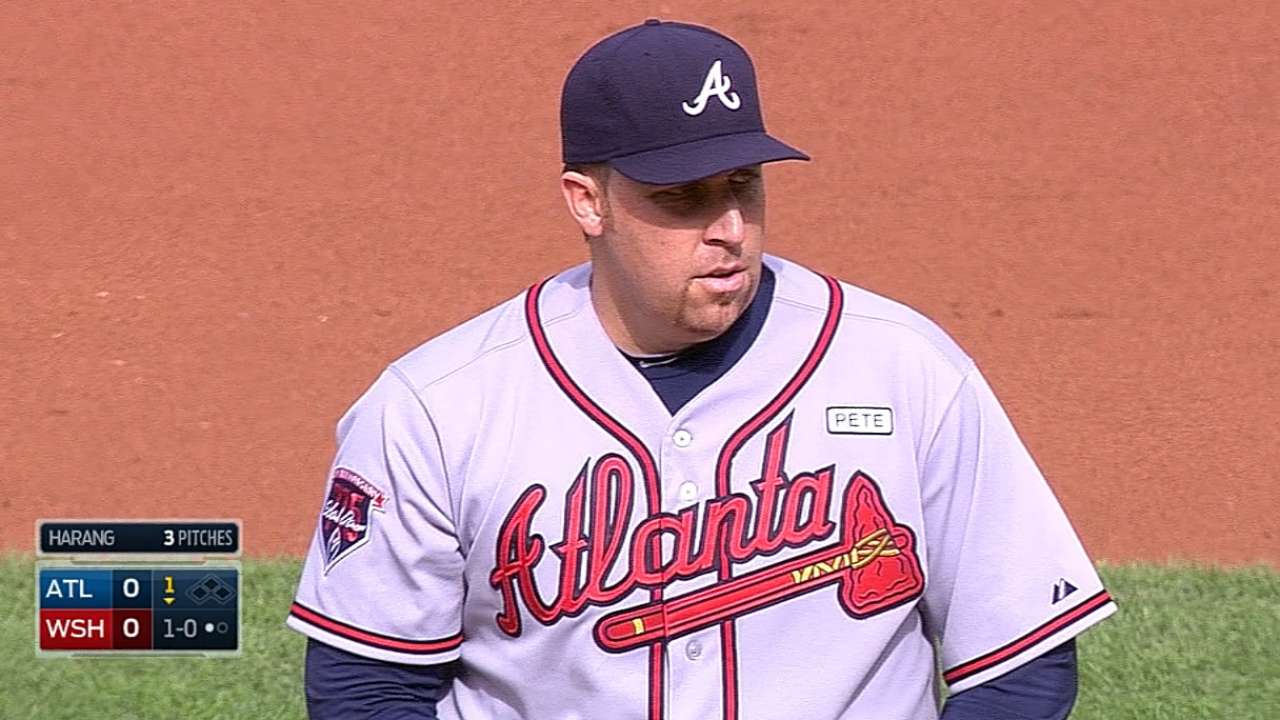 WASHINGTON -- When Aaron Harang allowed the Marlins 10 hits and exited before completing the fourth inning last Friday in Miami, there was reason to wonder if the Braves might have to remove him from the rotation. But that question was answered on Wednesday, when Harang completed seven stellar innings in a 6-2 win over the Nationals.
"This last week, I watched some things and saw that I was flying open a little bit," Harang said. "So the ball wasn't coming out of my hand the way I wanted. I was really having to force some things. I worked on some things this week and threw a couple bullpens to really try to fine tune. I went out there today and really felt good."
Harang had plenty of reason to smile after he limited the Nationals to just one unearned run in seven innings. As he navigated his way through the 94-pitch effort, he did not look like a guy who had produced a 6.91 ERA and allowed opponents to reach base at a .394 clip over his five previous starts.
Instead, he looked more like he had in April, when he produced an .085 ERA in his first five starts of the season.
"He never gets ahead of himself and he doesn't get down," B.J. Upton said. "He always stays even-keeled and always finds ways to keep us in ballgames."
Harang showed the composure of a veteran in the third inning, when he surrendered one of the three singles Kevin Frandsen notched off him and then recorded consecutive strikeouts of Jayson Werth and Adam LaRoche. The only run he surrendered came when he allowed back-to-back two-out singles in the fifth and then fell victim to a passed ball charged to Christian Bethancourt.
Some of Harang's recent troubles could be blamed on the fact that he made two consecutive starts against the Marlins, who damaged him with a 6.15 ERA in six starts this season. But the 36-year-old veteran has had much different luck against the Nationals, limiting them to just two earned runs in the 20 innings compiled over three starts.
Mark Bowman is a reporter for MLB.com. This story was not subject to the approval of Major League Baseball or its clubs.