Smith getting feel for life as big league rookie
Right-hander unscored upon through first three appearances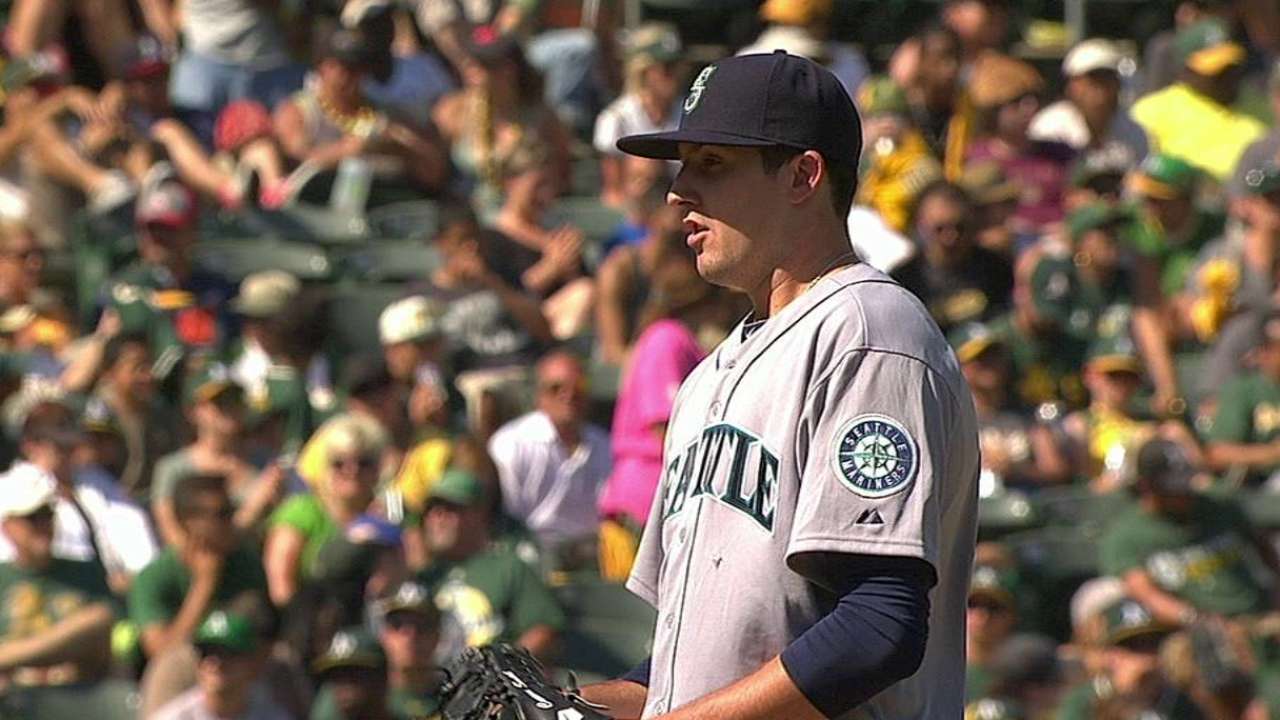 SEATTLE -- Contrary to popular belief, there are a few downsides for a Minor Leaguer when he is called to make his Major League debut.
Take Mariners reliever Carson Smith, who was brought up from Triple-A Tacoma when big league rosters expanded at the start of September. Less than two weeks into his big league career, he's already carrying out a rookie rite of passage.
"I do have the bullpen bag, the pink backpack loaded with Gatorades and waters for everybody that I have to dish out in the first inning every game," said Smith, who is ranked as the Mariners' 16th-best prospect by MLB.com. "Other than that, I've snuck by so far. I don't think it will continue that way, but we'll see how it goes."
On the mound, it's gone smoothly for Smith, a 24-year-old right-hander from Midland, Texas.
In three appearances, he's combined for three scoreless innings and given up just two hits. In Tuesday's 2-1 loss to the Astros, he pitched two perfect frames and fanned three.
"He's been very impressive. We've thrust him in the midst of a pennant race and he's done a nice job," manager Lloyd McClendon said. "He's got real good stuff, he throws strikes, and he's not afraid. He's been pretty impressive."
Smith has a jerky delivery and a sharp slider. That makes him especially tough on right-handed hitters, according to McClendon.
"I wouldn't think right-handers would be very comfortable off him," he said.
Worth noting
• McClendon said he is comfortable letting rookie pitcher Roenis Elias finish the regular season in the starting rotation but will continue to monitor the southpaw's workload. On Tuesday night, Elias allowed one run in six innings. He's thrown a career-high 160 2/3 innings this season, topping the 148 1/3 frames he pitched for Class A High Desert in 2012.
• The Mariners have six home games remaining, starting with Friday's series opener against the Athletics. After the three-game weekend series against Oakland, they embark on an 11-game, three-city road trip through Anaheim, Houston and Toronto. They return to Safeco Field on Sept. 26 for a three-game set against the Angels to close out the regular season.
Adam Lewis is an associate reporter for MLB.com. This story was not subject to the approval of Major League Baseball or its clubs.