Offense quieted after early runs in Cards' loss to Reds
Division leads shrinks to 3 1/2 games as Lackey ejected in third inning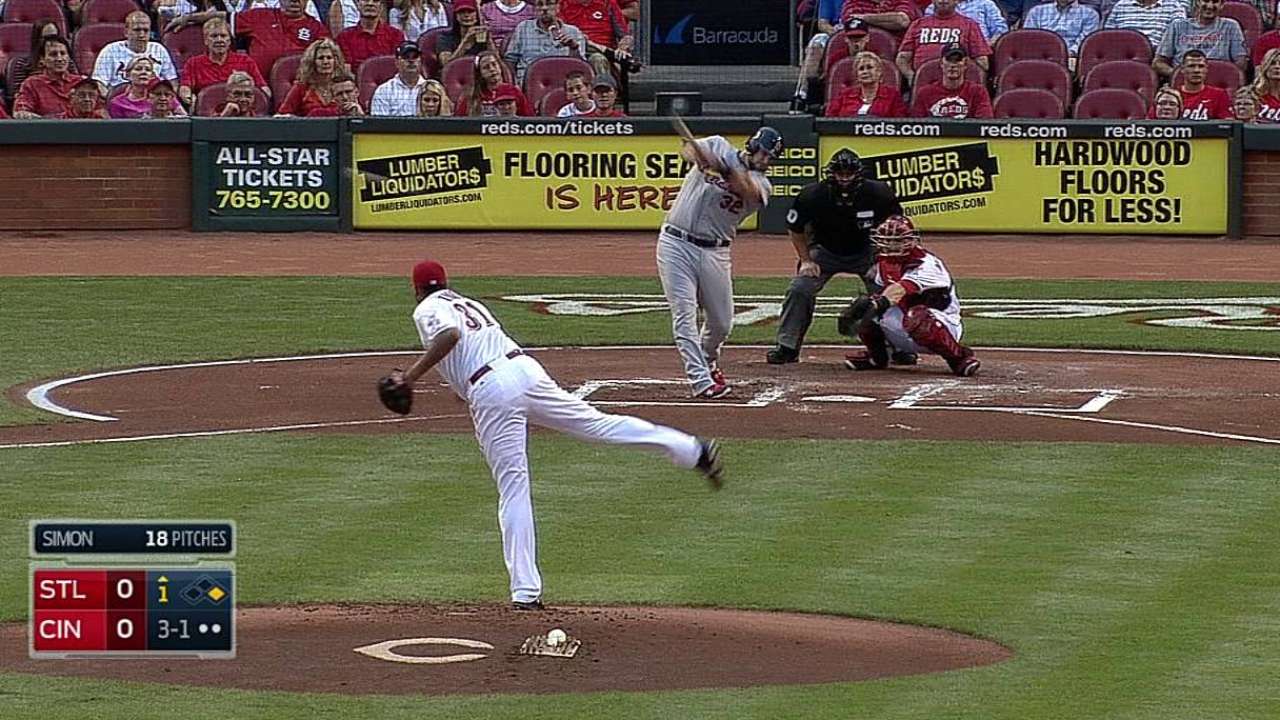 CINCINNATI -- In terms of outings cut short by ejections, John Lackey's brief start on Wednesday night against the Reds wasn't his shortest. That came in May of 2009, when Lackey -- then pitching for the Angels against the Rangers -- was tossed from the game after two pitches.
But the veteran right-hander's two-plus innings prior to being sent out of the game on Wednesday forced the Cardinals to dip into their bullpen earlier than they would have liked in a 4-2 loss at Great American Ball Park. With the Pirates' victory over the Phillies, St. Louis' lead in the National League Central was cut to 3 1/2 games.
Lackey had already given up two runs on four hits before he faced Brayan Pena to lead off the third. But following a 2-1 pitch to Pena that was close but called a ball by home-plate umpire Tom Hallion, Lackey wasn't happy. That pitch was his last of the evening.
"Lackey was warned to quit arguing balls and strikes," Hallion said after the game. "When I came out and I gave him a warning, that was it, knock it off. And he continued to argue, which got him ejected."
"I threw a ball that was up, and I said, 'If that's up, the other one's not down,'" Lackey said. "And then he came up and kind of started yelling back towards me, and I kind of got back up on the mound, and about as loud as I'm talking now, I said, 'One or the other,' just kind of to myself getting back up on the mound. There's no way he could've heard what I said.
"I didn't say any cuss words towards him or anything like that. … I don't think what I said was worth getting thrown out for, that's for sure."
It was the fourth ejection of Lackey's career, all three before Wednesday being levied for allegedly throwing at batters.
Lackey wasn't sharp before exiting, walking two and striking out one on 42 pitches, 18 of which were out of the strike zone. He surrendered a solo home run to Ryan Ludwick in the second.
"I really didn't have time to get loose, hardly," Lackey said. "I had a little trouble getting loose, but I started to feel a little better in the second inning. I mean, there's still plenty of time to hopefully have a good start, but I didn't get the opportunity."
"He was struggling to find it today," Cardinals manager Mike Matheny said. "It's not the first time early in the game that we had seen that either. He was usually able to pull that together and get through, but we didn't see a lot of those crisp strikes on the corners. … That's something he's done before, and usually we're sitting there in the sixth and he's kept us in the game."
Tyler Lyons took over for Lackey in the third, tossing a scoreless frame. But in the fourth, he gave up a leadoff single to Jay Bruce and, two outs later, an RBI double to Reds starter Alfredo Simon.
In the fifth, Lyons allowed a leadoff Chris Heisey single and the next batter, Pena, reached on an error by second baseman Kolten Wong. Following a passed ball that advanced the runners and an intentional walk to Devin Mesoraco, Seth Maness came on in relief. The next batter, Brandon Phillips, singled home another run to make it 4-2.
St. Louis scored its two runs in the first on a Matt Adams RBI double, followed by an RBI single by Oscar Taveras against Simon.
Down two in the ninth against flame-throwing closer Aroldis Chapman, Matheny had Mark Ellis pinch-hit for Taveras, Peter Bourjos for Yadier Molina and Tommy Pham for Wong. Ellis grounded back to the mound, and both Bourjos and Pham struck out.
"Ellis has had a few hits off of Chapman, which is more than most guys in this league can say," Matheny said. "We need guys on base. I'm hoping to get to [Pete] Kozma, [Randal] Grichuk and then the top of the order with the lefties, and then we have a decision to make.
"We could bring in Jhonny [Peralta, who was given the day off], but Kozma, you see the quick swing and that's what we need. In those situations, we need guys with bat speed to try and combat 103 [mph]."
Manny Randhawa is an associate reporter for MLB.com. This story was not subject to the approval of Major League Baseball or its clubs.