Simon's all-around night lifts Reds past Cardinals
Righty deals seven strong frames, contributes pair of doubles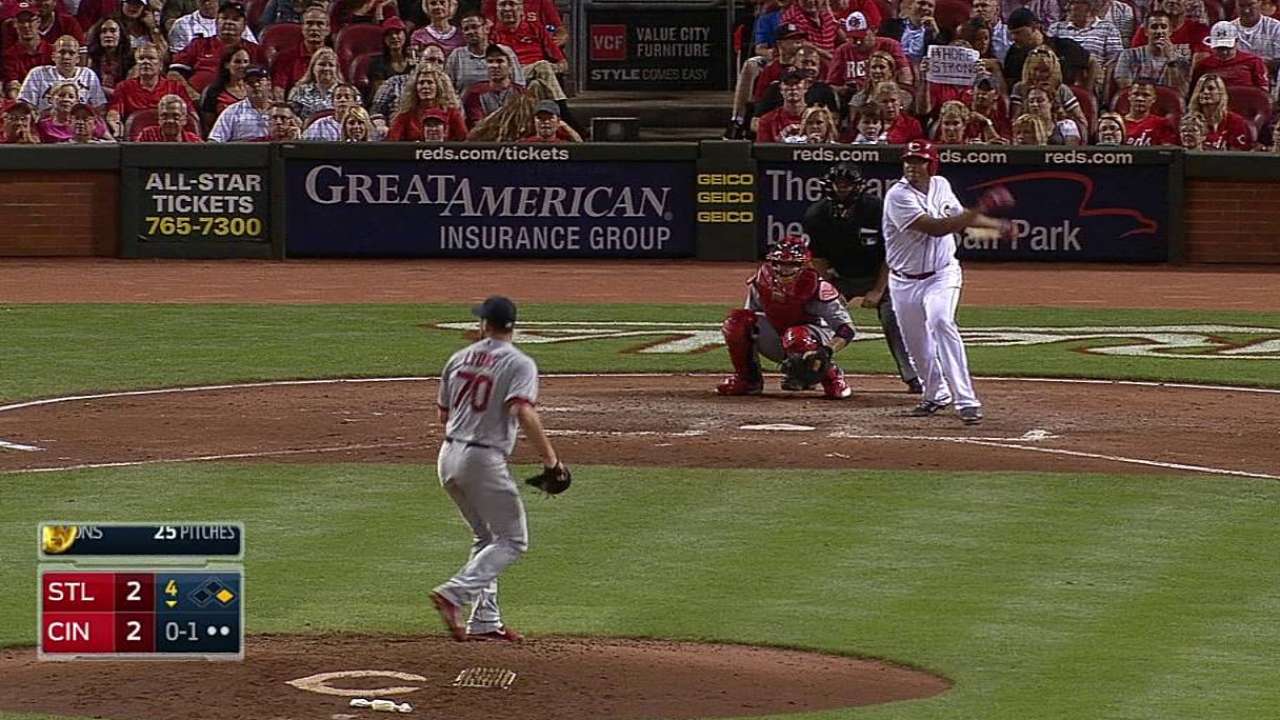 CINCINNATI -- The two doubles and an RBI that starting pitcher Alfredo Simon collected on Wednesday vs. the Cardinals were merely bonuses. What the Reds and Simon both needed, and received, was a strong performance from the mound and a victory. That's what has been missing too often from his second half of this season.
Simon also gave his club seven strong innings and the Reds gave him offensive support for a 4-2 victory at Great American Ball Park.
"Look, [Mike] Leake is a good hitter. The rest of them we want to have as good bunters," Reds manager Bryan Price said of his starting pitchers, getting laughs.
It was only the second time in 11 second-half starts that both Simon and the Reds won a game that he started. While throwing 105 pitches, he allowed two earned runs and five hits with three walks and five strikeouts.
Things did not begin optimistically for Simon during the top of the first when he allowed a pair of runs after a two-out walk of Matt Holliday. Matt Adams followed with an RBI double and Oscar Taveras hit a RBI single.
"Every time I go out, I just try to fight to get the win," said Simon, who is 14-10 with a 3.48 ERA in 29 starts. "In the first inning, I just tried to keep fighting, keep fighting. Everything worked today. I got some run support today. I'm really happy I got the win. I'm proud of myself."
The Reds responded with a run in the bottom of the first on Todd Frazier's RBI single and then in the second inning with Ryan Ludwick's one-out solo homer to left field on a John Lackey fastball.
Cincinnati caught a big break in the third inning when Lackey was ejected by home-plate umpire Tom Hallion for disputing balls and strikes. St. Louis had to piece the rest of the game together with its bullpen.
For his part, Simon kept St. Louis off the scoreboard, giving up only three more singles. He got some nice defense behind him in the fifth with a runner on first and no outs when reliever Tyler Lyons' attempt to sacrifice bunt was turned for a double play by Devin Mesoraco with Brandon Phillips stretched nicely covering first base.
"There were some points in the game where you thought it could really get away," Price said. "[Simon was] a little erratic early but he rallied and did a super job. Of course, that double play -- 2-6-4 double play -- with Lyons bunting was big to keep them [from scoring]."
Simon, who hit a two-out double off a Lackey first pitch in the second inning, helped himself even more in the fourth inning with a two-out RBI double to right field off Lyons. Simon, who had designs on a triple, was thrown out at second base after rounding too far past the bag.
It made Simon the first Reds pitcher with two doubles in a game since Pete Schourek on Sept. 18, 1995, vs. the Expos.
"That's the first time I've had two doubles," Simon said. "The second one, I tried to get a triple and they got me. It scored a run. I'm happy with myself."
Another two-out RBI hit, a roller into left field by Phillips in the fifth inning, scored Chris Heisey for a two-run lead. In a moment seen repeatedly this season, third-base coach Steve Smith waved around Brayan Pena to try and score from second base. Holliday's one-hop throw to the plate got Pena in plenty of time.
After Simon exited, Sam LeCure worked the eighth inning but hit Jon Jay in the leg with a 1-2 pitch before Holliday singled to put the tying run on first base. Lefty Ryan Dennick kept the mistake from haunting by getting Adams to fly out to left field.
Aroldis Chapman pitched a perfect ninth with two strikeouts for his 32nd save. It was the third time in the past month that Cincinnati enjoyed back-to-back wins and the first time since Aug. 27-28 vs. the Cubs. The Reds have a chance to win a rare series from the Cardinals with a third-straight win on Thursday.
Mark Sheldon is a reporter for MLB.com. Read his blog, Mark My Word, and follow him on Twitter @m_sheldon. This story was not subject to the approval of Major League Baseball or its clubs.