Nats would like extra oomph from Strasburg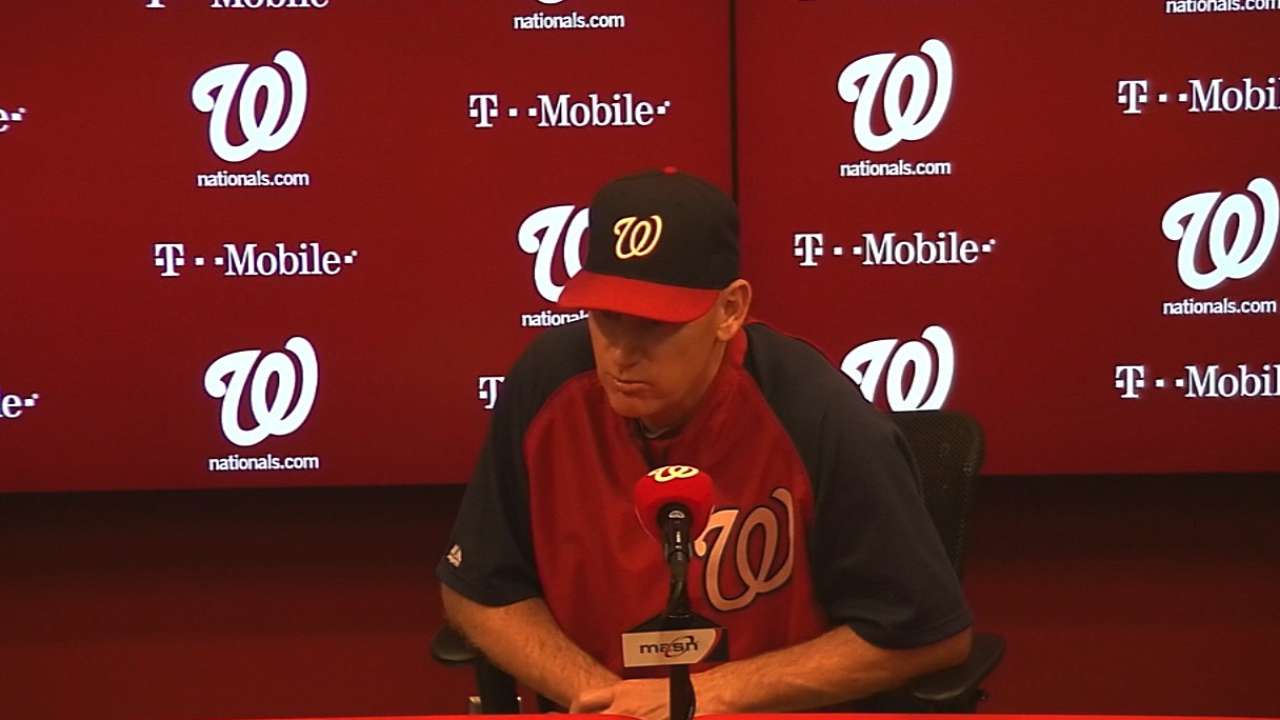 WASHINGTON -- Here's what Nationals manager Matt Williams had to say about Stephen Strasburg's performance against the Braves on Wednesday at Nationals Park: "I thought he was pretty good. I thought he pitched pretty well."
That summed it up perfectly. Strasburg turned in a quality start: six innings, seven hits, three earned runs, eight strikeouts and no walks. He kept his team in it and gave it a chance to win, even though, in the end, Washington lost the series finale to Atlanta, 6-2.
It was Strasburg's 31st start in what could also be described as a pretty good season. He's 11-11 with a 3.46 ERA. Strasburg reached a career high in innings pitched (195). He leads the National League in strikeouts with 223. Strasburg's fastball consistently hit 96-97 mph and 67 of his 99 pitches went for strikes. Pretty doggone good.
The thing is, the expectations for Strasburg have always been higher than pretty good. That may not be fair. But that's the way it is.
It certainly wasn't Strasburg's fault that veteran right-hander Aaron Harang did a good job of shutting the Nats' offense down or that the Braves put it away by tacking on three insurance runs against Washington's bullpen.
"I felt great out there. I felt like I was hitting my spots. Just a couple hits just out of reach and that was the ballgame," Strasburg said. "I feel good. The life's there. I'm just going out there and trying to compete, commit to every pitch and let the chips fall."
The chips have not fallen well for Strasburg against the Braves lately. In nine starts against Atlanta since the beginning of the 2013 season, he's 0-4 with a 4.98 ERA. There have been times when the bounces have gone against Strasburg, such as the sixth inning on Wednesday after Freddie Freeman led off with a double.
Justin Upton followed with a grounder to the right side that glanced off the glove of diving first baseman Adam LaRoche and dribbled into shallow right field, allowing Freeman to score. A second run scored when catcher Christian Bethancourt poked a single through the hole after Tommy La Stella doubled.
"Good piece of hitting by Upton, trying to move the guy from second to third," Williams said with a shrug. "Then the pitch to Bethancourt was down and off the plate, and he did a nice job of serving it to right."
The manager, however, had an interesting pregame reaction when asked about the possibility of Strasburg leading the league in strikeouts.
"I don't know. I think it's a double-edged sword, honestly," Williams said. "For me, when he doesn't have a lot of strikeouts pile up during the course of a game, he goes deeper in a game for us. It means he's getting early contact and the strikeouts don't come necessarily, because there's contact being made. But I think that's a good thing for him. If he's pinpointing his fastball, using that little sinker he's got, using his changeup and they're swinging and they're grounding balls in the infield, that's a good sign for him.
"So I don't know. It's really nice to strike guys out and have that. But from a team perspective, I think it's better when he doesn't have as many strikeouts. He's going to get them. It's just kind of the function of his pitches and the way he goes about it. But his pitch count tends to get a little higher a little earlier when he's punching a lot of guys out. For his longevity in that game, less strikeouts is probably better."
Strasburg has pitched more than seven innings four times this season. Williams also mentioned fastball command and first-pitch strikes as keys for the 26-year-old.
By taking two out of three from Atlanta -- the Nationals had lost 25 of their previous 35 against the Braves -- Washington strengthened its grip on the NL East, holding an eight-game lead with a magic number of 10. And while Williams resolutely declined to discuss the postseason yet, the reality is that what happens for the remainder of the regular season has to affect his thinking going into the playoffs.
There are three other right-handed starters, and Doug Fister (2.53 ERA), Jordan Zimmermann (2.93) and Tanner Roark (2.97) all have lower ERAs. Gio Gonzalez is the only lefty. That's not to say that Strasburg won't be in the playoff rotation. He almost certainly will. It's just that the Nats would love to see Strasburg pitch better than pretty good in his last few starts of the regular season.
Paul Hagen is a reporter for MLB.com. This story was not subject to the approval of Major League Baseball or its clubs.