McCutchen notches stand-up inside-the-park homer
Center fielder takes about 15 seconds to round bases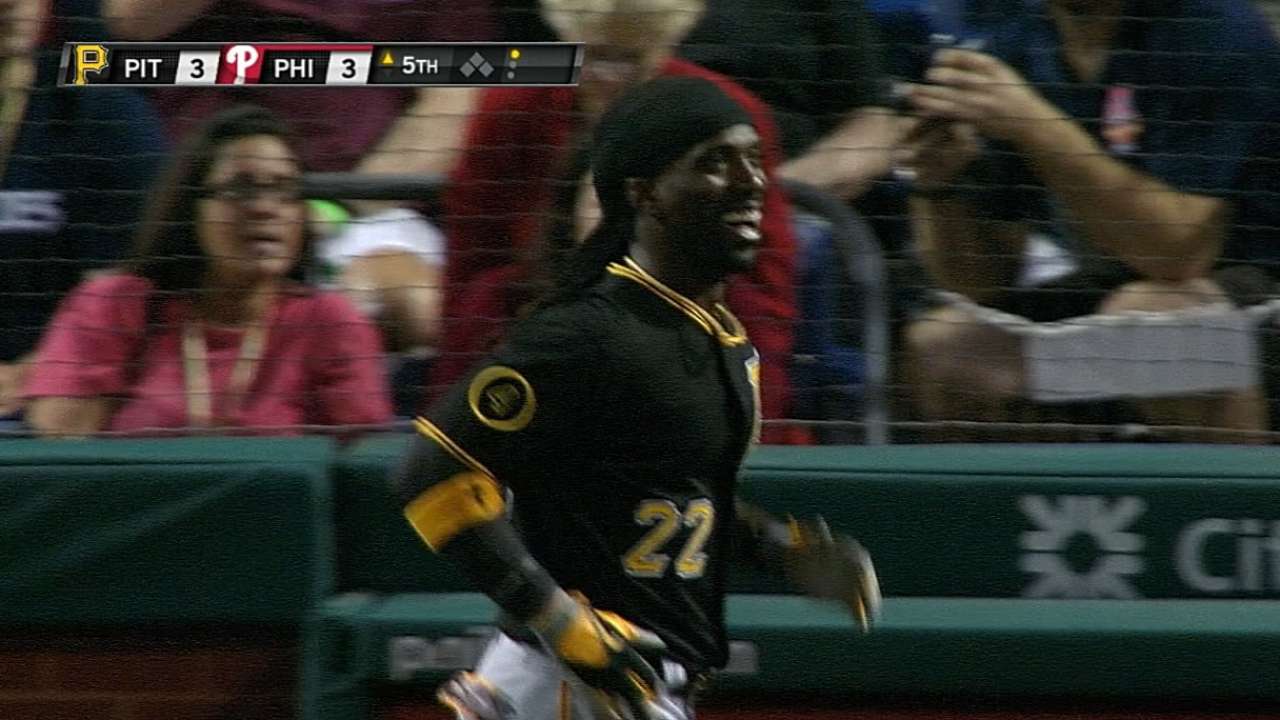 PHILADELPHIA -- Andrew McCutchen watched the fly ball off his bat casually for a few strides, and then he took off. The ball hit just the right part of the Citizens Bank Park wall in left-center field, and about 310 feet around the bases later, McCutchen was crossing home plate with his first career inside-the-park home run.
And he did so standing up in about 15 seconds.
"I put the pedal to the metal and got there," McCutchen said after the Pirates' 6-3 win over the Phillies.
The reigning National League MVP Award winner flashed a smile as he caught his breath, moments after the Phillies' relay throw came in much too late. McCutchen's blast off Jerome Williams likely would have been a regular home run to any other part of the park, but it caromed off the wall, above a leaping Ben Revere and into no man's land.
"[The wall is] brick. Anything coming in that hard is going to come off of it," said McCutchen, familiar with the surroundings of center field. "You know it's going to go that way because of that angle. Pretty much as soon as it hit the wall, I knew it had a good chance."
While right fielder Grady Sizemore ran over to get the ball, McCutchen turned on the jets and third-base coach Nick Leyva had an easy decision to send him home. It was the 23rd homer of the season for McCutchen, tied the game at 3 and was the Bucs' first inside-the-parker since Jordy Mercer hit one against Cincinnati on Sept. 29, 2013.
"You get the carom that you need to get, it basically split the defense in the outfield," manager Clint Hurdle said. "And with his speed, it was a pretty easy finish for him."
Russell Martin gave the Pirates the lead with a solo homer of his own two batters later. His lacked the excitement of McCutchen's, though, as he was able to jog on his trip around the bases.
Stephen Pianovich is an associate reporter for MLB.com. This story was not subject to the approval of Major League Baseball or its clubs.