Out call stands on close play at the plate in Milwaukee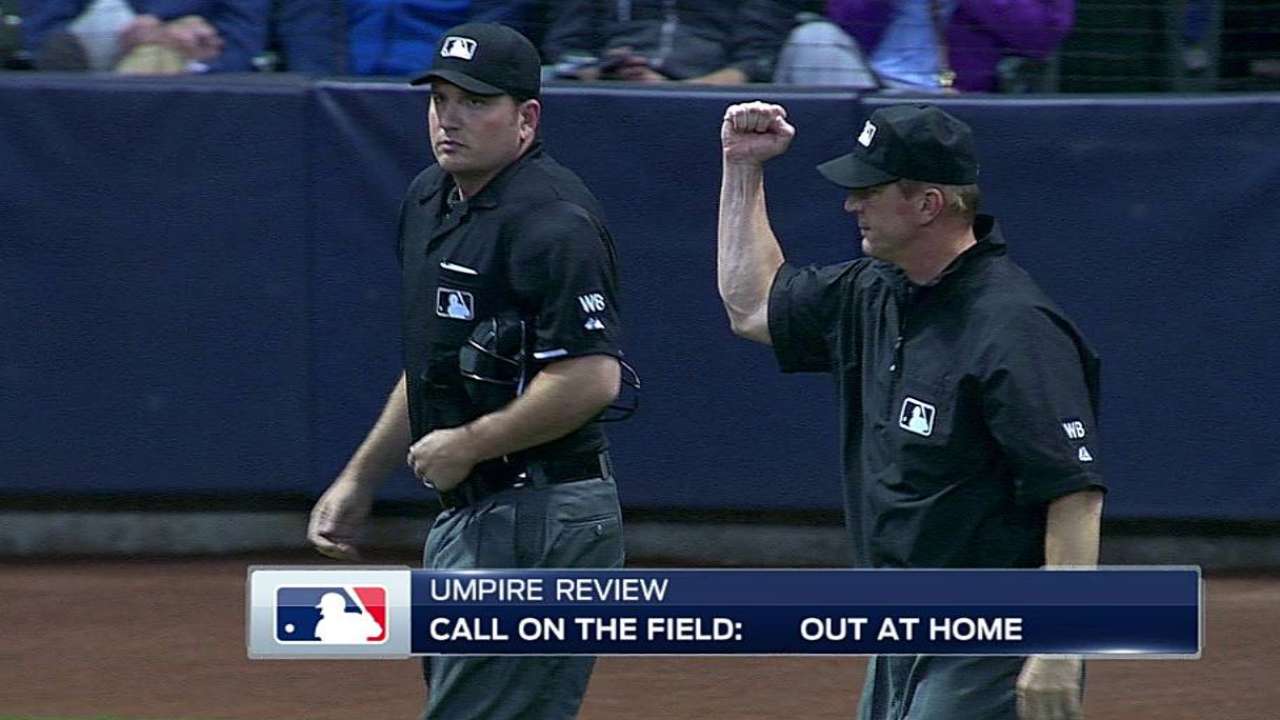 MILWAUKEE -- After becoming the third player in Brewers history to hit 50 doubles in a season, Brewers catcher Jonathan Lucroy was cut down at home plate to end the first inning against the Marlins on Wednesday night, as umpires ruled after review that that the play would stand as called.
Lucroy tried to score from second base when Aramis Ramirez hit a two-out single to Marlins left fielder Christian Yelich, but the catcher was ruled out at home, according home-plate umpire Dan Bellino. After Brewers manager Ron Roenicke had a word with Bellino, the umpires conferred to check for a violation of Rule 7.13, which was instituted this season to limit instances of plate collisions. By rule, according to what Roenicke has said this season, the umpires also are able to review the safe/out call.
A high home angle shown on the Miller Park scoreboard appeared to show Lucroy getting a foot to home plate before Marlins catcher Jarrod Saltalamacchia applied a tag. But after the crew-chief review, the umpires ruled there was no violation of Rule 7.13, and indicated that the call on the field stands.
"I'm very puzzled. We have some calls in [to Major League Baseball] to find out what happened," Roenicke said. "This replay stuff is meant to get the plays right. Get the play right. Luc is safe at home. Just get the play right.
"I don't know. It's really upsetting when we have this in place and we can't get the plays right. But it's obvious Luc was safe. Why in the world would the opposing team look at the replay and come running back on the field? I mean, I don't get it. I really don't. That stuff shouldn't happen."
By rule, the umpiring crew was not allowed to offer Roenicke an explanation of what officials saw at MLB's replay command center.
The double was Lucroy's Major League-leading 50th this season as he bids to become the first primary catcher to lead his league in that category. The only other Brewers with as many doubles in a season are Lyle Overbay, who set a club record with 54 doubles in 2004, and Ramirez, who hit 50 in 2012.
Adam McCalvy is a reporter for MLB.com. Read his blog, Brew Beat, and follow him on Twitter at @AdamMcCalvy. This story was not subject to the approval of Major League Baseball or its clubs.