In Seattle, Selig recalls bond with Griffey
Widespread embrace of uniform No. 42 throughout league former superstar's idea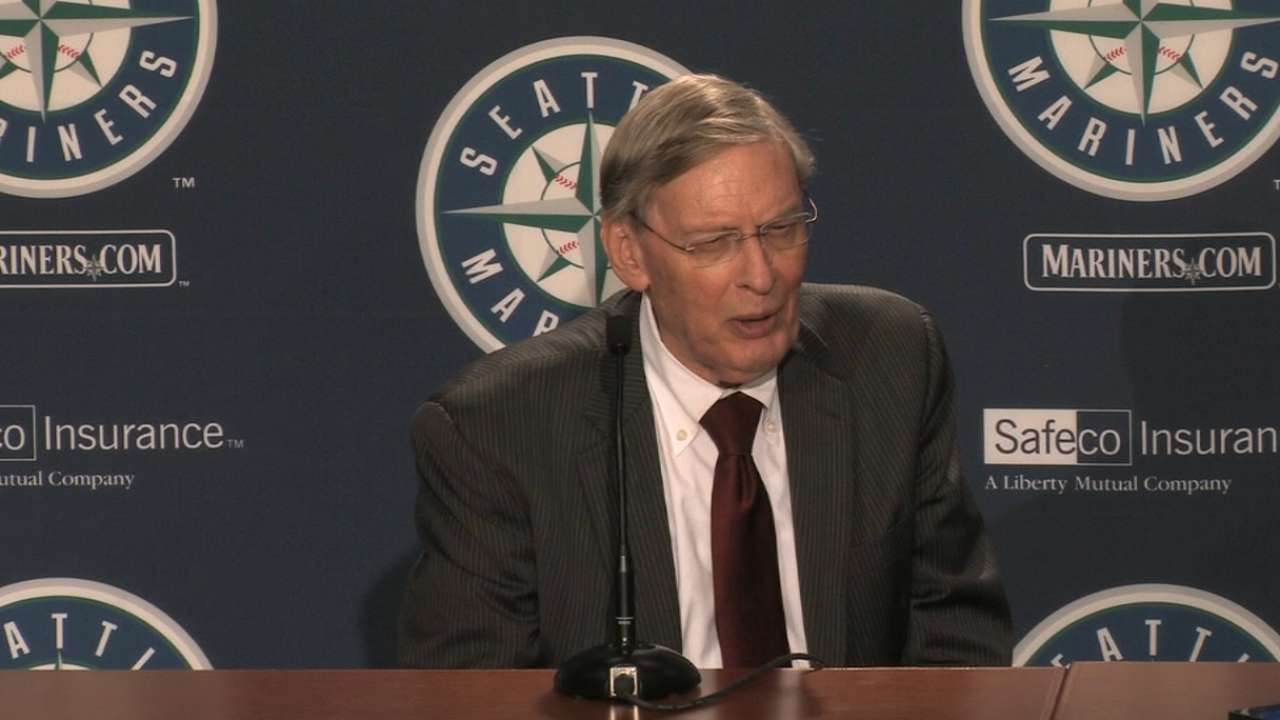 SEATTLE -- Outgoing Commissioner Bud Selig stopped at Safeco Field on Wednesday as part of a tour of the Major Leagues' 30 cities during his final season and noted that the Mariners are one of the best stories in the game this year as they push for their first postseason berth since 2001.
"If you were to ask me back in April and then today about a surprise, I think they are a team that is maybe the major surprise of all the teams in baseball," Selig said in a 30-minute meeting with the media. "They've had a really wonderful year when you think about where they started. We'll see what happens."
Competitive balance is one of Selig's many accomplishments during his 22 years as Commissioner. Since taking over in 1992, Selig has overseen playoff expansion to the new Wild Card format as well as Interleague Play, instant replay review and a lengthy, unprecedented run of labor peace in the game.
But Selig declined to speculate on what legacy he'll leave behind, saying he'll leave that to others.
"I'm proud of what's gone on the last 22 years," Selig said. "The game doesn't look like it did in 1992, for a myriad of reasons. Whether it's the economic changes or all of the other rule changes, social changes. But I'll leave all of you to determine that. It's pretty hard to determine your own legacy.
"I'm pleased and happy. A lot of people have written wonderfully nice things, and I appreciate that. We've been through a lot, up and down. Bart Giamatti was right. Baseball is a metaphor for life. You have your good moments and downs. When I look at when I started in 1992 and what's going on today, I'm pleased. But I'll leave the legacy to all of you."
Rob Manfred, Selig's longtime deputy, will take over Commissioner duties in January. Selig said he's ready for the next phase of his life as he plans to teach a course in Sports in American Society at several universities, including the University of Wisconsin and Marquette University, and also write a book.
"When I was a kid, I wanted to be a history professor, and it took me to age 80 to become one," Selig said. "I'm looking forward to it. I've enjoyed this immensely, I'm grateful for the opportunity, I've been a baseball man all my adult life. But I'm not dreading [retirement] at all. On the contrary, I'm really looking forward to it."
Selig recalled several key moments in Seattle baseball history, including his own role in purchasing the Seattle Pilots in 1970 and moving that franchise to Milwaukee. He said that move turned out for the best for both cities in the long run. As Commissioner, Selig worked with Mariners officials in 1995 to help keep the franchise in Seattle and get Safeco Field built.
"I remember it very well, a myriad of conversations with [former Mariners president] Chuck [Armstrong] and [current chairman emeritus] John Ellis," Selig said. "It was tough there for a while, but all's well that ends well. The timing of 'refuse to lose' was remarkable."
And Selig recalled fondly his dealings with Ken Griffey Jr.
"Commissioners are never supposed to have favorites, but I'll tell you a story about him," Selig said of Griffey. "One Sunday in April of '04, my phone was ringing. It was Ken Griffey Jr., and he was very apologetic. 'I'm sorry to bother you at home. But I know how it's Jackie Robinson Day and how much that means to you. But what would be wrong with all of us wearing 42?'
"And I thought about it and said, 'Well, let me think about that. I'm always very cautious, and I'll call you tomorrow.' The more I thought about it, I just said, 'What the heck am I going to think about? It's a great idea.' And it was his idea. As a result, everyone wore 42, and it was wonderful. And that tells you everything. He was great. And he was great here.
"You talk about the stadium debate. The impact [Griffey] had on this franchise was remarkable," Selig said. "I saw him about a month or two ago. Great player, and with me great off the field, too, which was very important. His influence on the Seattle franchise was awesome. We may not be sitting here today but for him."
And it's those type of relationships and interactions that Selig will look back on as he leaves his office.
"Just watching the game grow, watching games, watching a lot of people mature," Selig said. "I'm really very proud of our players and front-office people. I've said it before and I'll say it when I go back to New York, when you have somebody like Derek Jeter -- and we have a lot of people -- but that makes it easy to be the Commissioner of baseball. I'm proud of everybody."
Greg Johns is a reporter for MLB.com. Follow him on Twitter @GregJohnsMLB as well as his Mariners Musings blog. This story was not subject to the approval of Major League Baseball or its clubs.