Zobrist collects 1,000th career hit with single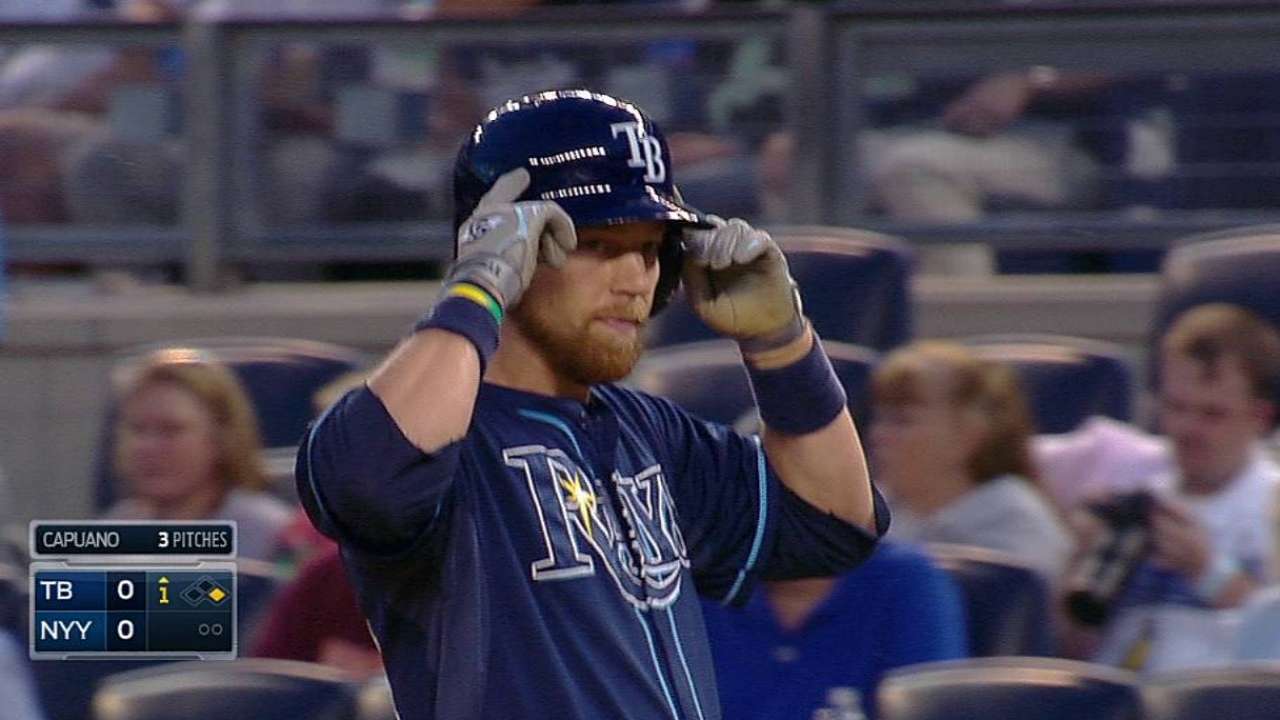 NEW YORK -- It took a while for Ben Zobrist to get to his locker after the Rays' 8-5 loss to the Yankees on Wednesday night. Before he answered any questions, he admitted, still sweating, that he had just finished a workout in the batting cage.
A casual observer might suppose Zobrist was taking extra hacks to correct a slumping swing, a type of frustrated discipline. Instead, the switch-hitter had just collected his 1,000th career Major league hit, and based on his postgame activity, is still eager to get many more.
"When I got to the big leagues, I wasn't thinking about getting 1,000 hits," said Zobrist. "It's pretty awesome. I'm pretty thankful that I've been able to play as long as I have and be as productive as I've been up this point. Just thrilled that I'm able to do it in Yankee Stadium, too."
"A lot of us never had a chance to get that in batting practice," said manager Joe Maddon of the milestone. "To get that many hits in a Major League game with sophisticated defenses, pitchers that know what they're doing, advanced scouting reports, that's a high level of skill."
Leading off the top of the first inning, Zobrist fouled off the second pitch he saw from Yankees starter Chris Capuano beyond first base, a sure out that Mark Teixeira overran and saw drop behind him. Granted another opportunity, Zobrist laced a sinker up the middle for a single and his 1,000th hit.
He then made his leadoff act count by scoring on a Wil Myers double from second for the game's first tally in a four-run inning. Derek Jeter didn't issue congratulations when he reached second, but Zobrist was just glad he could get the special ball honoring the Yankees' captain.
"The cool thing for me is those balls while we're here ... they [have] the Jeter commemorative '2,'" said Zobrist. "That's going to be a cool memory that I'll keep the ball and remember that it was one of the last times I'll get to play against Derek, too."
The single was Zobrist's 139th hit of the season, adding to his total of nine home runs and 45 RBIs. He made his 18th start of the season in left field Wednesday, the fifth different position he's patrolled over his 130 games this year.
That versatility, complemented with staying healthy (he hasn't played less than 151 games in one season since 2008), has made him a model of consistency.
"It's quite an accomplishment for him," said Maddon. "[He's a] wonderful professional. What can I say? He's been so consistent for us over the last several years, and beyond everything, people have to understand he shows up ready to play without excuses."
Maddon harped on that last point before the game, too.
"He doesn't get hurt," said Maddon. "He answers the bell and he plays all the time and he never complains."
Longevity and consistency together is a rare thing in baseball. They're attributes that Zobrist's milestone baseball, and the special number on its seam, exemplify.
"It's pretty cool that all those hits have come in a Rays uniform, too," Zobrist said. "[I'm] just really grateful for the opportunity to play here. To get 1,000 hits in the same uniform is a pretty cool thing nowadays."
‪Jake Kring-Schreifels is an associate reporter for MLB.com. This story was not subject to the approval of Major League Baseball or its clubs.