Lackey ejected in third for arguing balls and strikes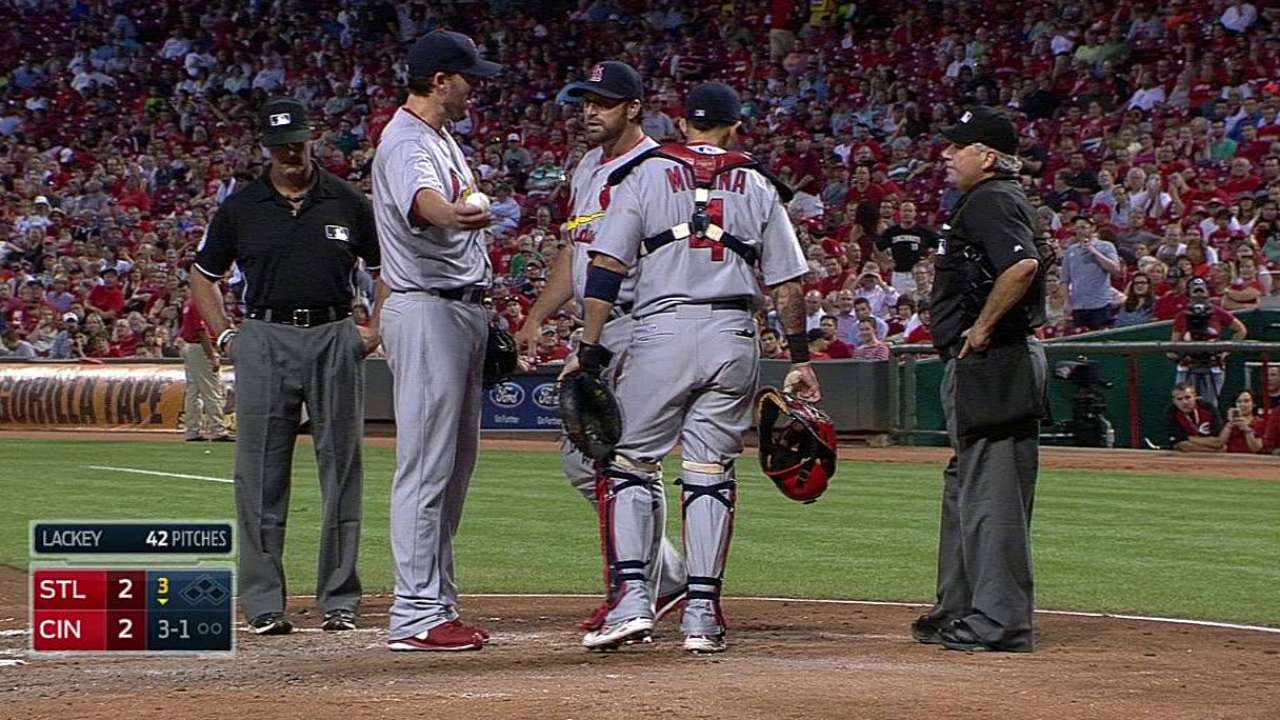 CINCINNATI -- Cardinals right-hander John Lackey, who started Wednesday's 4-2 loss to the Reds at Great American Ball Park, was ejected in the third inning by home-plate umpire Tom Hallion for arguing balls and strikes.
On a 2-1 pitch to Brayan Pena with nobody out, Hallion called a ball on a close pitch. Lackey expressed his disagreement, which eventually led to him being tossed.
"Lackey was warned to quit arguing balls and strikes," Hallion said after the game. "When I came out and I gave him a warning, that was it, knock it off. And he continued to argue, which got him ejected."
"I threw a ball that was up, and I said, 'If that's up, the other one's not down,'" Lackey said. "And then he came up and kind of started yelling back towards me, and I kind of got back up on the mound, and about as loud as I'm talking now, I said, 'One or the other,' just kind of to myself getting back up on the mound. There's no way he could've heard what I said.
"I didn't say any cuss words towards him or anything like that. … I don't think what I said was worth getting thrown out for, that's for sure."
Lackey went two-plus innings, allowing two runs on four hits, walking two and striking out one. He allowed a solo home run by Ryan Ludwick in the second.
The ejection was the fourth of Lackey's career. His last one came on May 16, 2009, against the Rangers, when Lackey -- then pitching for the Angels -- was tossed two pitches into his outing by home-plate umpire Bob Davidson. Lackey had thrown the first pitch of the game behind leadoff batter Ian Kinsler's head, and followed that with a pitch that hit Kinsler in the ribs.
That start was Lackey's first following a lengthy stint on the disabled list, and he argued that he was trying to throw inside, but wasn't sharp because he had just come off the DL. Kinsler had homered twice the day before.
Lackey's other two career ejections were also for allegedly throwing at hitters.
"It was unexpected, for sure," Lackey said. "I've been thrown out a few times for throwing balls at people, but in over 12 years, I've never been thrown out for anything like this."
Cardinals manager Mike Matheny was taken by surprise as well at how quickly everything transpired.
"It just caught me off guard," Matheny said. "Usually when a guy comes out from behind the plate, you better tone it down a little. [Lackey] didn't necessarily walk toward him anymore; he got back on the mound. He had been warned."
Matheny noted that the emotion Lackey displayed is pretty standard for the veteran.
"He was frustrated with a couple pitches -- one borderline low, one borderline high -- in particular that got him pretty fired up. … It wasn't just those couple pitches. He was on [Hallion] pretty hard in the beginning. I think we've seen that basically every start. Part of it is his intensity, and I've said this before and will continue to say it, we're not going to take the emotions out of these guys. We want them having that edge. Some umpires take it better than others."
Manny Randhawa is an associate reporter for MLB.com. This story was not subject to the approval of Major League Baseball or its clubs.