Crawford backs Haren as Dodgers shut out Padres
Left fielder goes 4-for-4 with three doubles, two RBIs in series win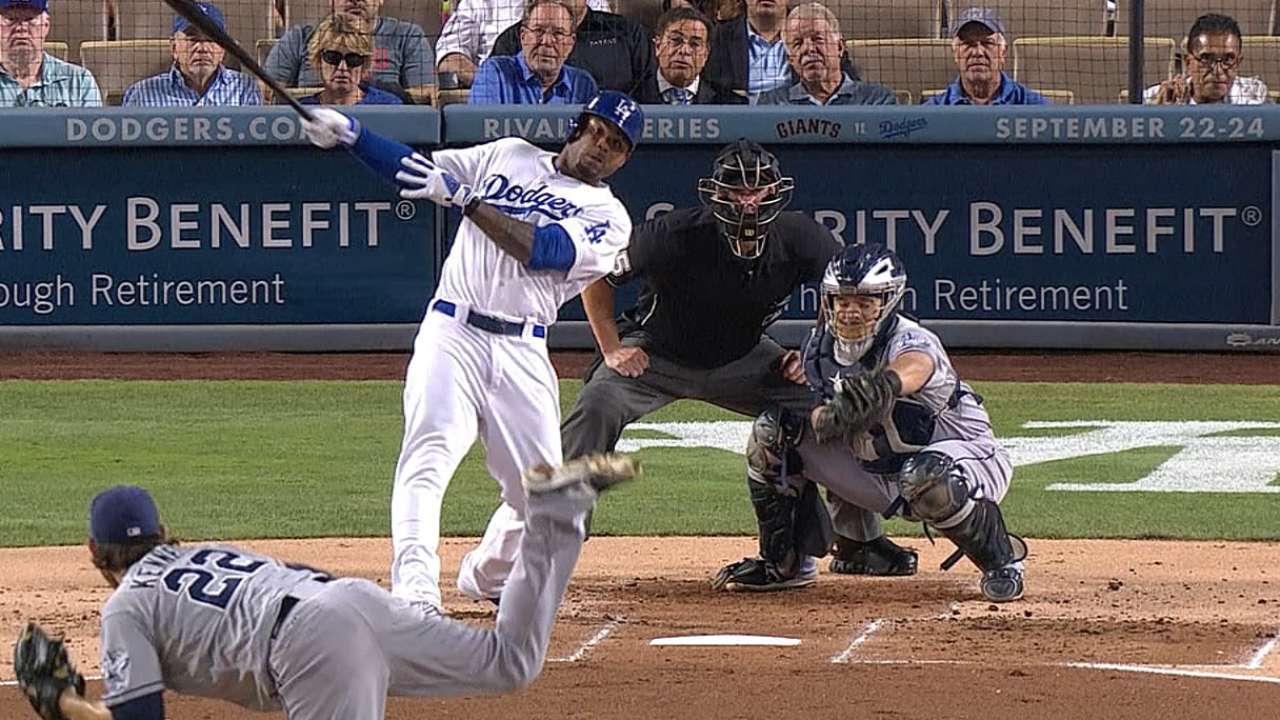 LOS ANGELES -- If you wonder why Don Mattingly is sticking with Yasiel Puig, you probably wondered why he was sticking with Dan Haren and Carl Crawford two months ago. Look how that turned out.
Haren strengthened his hold as the franchise's best fourth starter in decades with a four-hitter over seven innings and Crawford had four hits, including three doubles, as the Dodgers blanked the Padres, 4-0, on Wednesday night, reducing their magic number to win the National League West to 15.
Crawford, who was hitting .230 in early August, is up to .289 after tying a club single-game record with the three doubles, driving in a pair of runs as well. He went 9-for-12 in the series and is batting.434 during the past month. Hanley Ramirez and Juan Uribe also drove in runs.
With a pair of assists from challenges that overturned apparent San Diego stolen bases, Haren improved to 13-10, lowering his ERA to 3.99 and beating Ian Kennedy, who is winless in his last eight starts against the Dodgers. Haren is the winningest Dodgers fourth starter since Jerry Reuss went 14-10 in 1985.
"I've swallowed my pride as far as velocity a long time ago," said Haren, whose fastball rarely hits 90 mph as he's lately thrown more curves and fewer cutters. "I just try to get outs. How I get them doesn't matter. Just get ahead in the count and throw strikes. I didn't have the greatest stuff, but my location was good and kept them off balance."
Haren, who won his first five decisions when Clayton Kershaw was recovering from injury, has won five of his last six decisions with a 1.70 ERA since Aug. 1. J.P. Howell pitched the eighth and Kenley Jansen the ninth in a non-save situation thanks to Crawford's last hit, an RBI double in the eighth that put the Dodgers up 4-0.
The Dodgers finished the homestand 6-3 and the season series with San Diego 12-7. They travel Thursday for the showdown series in San Francisco that starts Friday night.
Asked to draw comparisons between Haren and Crawford, Mattingly said they share some of his favorite grinder traits.
"Danny is ultra competitive," said Mattingly. "He'll do anything he has to do. During that bad stretch, the day after one of his starts our bullpen was getting knocked around and he offered to go down there and pitch one day after starting. He's a guy, even during that stretch, you know he's going to compete.
"With Carl, he competes and he works and he's not afraid. He just goes. The only knock on him is that he's gotten hurt a little. But when he plays and gets going, he's pretty dang good. He works and goes hard all the time."
Haren hit the skids around the time Josh Beckett went down with a season-ending hip injury, management responding by trading for veteran starting pitchers Roberto Hernandez and Kevin Correia. But Mattingly kept Haren in the rotation and has since been rewarded. When Crawford returned from a bad ankle sprain after the All-Star break, Mattingly hung with him, even though his bat was rusty and Andre Ethier was a veteran alternative for the outfield.
"He picked me as one of the guys to play every day. He has confidence in me," Crawford said of his manager. "I try to do everything I can to make him look like a smart guy."
Crawford was involved in three of the Dodgers' four rallies. After Matt Kemp singled leading off the second inning to extend his hitting streak to 16 games, Crawford doubled him home. He led off the seventh with a double and was singled home by Uribe. And after Darwin Barney's two-out walk in the eighth, Crawford doubled him home.
The other Dodgers run scored in the sixth, Ramirez's two-out single cashing in Justin Turner's leadoff single.
"Well, he's very hot, no doubt about it," San Diego manager Bud Black said of Crawford. "Him and Turner both have been in a thorn in our side the last couple of series. Turner's really having a nice year. Crawford's really coming on strong. ... He's very a dynamic offensive player when he's playing right, and he's playing right right now. He's playing extremely well."
Haren did a nice job pitching out of a real mess in the fourth, which started with a throwing error from Turner, who started at second base for Dee Gordon. Jedd Gyorko doubled Seth Smith to third. But Haren popped up Yasmani Grandal, struck out Rene Rivera and got Will Venable on a groundout. Venable left the game in the fifth inning with a back strain.
Ken Gurnick is a reporter for MLB.com. This story was not subject to the approval of Major League Baseball or its clubs.