Crawford, Garcia honored as top Minor Leaguers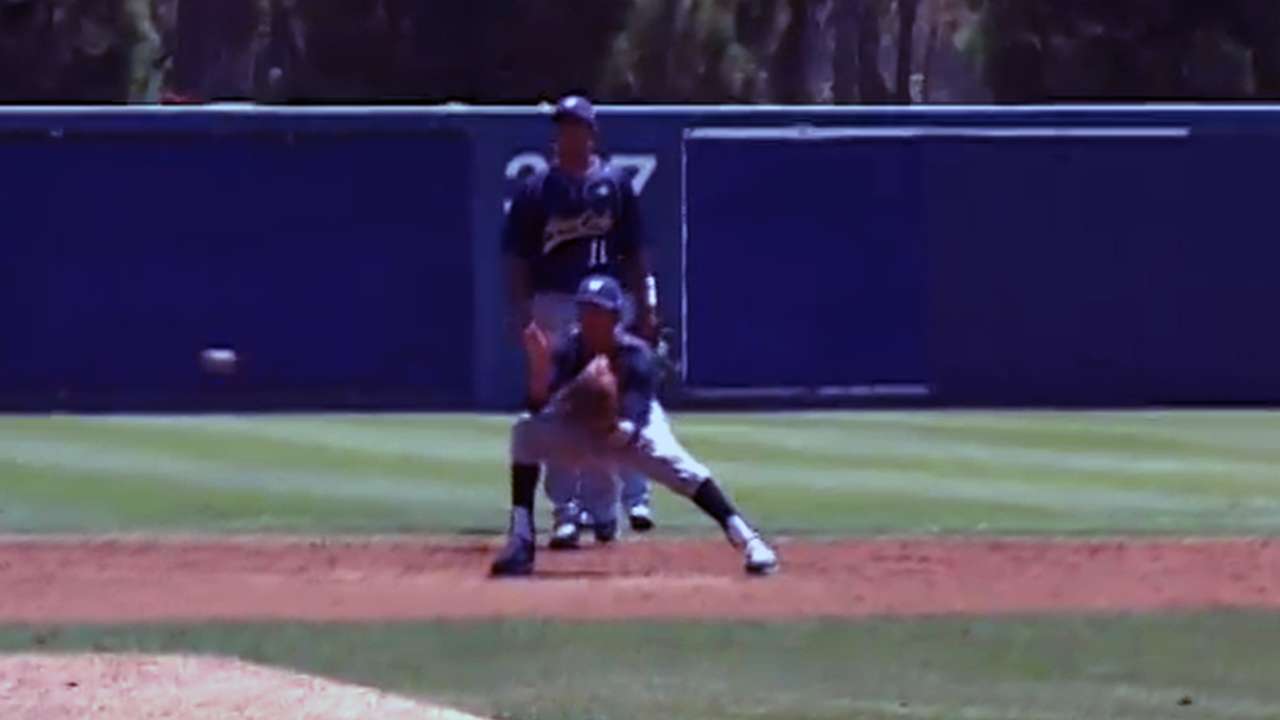 PHILADELPHIA -- Two of the brightest spots in the Phillies' Minor League system were honored for their terrific 2014 campaigns on Wednesday.
Shortstop J.P. Crawford, who is the Phillies' top prospect, and right-hander Luis Garcia were named the recipients of the 2014 Paul Owens Awards as the best player and pitcher, respectively, in Philadelphia's farm system.
Garcia went 2-1 with a 0.96 ERA in 39 games for Triple-A Lehigh Valley, a year after posting a 1.51 ERA in 41 2/3 innings split between three levels of Philadelphia's Minor League system. The 27-year-old Santo Domingo native converted 22 of his 25 save opportunities while with the IronPigs, tying him for the International League lead in saves. Considering his performance, Garcia wasn't exactly shocked when he heard he had won.
"I was doing great down there," said Garcia, who was a 2014 International League All-Star and named the IronPigs' Pitcher of the Year by media members who cover the club. "It's great to work hard and get awarded for what you did."
Garcia was recalled to the Majors when rosters expanded on Sept. 1, and he has seen some carryover. Garcia has struck out three of the five batters he's faced since his return to the Phillies, while hitting the high 90s with his fastball -- higher than he's ever thrown in the big leagues.
"I just try to do the same thing I was doing down there. It's working," Garcia said. "I hope so to stay here. To see what happens, just keep doing my job and let's see."
"I have to give him credit these last couple of outings since coming back in September, he's shown the stuff, he's shown the live fastball and he showed a slider," Phillies manager Ryne Sandberg said. "So I prefer to look at it as his last two outings and base things on that. This could be a very good September for him, going into the offseason with the year that he's had at Lehigh Valley and hopefully translating that over to doing that at the Major League level. He could be an interesting guy for us."
Garcia will play for the Estrellas Orientales in the Dominican Winter League to stay in form.
Crawford, meanwhile, hit .285 with 23 doubles, 11 home runs, 48 RBIs, 69 runs scored and 24 stolen bases in 123 games this season split between Class A Lakewood and Class A Advanced Clearwater. The 19-year-old is the second-youngest position player to receive the Paul Owens Award, behind Jimmy Rollins, who was 18 when he was honored in 1997.
Crawford was selected 16th overall in the first round of the 2013 First-Year Player Draft.
"J.P.'s first full season as professional was a huge success," director of player development Jo Jordan said. "He is a very determined and competitive player, a good teammate and makes players around him better. The Phillies are extremely excited to watch his continued progress in 2015."
Erik Bacharach is an associate reporter for MLB.com. This story was not subject to the approval of Major League Baseball or its clubs.