Rule 7.13 as clear as day to Hanigan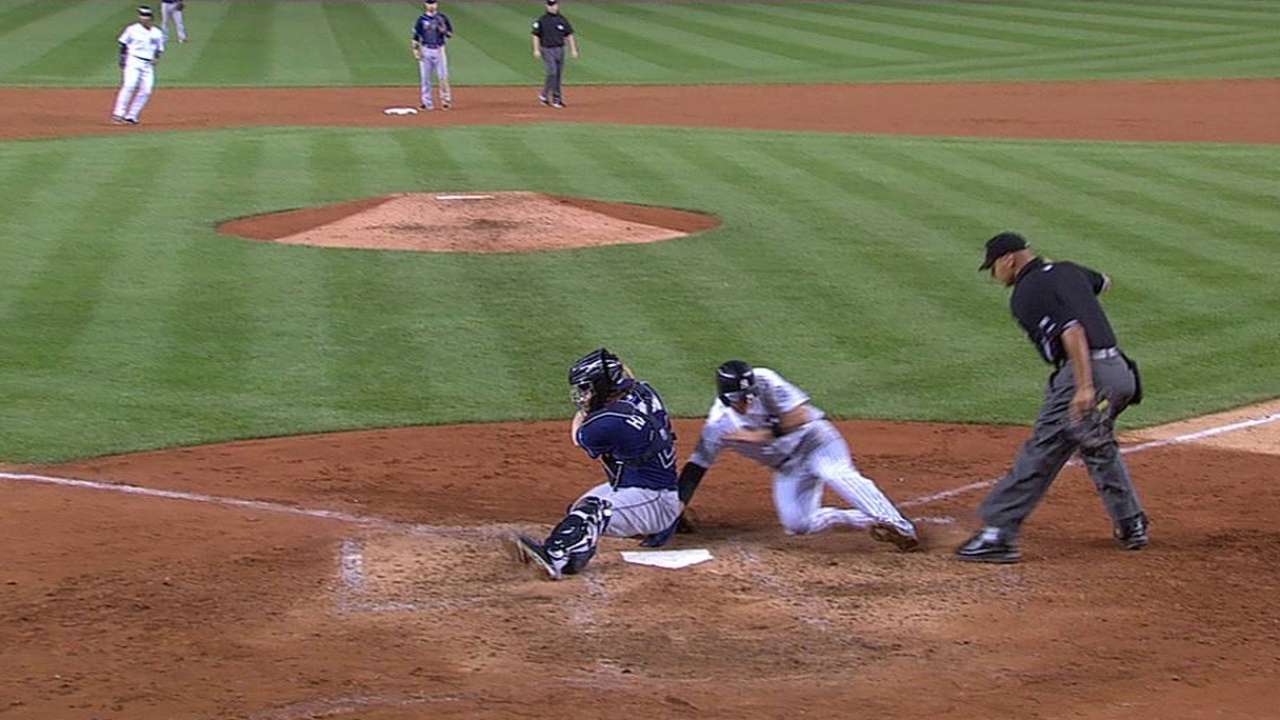 NEW YORK -- An illustrated memorandum from Major League Baseball arrived to all 30 teams this week attempting to clear up potential confusion about the rule governing collisions at home plate. It was quickly put to the test in the Rays' 4-3 win over the Yankees on Tuesday.
The umpiring crew confirmed an out call at home plate after initiating a crew-chief review, as New York's Stephen Drew was tagged out by Tampa Bay catcher Ryan Hanigan in the fifth inning.
With runners at first and second and none out, Jacoby Ellsbury singled to left field. Drew was waved home by third-base coach Rob Thomson and Matt Joyce's throw to the plate arrived well before Drew, who never touched the plate as he slid toward Hanigan's right leg.
The Yankees believed that Hanigan was blocking Drew's path to the plate, which prompted manager Joe Girardi to discuss the call made by home-plate umpire Vic Carapazza as a potential violation of Rule 7.13. Upon review, the original on-field ruling was confirmed.
Hanigan talked with reporters about the play prior to Wednesday night's Rays-Yankees contest at Yankee Stadium.
"The throw beat him by so much that once I had the ball I'm in the middle of the plate, I'm not going to get out of the way for him to have a chance to slide around me," Hanigan said. "I don't know. It's a tough thing. I can understand them trying to keep protecting these catchers and stuff, but when the ball beats the runner by that much, it's really just a common-sense thing. If you call him safe there, what are we doing?"
Hanigan allowed that on plays where the catcher doesn't yet have the ball and he's "standing there" and the runner is sliding, "I think that's a little bit different."
Interpretation of plays at the plate has been a cause of great confusion this season, but don't count Hanigan among the confused. The 34-year-old said he hasn't been confused by the rule or by this week's clarification.
"No, I just do things the way I've always done them," Hanigan said. "No, I think [the clarification] gave me a little more confidence to keep myself in the baseline there. But had it been a closer play, I think it might have been different.
"But [Drew] was going to be out by so much. The ball beat him by a good three steps. So it really wasn't that close of a play in my opinion. If it was a closer play, definitely try and give him more of a line."
Bill Chastain is a reporter for MLB.com. This story was not subject to the approval of Major League Baseball or its clubs.